Newsletter 74
Welcome to this week's newsletter. 
This week is, of course, Remembrance Week, where we fall silent to pay tribute to those who have laid down their lives to protect our future. I was able to leave a mark of remembrance for a local soldier from World War I at the Remembrance Garden in Parliament. I also attended Malbank School's Remembrance Ceremony and observed the minute silence in Nantwich yesterday. I will also be taking part in events at the weekend, with the Haslington Great War Society, and the Remembrance Service in Crewe on Sunday.
As we near the end of the year, I have a trio of competitions that local people and businesses can participate in. Firstly, to mark Small Business Saturday on 4th December, I am running a 'Best Small Business' Competition. Please visit my website and vote for a local small business you believe has gone the extra mile over the past year.  You could be in with a chance to win a £50 gift voucher for a local independent business! I am also looking for the best South Asian Restaurant in Crewe and Nantwich to enter the 'Tiffin Cup'. Find out how to vote for your favourite in the article below.  
Finally, entries close for my Christmas Card Competition next week. It is pen to all Primary School aged children.  If your children's school isn't taking part or you home school you can send in your children's designs. Entries close on 17th November. The winner will be chosen as the design for my official Christmas Card, which will be sent to, among others, the Prime Minister.
Have a great weekend. 

Remembrance
­As part of Remembrance Week, I have spent some time at events, in both Westminster and Crewe and Nantwich, paying my respects to those who have given their lives to protect our future. It is one of the biggest privileges of the job of being the MP that I get to represent my constituents by taking part in these events.  Whatever the challenges of our time, I always try to remember the scale and nature of the horror of the suffering that people experienced during the two world wars and other conflicts.  
I visited Parliament's 'Constituency Garden of Remembrance' and placed a cross in memory of Private Robert Sandland of the Royal Lancaster Regiment. Robert lived at 7 Bower's Row, Mill Street, and worked as a baker for Mrs Hassall in Hospital Street. He was killed in action at Givenchy in France, on June 8, 1918, following a German artillery barrage on the frontline trenches. 
He was just 19 years old.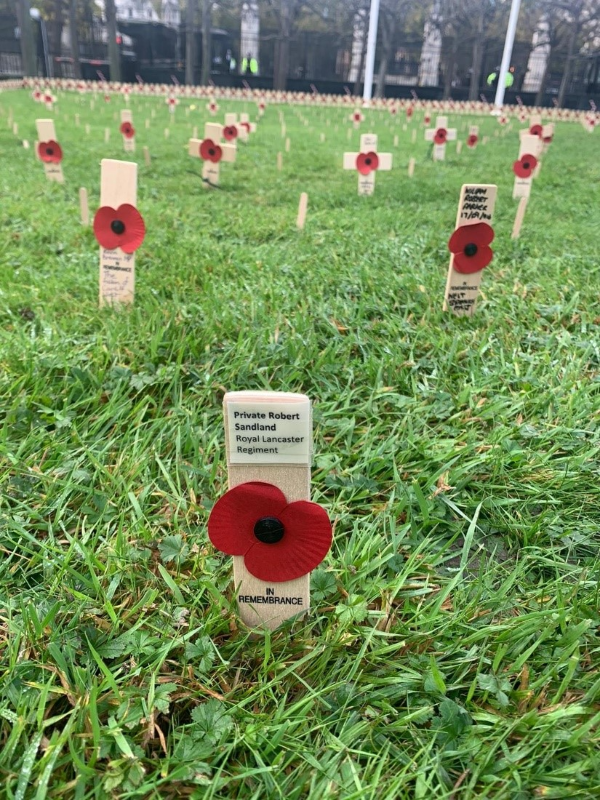 ­On Armistice Day, I went to Malbank School to take part in their Armistice Day Service. It was really poignant to see young people show their respect and understand the sacrifices of previous generations. After this, I marked 11am at the Nantwich Cenotaph. It was good to have a chat with some veterans there.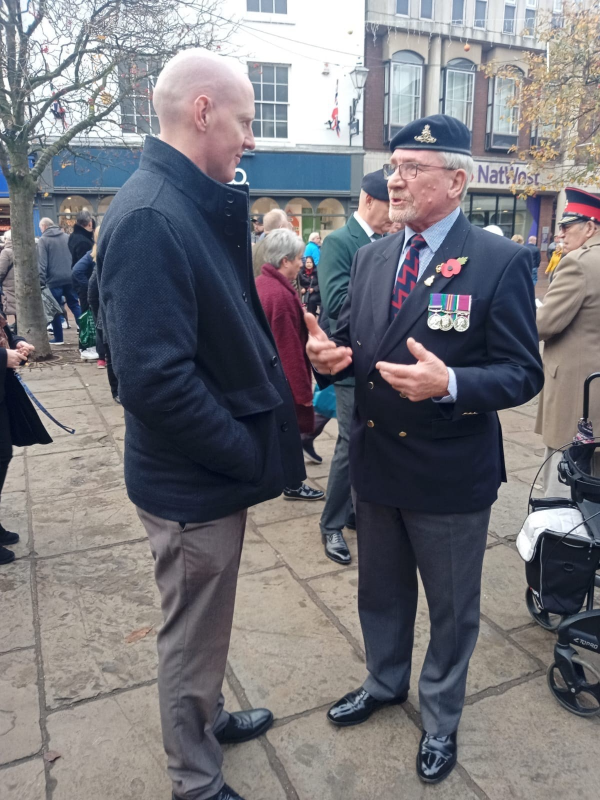 ­I am taking part in the Crewe Remembrance service on Sunday and will also be visiting the Haslington War Memorial on Saturday. 
 We must never forget. 
Vote-Best Small Business Awards!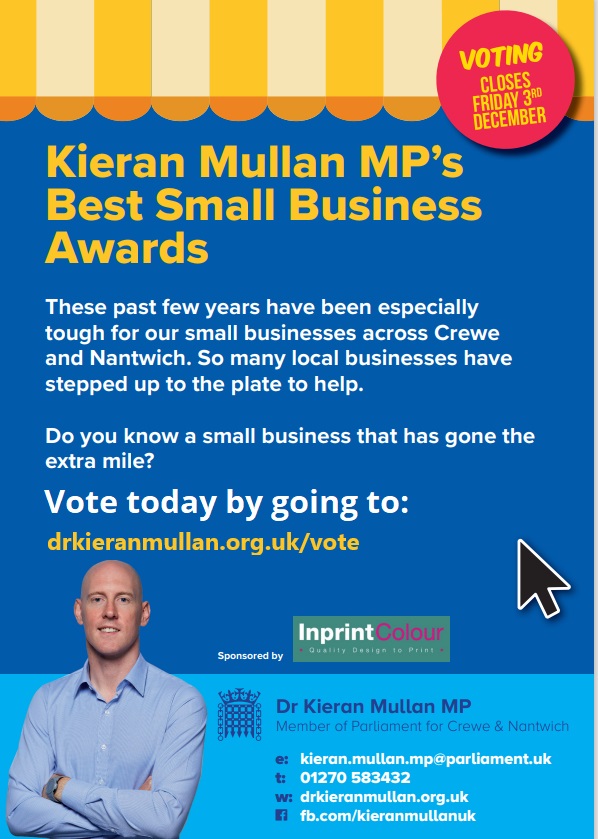 ­I am launching a 'Best Small Business' competition to celebrate the determination and dedication of the small businesses and their contribution to Crewe and Nantwich.
This opportunity is open and available to all small businesses as a chance for community involvement and business owners to receive recognition for their services and provisions.
The contest will run from Tuesday 9th November to Friday 3rd December, with the winning business revealed Saturday 4th December; as this is, aptly, Small Business Saturday.
As well as featuring on my next newsletter which goes to tens of thousands of homes in Crewe & Nantwich, the winner will receive a £50 voucher for local printers InPrint Colour and a £50 hamper of House of Parliament gifts. 
A £50 gift voucher will also be awarded to one voter to spend in a local small business.
Please support your small businesses, after a very difficult period, by voting for them in the 'Best Small Business' competition! 
­Click Here to Vote for Your Favourite Small Business
Christmas Card Competition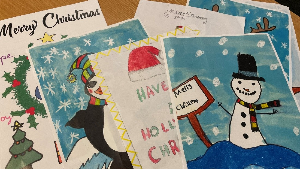 ­I have already received some amazing entries for this year's Christmas Card Competition from local young artists. The competition is still open, closing on 17th November. All Primary School aged children are eligible to take part.
To enter, please send your designs to my office at 249 Edleston Road, Crewe, CW2 7EA, or email them to me at kieran.mullan.mp@parliament.uk. 
Tiffin Cup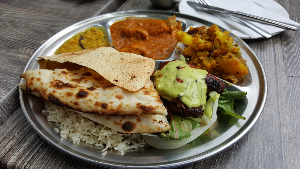 ­Help me find the best South Asian Restaurant in Crewe and Nantwich that will be our entry into the national Tiffin Cup Competition. A finalist will be chosen from each region. At the final, each restaurant will be asked to prepare a signature dish, which will be marked by a panel of expert Judges, chaired by the Celebratory Chef Ainsley Harriott MBE. First place is crowned Tiffin Cup winner for the year. 
Click below to vote for your favourite Restaurant.
Justice Questions - Prisoner Tagging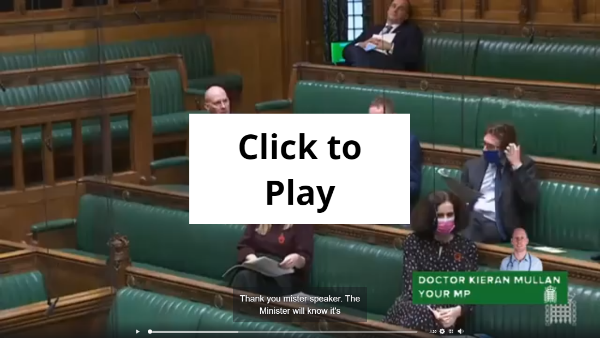 It is a small number of prolific offenders who are responsible for a large number of crimes committed and the misery that they cause. I welcome the progress that has been made on electronic tagging - with those guilty of crimes such as theft and robbery being automatically fitted with tags upon release from a prison sentence of 1 year or more and have called on the Government to look at other offences that this programme could be used on.
In Justice Questions this week, I also asked the Minister whether he had spoken to Police Forces about the extra resources they may need to bring back people who have breached the condition of their tag.
The Minister responded by saying that Police Forces are great supporters of the scheme and that the tagging programme will, in fact, reduce the burden on the police by acting as a deterrent of crime, and as a result lower the chances of reoffending. 
UK Parliament Week - Cheshire College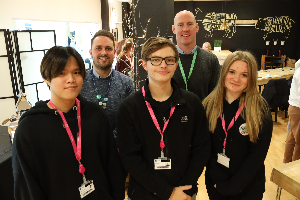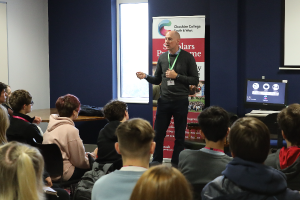 Last week, as part of UK Parliament Week, I visited some of the students at Cheshire College - South & West to talk about the role of an MP. It was great to be able to answer questions from them and discuss the issues that young people are concerned about.
Before that, I met with staff members, like Politics tutor Ben, and students in the Academy Restaurant. We all enjoyed a delicious buffet made by some of the hospitality students! I also got the opportunity to chat with some of their medical students and give them advice about careers in healthcare.
I think it is really important that politicians engage with young people and show them that the world of politics is open to anyone. That is why I always take any opportunity to talk at local schools and colleges whenever I can.
Thank you for having me! 
­
Booster Vaccine Booking
The Health Secretary has announced that eligible people will be able to book their booster vaccine 5 months after their 2nd jab, rather than 6 months previously. The appointment will, however, still be offered at least 6 months after the 2nd jab.
You can book by calling 119 or visiting the NHS booking website below:
Book your Vaccine Appointment Here
UK - US Travel
Quarantine free travel between the UK and the US has begun again.
This is good news for families and friends who live on different sides of the Atlantic - with travel now much easier and simpler.
The easing of measures such as these is only possible due to the success of our vaccine programme, ensuring that cases remain under control. We must, however, continue to be sensible and get our vaccines and boosters if we are eligible. This will ensure that freedoms, such as international travel, remain in place. .
NHS Diagnostics Funding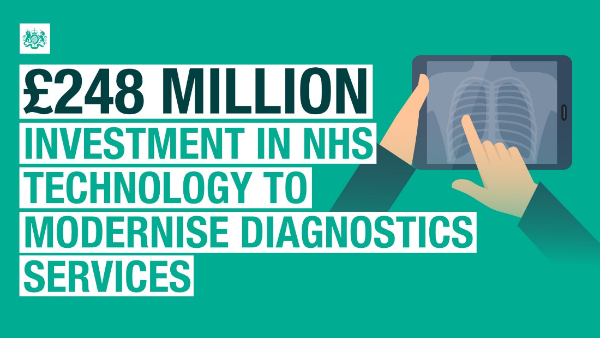 The NHS will receive almost £250 million to modernise diagnostics and help reduce patient waiting times. This includes:
Investment in the latest technology to deliver faster tests and scans, and provide quicker diagnosis
Reduced admin for staff so they can perform more tests and reduce turnaround times for starting treatment
Digitisation so that results can be shared easily between Hospitals, Labs, and GP surgeries
This investment comes alongside £2.3 Billion already announced in the Budget to tackle NHS backlogs, and together will go far in helping level-up diagnostic services so that patients can get faster results - among the first steps in ensuring that patients get the treatment sooner. 
­
Upcoming Surgery - Nantwich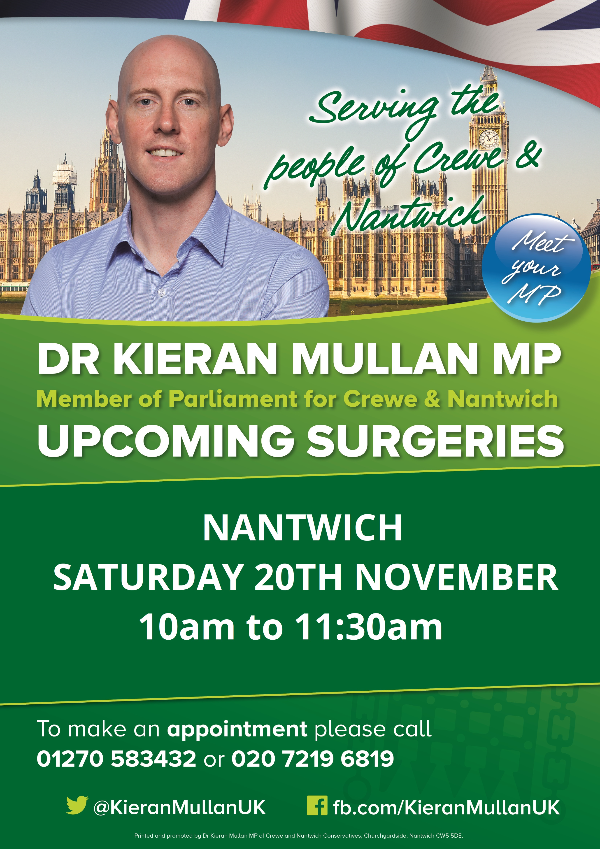 Do you have an issue you would like to raise with me, or need my help with? I am hosting a surgery in Nantwich next weekend. Get in touch via the contact details above to book an appointment.
Traffic Report
The following are road closures for the week ahead as reported by Cheshire East.
Closed for Remembrance Services on 14th November:
Crewe - Prince Albert Street, Chester Street, Crewe Street, Market Square
Haslington - Crewe Road (Between Slaughter Hill and Waterloo Road)
Shavington - Main Road (Between Crewe Road and Queen Street Car Park) 
Willaston - Colleys Lane (Crewe Road to Brassey Court)
Nantwich - Market Street, 46 High Street
Vernon Way, Crewe (Between Mill Street and Lyon Street) - 19th November to 20th November
Samuel Street, Crewe (Between West Street and Hightown) - 17th November to 30th November 
Barthomley Road (Between Mill Lane and Radway Green Road) - 18th November
Dig Lane, Shavington - 18th November
Hurleston Buildings, Nantwich - 15th November to 26th November