Welcome to this week's newsletter.
The Chancellor announced the Autumn Budget on Wednesday. While large amounts of money have been spent during the pandemic, and we are not yet out of the woods, it was still a positive budget with help for families and businesses, and money to improve public services and economic growth. There is much more detail about the specific announcements below.
In Parliament this week I spoke in the Judicial Review and Courts Bill debate and highlighted the importance of bringing down the backlog of court cases that have built up over the pandemic. I also have my full support to measures to reduce how many immigration cases can get a judicial review which I don't think is a good use of taxpayers money. I also met with Health Secretary Sajid Javid to update him on the campaign for Leighton Hospital to become one of the last 8 hospitals in the Government's Hospital Building Programme.
I am also continuing with my campaign for fair and reasonable car parking proposals from Cheshire East Council. A survey I carried out made it clear residents want charges to be consistent across the Borough and more done to help support our high streets. If you wish to help me with this, you can add your name to a letter addressed to the relevant councillor here: https://www.drkieranmullan.org.uk/news/cheshire-east-parking-charges
Last but not least, my Christmas Card competition has launched! It was so much fun last year and I can't wait to see hundreds more amazing entries! Details below.
Have a great weekend.
Autumn Budget
The Chancellor announced a Budget that will help local working families meet the cost of living, support businesses' recovery from the pandemic, improve our public services, and drive economic growth. We cannot pretend that we are out of the woods. We have spent huge amounts to get through the pandemic. But there has been room for some targeted investment and help for people.
£232 million is also being made available for 12 North West projects through the first round of the £4.8 billion Levelling Up Fund. I will be supporting a bid for Crewe & Nantwich in future funding rounds. We have already benefitted from more than £30 million of investment through our Town Deal and the Future High Streets fund.
We must be careful about inflation, and I know local businesses will have to manage the minimum wage increases carefully, particularly in social care. More funding has been announced for councils to pay for what I hope will be higher rates for social care providers locally. But we are recovering quicker and more strongly from the pandemic in terms of jobs, unemployment and borrowing thanks to the steps we have taken over the past year.
You can read some of the details from the budget below.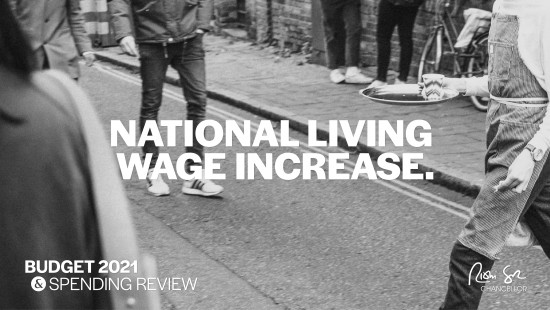 Minimum Wage Increase
The National Living Wage will increase from April. Those over 23 on the National Living Wage will see a 6.6% increase in their pay, paving the way for a high wage, high skills economy.
Those in the under 22, under 20, under 18 and apprentices will also see an increased pay packet.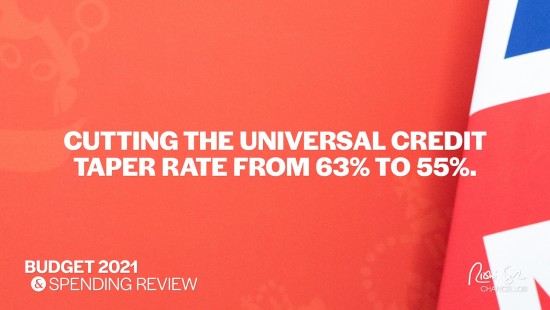 Universal Credit Taper Rate
The Universal Credit taper rate will also be cut from 63 per cent to 55 per cent making 2 million families £1,000 a year better off, supporting lower-income workers as we recover from the pandemic and move towards our ambition to end low pay.
NHS Funding
The NHS received £5.9 Billion to help clear the backlog of tests and scans, made worse by the pandemic, and to buy new equipment and IT.
This funding consists of:
- £2.3 Billion to expand diagnosis services
- £1.5 Billion for bed capacity
- £2.1 Billion to improve digital technology
Five new Community Diagnostic Centres will be built across the North West in 2021-22, expanding diagnostic capacity across the country to get waiting lists down.
This is a major investment that will help the NHS catch up, ensuring everyone gets the care that they deserve.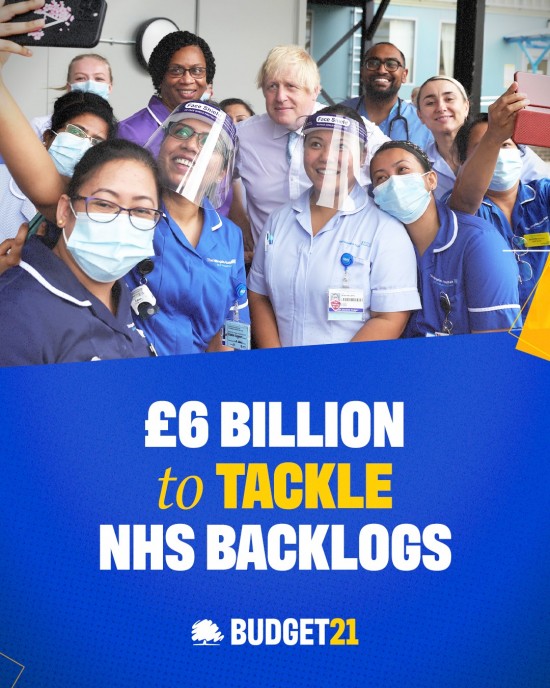 Public Sector Pay Rise
During the pandemic, the Government had to take tough decisions to ensure that jobs and businesses were protected through the disruption.
Now that our economy is recovering the temporary freeze on public sector pay will end. Workers such as teachers, police officers and the armed forces will receive a pay rise in April, following recommendations from the independent bodies.
Investing in Skills
A priority for this Government is ensuring that everyone has the skills they need to get on in life. A £3 Billion investment in education and skills has been announced including:
- £1.6 Billion for the rollout of T-Levels - new technical qualifications
- £550 Million for Adult Skills
- £830 Million to continue a 5-year programme of college modernisation
Investing in skills will allow people to reach their potential, unlocking new opportunities and career paths.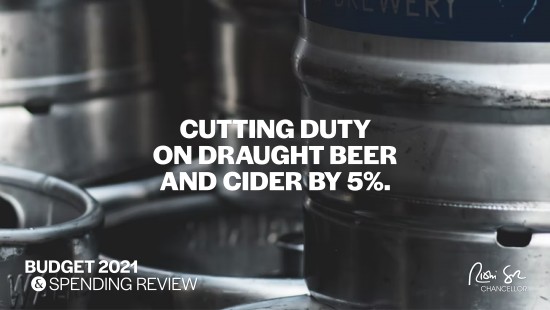 Alcohol Duty
The Chancellor has announced a radical simplification of Alcohol Duty, making the system healthier and fairer. The changes include:
- Reducing the number of duty bands from 15 to 6 - The new system will be on the principle of the stronger the drink, the higher the rate. This will reduce the prices for drinks such as rose and lower strength beer, and make drinks such as cheap, high strength ciders more expensive.
- Sparkling wine will pay the same rate as typical wine - saving as much as 64p
- Draught Relief - Lower rates on draught beer and cider, helping our local pubs and saving around 3p per pint
These will come into effect in February 2023, but until then there is support for the industry through the scrapping of the planned rise in duty - a tax cut to families worth £500 million a year. Some of these changes are only possible now that we have left the EU and can make choices that are in the best interest of British businesses and consumers.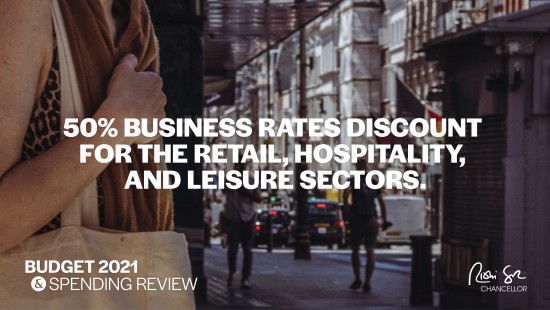 Business Rates
Although we are recovering economically from the disruption of the pandemic, this does not mean we will not continue to support businesses, especially those in sectors that are still recovering.
Measures in the budget around business rates include cutting business rates by at least 50 per cent next year for 90 per cent of retail, hospitality and leisure businesses up to a maximum of £110,000 which alongside the Small Business Rates Relief, is business tax cut worth £7 billion for over 700,000 businesses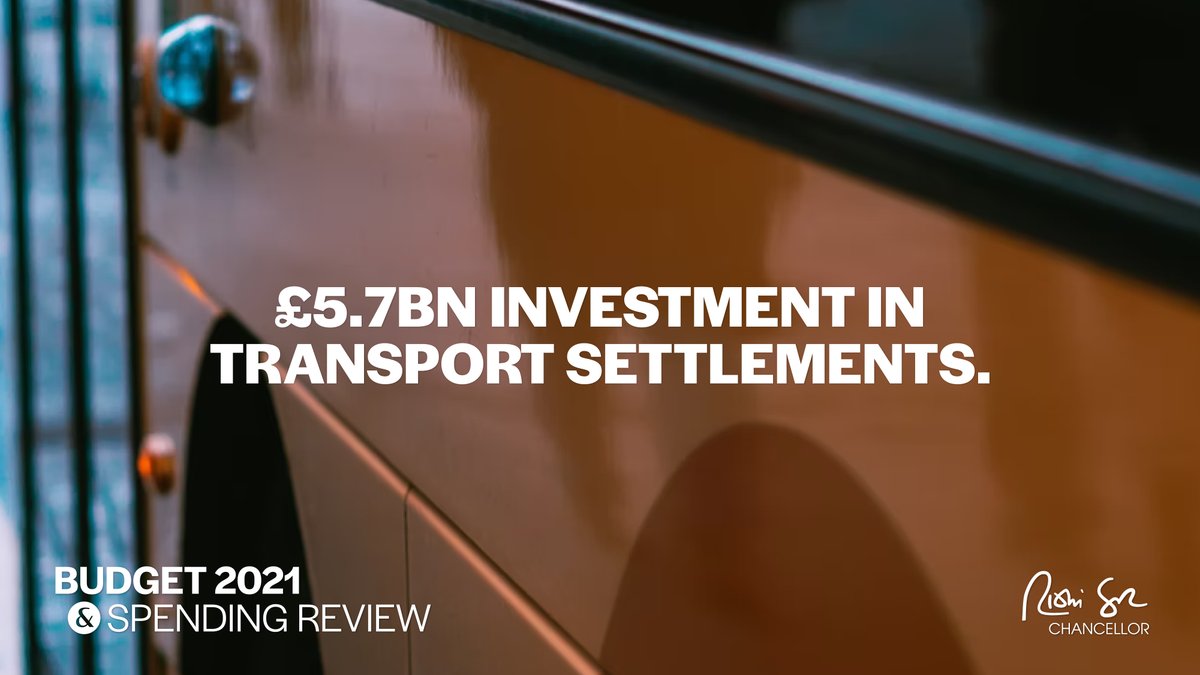 Potholes
£249 million has been made available ffor local roads maintenance so that potholes can be filled, and roads repaired, enough for 3 million to be filled over the next 3 years.
Environment Bill - River Sewage
You may have heard in the news or on social media this week about a vote in Parliament regarding sewage companies releasing sewage into waterways. As usual, the truth is a bit more complicated than the sensationalist stories which get shared.
As you may know, we have a combined sewage system made up of hundreds of thousands of kilometres of sewers, built by the Victorians. This means that rainwater and wastewater from toilets and bathrooms are conveyed in the same pipes to sewage treatment works. But during heavy rainfall, the capacity of these pipes can be exceeded. When this happens storm overflows move the excess water and diluted wastewater into rivers and the sea.
I do not want to see that happening, but our sewage system has relied on this for decades and there is not a viable alternative right now. If we did not have the overflows, you would risk the sewage backing up into our homes and streets!
And right now, we are passing new laws on the issue which will create:
- A new duty on government to publish a plan by 1 September next year to reduce sewage discharges from storm overflows.
- A new duty on government to publish a report next year on how we might eliminate overflows entirely
- A new duty on water companies and the Environment Agency to publish data on storm overflow operation on an annual basis.
- A new duty on water companies to produce comprehensive plans for tackling the problem
We are also strengthening the Environment Bill by enshrining into law a duty on water companies to secure a progressive reduction in discharges from storm overflows. The Government will also continue to challenge underperforming companies and increase monitoring to protect our rivers and streams from water pollution as we work towards our long-term goal of eliminating harm from storm overflows.
Judicial Review and Courts Bill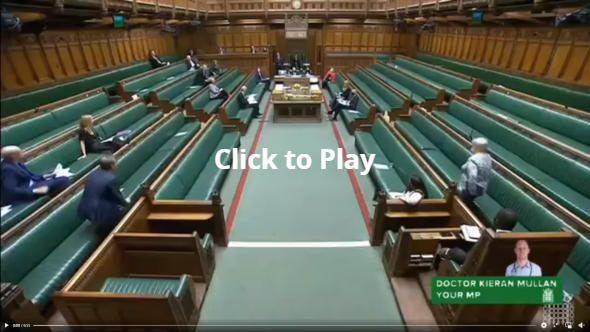 The pandemic has created challenges for the justice and courts system, with issues around court capacity and a backlog of cases. It is important that we get these backlogs down, as prolonging the process has an impact on both victims and innocent people.
On Tuesday we debated in Parliament the Government's Judicial Review and Courts Bill which brings in measures, such as remote and virtual hearings, to tackle these backlogs in courts and improve general efficiencies.
While doing things differently poses risks, these must be weighed against the effect of not acting. Nonetheless, I called on the Government to provide details about how they will protect vulnerable people from being disadvantaged by these changes.
Sajid Javid - Leighton Rebuild Campaign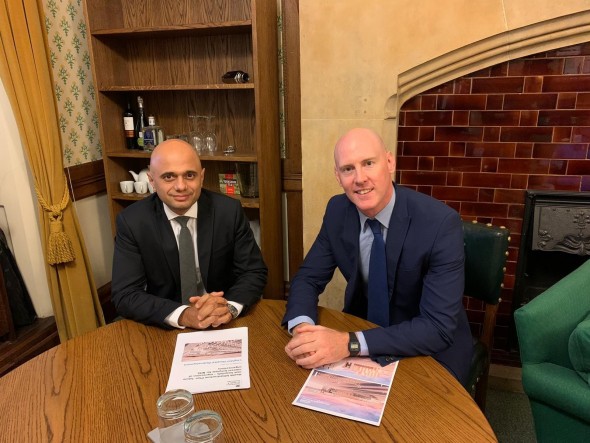 I once again met Health Secretary Sajid Javid this week to discuss the proposals by Leighton Hospital to be one of the additional 8 hospitals to be announced as part of the Governments Hospital Building Programme.
I have also managed to secure a slot to debate the campaign in Westminster next week which will be a great chance to push the campaign as the Minister in charge of the funding will have to come and listen and respond. Though this week we found out more than 120 hospitals have applied to be in the final 8 so it is going to be a tough challenge to get the win for Leighton.
As always you can support me in this campaign by signing my petition and sharing your positive stories about an experience you or a loved one has had from Leighton.
https://www.drkieranmullan.org.uk/news/leighton-hospital-new-build-campaign
Christmas Card Competition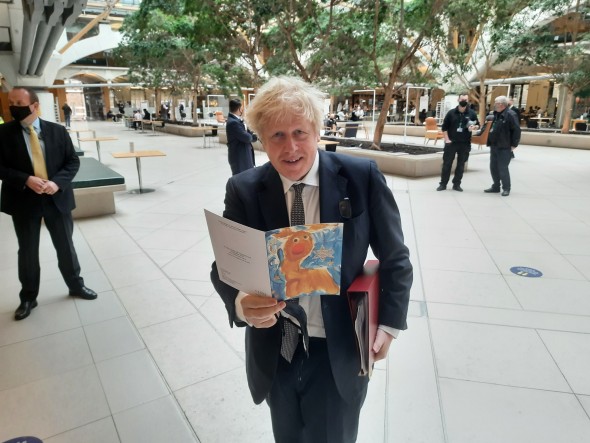 Calling all young artists!
Entries for this years competition to design my official MP Christmas card are now open. We had a great time doing this competition last year.
The competition is open to all primary school aged children in the area. A lot of people took part through their school last year, but again you can take part individually as well.
To enter please send your designs to my office at 249 Edleston Road, Crewe, CW2 5EA, or email them to me at kieran.mullan.mp@parliament.uk by 17th November.
My office team will help me chose a few finalists which will then be uploaded on here and my website where you can vote. The one with the most likes and votes will be the winner and the card will be presented to the Prime Minister!
Good Luck to everyone!
12-15 Year Old Vaccine Appointments
12-15 Year olds can now book appointments for their Covid-19 vaccine at Crewe Honda Centre, 136-146 West St, Crewe CW1 3HQ and the Masonic Hall, Wybunbury Rd, Willaston, Nantwich CW5 7ER. This will be one dose of the Pfizer vaccine and can be booked through the National Booking System (https://www.nhs.uk/conditions/coronavirus-covid-19/coronavirus-vaccination/book-coronavirus-vaccination/) or by calling 119.
Work Experience
As it is half term, I have once again had a student from a local school come to my office for work experience. This is what Oliver had to say about his time here:
"To be honest, when I walked into the office on Monday morning: suited and booted, a little worried and wondering why on earth I had decided to spend my week off school doing even more work, I was anticipating a long week of coffee runs. What I was met by however, was a friendly and productive (and surprisingly funny) environment - perfect for someone as interested and exhilarated by current affairs and communicating with people as I am.
Over the course of the week, I wrote letters, engaged in a meeting and even learned how to operate a variety of office equipment which amused me greatly! I am looking forward to reapplying the technical and social skills I developed over the course of this informative experience. And who knows? Maybe I'll be standing for election one day..."
The office will be open again for work experience during the February half-term and Easter school holidays, so do get in touch should you or someone you know want to join my team for a week! Priority is given to students living in the Crewe & Nantwich constituency.
Traffic Report
The following are road closures for the week ahead as reported by Cheshire East.
Stewart Street, Crewe (Between Albion Street and Gainsborough Road) - Until 5th November
Fuller Drive, Crewe (Between Chalfield Close and Dunham Crescent) - 29th October
Hassall Road, Winterley (Between Pool Lane and Coppice Road) - Until 1st November
Crewe Road, Shavington (Between Main Road and Lime Grove) - Until 1st November