UPDATE - CAMPAIGN SUCCESS!
The Health Secretary has announced that Leighton Hospital has been successful in its bid to join the Government's £20 Billion hospital building programme and will receive hundreds of millions of pounds of funding.
This is fantastic news for everyone! It is something I have been supporting Leighton with since 2020, most recently raising in PMQs this year and this result is a huge tribute to the hospital leaders tireless efforts to make the case to government for the funding. I want to thank the thousands of people that signed the petition backing the campaign which local cross party MPs and others supported, including Ed Timpson MP, Fiona Bruce MP and Mike Amesbury MP who attended the debate I secured in 2021.
Leighton Hospital does fantastic work, helping us when we are most in need. But the simple matter is that the building has long past its sell-by-date. It was built in the '70s and was never meant to still be in operation today. The original site has been expanded upon and has benefited from much investment in recent years – but these can only go so far. It was obvious that a complete redevelopment was needed.
Thank you again to everyone who has helped and supported this campaign. Thousands of you signed the petition calling for a rebuild and shared your stories with me about your experiences with Leighton Hospital.
Sign the petition and back the campaign! 
Leighton Hospital was built in the 1970's and was never planned to still be in use today. It has benefited from a number of big investments in new theatres and other facilities. But the reality is, add on blocks and new facilities can only take you so far. Leighton needs a fundamental rebuild and we need to secure the funding to do this.  
I am campaigning for this funding alongside other MPs and stakeholders. Leighton has developed full costed plans for a rebuild and knows how to do it in a way that will enable the hospital to carry on its vital work. 
As well as asking you to sign a petition to back the campaign, I am asking people to share their positive stories of theirs and their family members treatment at Leighton. The stories will be published over the coming weeks to build support for the campaign. 
We had an enormous response from everyone as part of our campaign to get Leighton funding for its brand new £15 million A&E and before that its A&E extension, with thousands signing the petition. Now we need peoples help again to get behind Leighton. But I think what will really bring to life how important our local hospital is to this community is hearing the real-life stories of where the staff and facilities there have come through for you at a time when you really needed them. 
Our webform has a mandatory email address field for its petition setting. If you do not have one or want to share yours, just put none@given.com in that box. Data collected as part of this campaign will only be used as part of my work related to local health and social care provision. 
Update September 2020:
This week I asked the Health Secretary to meet with me to discuss getting that long term investment in Leighton hospital and he agreed to meet. Time to get to work!
https://www.facebook.com/KieranMullanUK/videos/939533176533438/
Update October 2020:
I had a virtual meeting with the CEO of Leighton Hospital James Sumner. I also discussed with James the huge opportunity of being one of the final 8 new build hospital sites. It would allow Leighton to be fit for the future. I look forward to Leighton being able to share more details about their plans for the rebuild in the very near future.
Update November 2020:
I  visited Number 10 and met with the Prime Minister and discussed the case for Leighton hospital to be one of the final 8 new build hospital sites.
I was able to talk to the PM about the ever increasing demand locally and how much new facilities are needed.
Update June 2021:
It was great to have the chance to talk to the new Health Secretary Sajid Javid about our communities campaign to get Leighton as one of the final 8 new hospital builds.
Update September 2021:
More information on the plans for Leighton which we are trying to get into the hospital building programme have been published. I managed to speak in person to the Health Secretary again about it.
https://www.facebook.com/MidCheshireNHS/videos/161660906056044
Update October 2021:
I once again met Health Secretary Sajid Javid this week to update him on the proposals by Leighton Hospital to be one of the additional 8 hospitals to be announced as part of the Governments Hospital Building Programme.
Update November 2021:
I opened a debate that I secured on the Government's Hospital Building Programme and put the case to the Minister for why Leighton Hospital should be one of the final 8 sites that will receive funding for its proposed rebuild.
It was great to be able to share just some of these stories shared with me by the more than 1,000 people who have supported the campaign. I took your voices straight to Parliament Janice Butler, Susan Marsh and Leighton staff member Sophie Morris with the following quotes that I used in the debate!
Janice Butler:
"My husband, elderly mother-in-law and father-in-law have all received fantastic help and treatment here. The hospital serves a huge population now and help to improve and upgrade its facilities is desperately needed and has been for many years. Despite the huge pressures, we have experienced excellent help here."
Susan Marsh:
"I started work at Leighton in 1972 and worked there for 35 years. Since retiring I have been a patient there numerous times. It has changed in the care it delivers since my day, both numbers and treatments. With a new build it will be able to continue to grow along with the population in the area, which will be badly needed."
Sophie Morris:
"I have worked at Leighton A&E for 6 years now and over that time the demand on the hospital has increased massively. Our last few summers have been busier than most winters. Shortly after starting as a nurse in A&E, my husband became ill. We found out he had terminal throat cancer when I was 7 months pregnant. From beginning to end we had fantastic support and care from all over the hospital. I think it says a lot about the place and the fabric that is the staff who work there, that I could carry on working in a place that holds so many raw memories. As a body of staff we work so hard to look after the people who come to us for help, now we need some help so that we can provide the care that is demanded of us. Now we need some help so that we can provide the care that is demanded of us."
I have been campaigning on this with Ed Timpson MP and Fiona Bruce MP and it was great to have their support today. This is a cross party issue and we also have the support of Labour MP Mike Amesbury.
Over 120 sites have put forward proposals to be chosen as one of these final 8 sites so the challenge is a big one. We need to do everything possible to ensure the need locally is fully understood by Government. If you haven't already you can still support our campaign via the link in the comments. If we don't make it into the final 8, today has helped us making the case for investment beyond this opportunity.
https://www.facebook.com/KieranMullanUK/videos/472205210758740
Update December 2022:
In Parliament, I met with Steve Barclay, the Health Secretary, regarding the proposed rebuild of Leighton Hospital - making sure it on the top of his list of priorities.
Update Jan 2023:
I joined an early morning meeting with the PM. I explained my top two deliverable projects for my constituency are a new hospital at Leighton and delivering Crewe Town Deal.
Update February 2023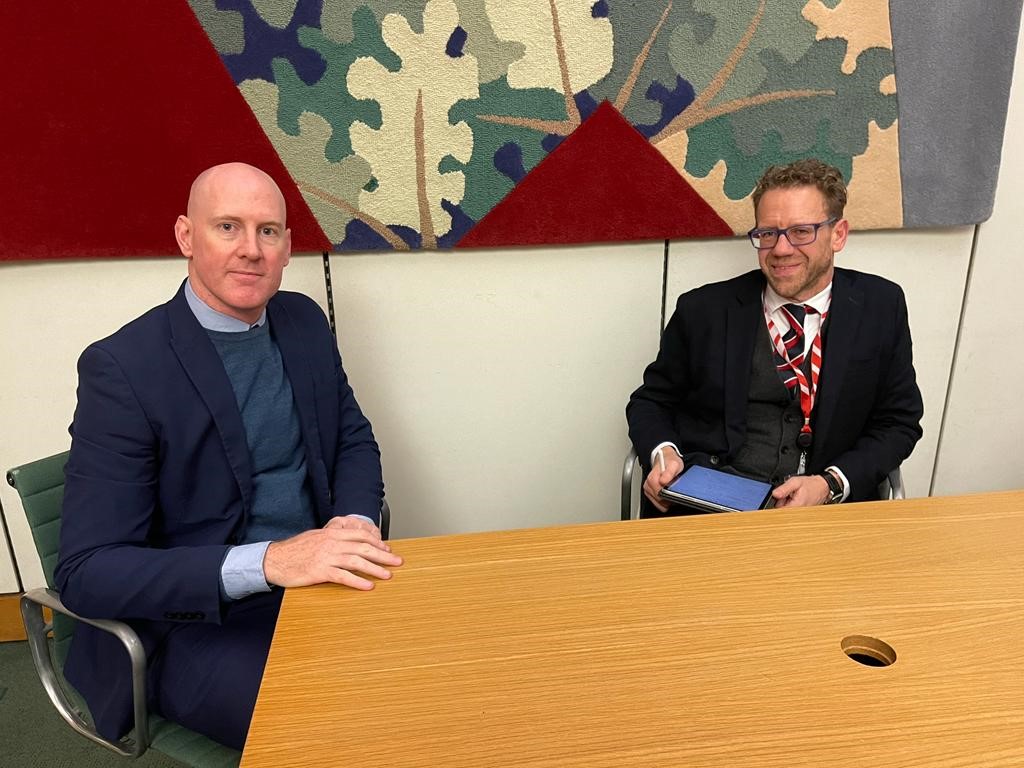 I had a meeting with the Hospital's Minister, Nick Markham, to discuss my campaign to get a rebuild of Leighton Hospital. 
Update February 2023 
At this week's Prime Minister's Questions, I once again pushed the PM on my campaign to get a rebuild of Leighton Hospital!
At Prime Minister's Questions, I once again pushed the PM on my campaign to get a rebuild of Leighton Hospital!
https://www.facebook.com/KieranMullanUK/videos/592826352220433/
Update March 2023
This week, I met with Ian, the CEO of Leighton Hospital.
I was updated on the campaign for a rebuild of the hospital, and about the steps they are taking to make the best use of the building in the meantime.
Leighton New Build Hospital Petition