Welcome to this weeks newsletter.
For a long time now I have been pushing Cheshire Fire & Rescue to make progress on their investigation of the Beechmere fire. I have been very frustrated by the limited amount of information available and I am sure former residents and their families will feel the same. As such I have arranged a meeting next week with Cheshire Fire & Rescue and Your Housing so people can ask them questions directly. This meeting is for the residents, their families and close friends only. Please do share this information with anyone you that was affected by the fire and we can share meeting details with them. I don't have access to a central list.
Details were announced about the Government's Energy Security Strategy this week, which will help us ensure that we have a more independent energy network that can withstand any future global increase in energy prices. Whilst it won't help in the short term, in the long term it should  help keep households' energy costs lower than they otherwise would be over the next decade and beyond.
The Friends of Crewe South 1 Alleyways are doing a clean-up session of the Derrington Alleyway on Monday 11th April from 4pm until 6pm – why not come along if you have a free evening? It feels great to help out with a local community project.
Finally, I got to see the impressive performance of Pricilla Queen of the Desert at Crewe Lyceum this week by Crewe Amateur Musicals Society. Huge congratulations to the whole cast and crew for all their hard work. Tickets are still available for Saturday's final performances so why not head on down if you are looking for something to do tomorrow.
https://crewelyceum.co.uk/Online/tickets-priscilla-crewe-2021
Have a great weekend.

Beechmere Fire Meeting
Living Wage Rise
Channel 4 Privatisation
Energy Security Strategy
Mornflake Visit
Halfords e-Bike Visit
Richmond Retirement Complex
Derrington Alley Project
Pricilla Queen of the Desert
Traffic Report
­
Beechmere Fire Meeting
Over the past two a half years, I have been with Cheshire Fire Service to try and get progress on their investigation of the fire. I have also helped individuals and their  families raise concerns with Your Housing.
I can certainly understand the frustration of former owners, residents and their families over the lack of information that has been shared in the intervening period.
Some of this, as I understand it, has been necessary to prevent any prejudice against what could be very serious criminal charges.
I have organised a meeting for those affected by the Beechmere fire and their families to come and ask questions directly to Cheshire Fire Service and learn more about the ongoing investigation. This meeting will be limited to those who were residents or close friends and family of residents of the complex during the fire. 
Unfortunately as the MP, I am not allowed to have a list of residents because of data sharing rules so I am not able to directly ensure everyone gets invited so working with partners to notify people. So if you or someone you know would like to come along please get in touch with me via kieran.mullan.mp@parliament.uk 
­
Living Wage Rise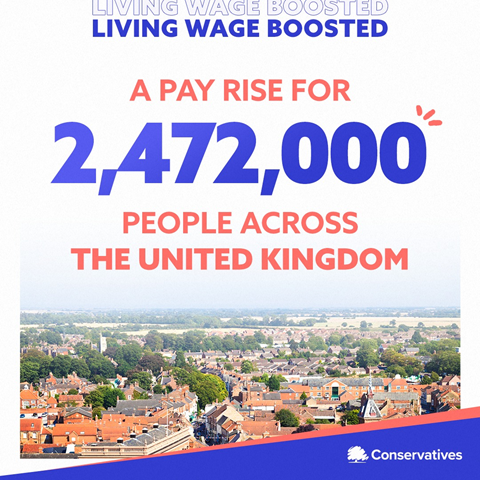 This week, millions of people saw a pay rise of £1,000 a year with a rise in the National Living Wage. I understand that many people have been struggling with the cost of living, and while this rise in the living wage is not a magic bullet that will solve everything, it is going to help those less well off. 
­
Channel 4 Privatisation
The Government announced plans this week to privatise Channel 4. I know many people automatically have a negative connotation around the word privatisation, but this plan will help give Channel 4 the freedom and opportunities it needs to exceed in the modern media world.
 
Government ownership is holding back Channel 4 from being able to compete against modern streaming giants such as Netflix and Amazon. Bringing the broadcaster into private ownership gives it the opportunity it needs to flourish. 
The proceeds of the sale will be reinvested into the creative sector, in independent production and creative skills, delivering a creative dividend for all. 
­
Energy Security Strategy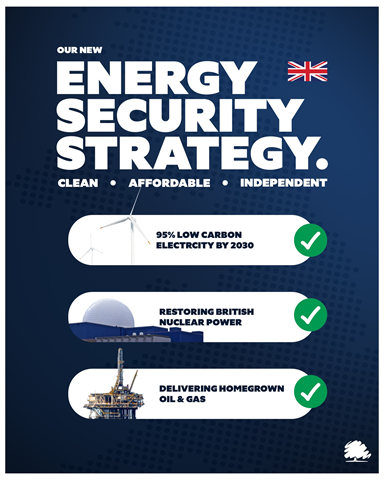 The Government announced this week its energy security strategy which will ensure that the UK produces more home-grown power and put us on a path to greater energy independence. We have recently seen the consequences of relying too heavily on overseas energy sources, with the sharp rise in prices following the Russian invasion of Ukraine. Becoming more independent will allow us to wean off oil and gas which are subject to large price fluctuations.  
Because of this plan, household energy prices will be lower this decade than they otherwise would. 
This plan includes bold ambitions such as:
 
-significant acceleration of nuclear, with an ambition of up to 24GW by 2050, which will make up 25% of the UK's power 
-Wind power producing up to 50GW by 2030 – more than enough to power every home in the UK – of which we would like to see up to 5GW from floating offshore wind in deeper seas. 
-A new round of North Sea Oil and Gas projects will form part of our transition to our new energy plan to reduce our imports
-Speeding up Heat pump manufacturing with a Heat Pump Investment Accelerator Competition in 2022 worth up to £30 million to make British heat pumps, which reduce demand for gas. 
-look to increase the UK's solar capacity which could grow up to 5 times by 2035, consulting on the rules for solar projects, particularly on domestic and commercial rooftops. 
Importantly for Crewe & Nantwich there is also a commitment to aggressively pursue Deep Geothermal which is something I am working on a lot locally and nationally.
I know that the upcoming months are going to be hard for many, with the increase in energy prices. The strategy won't fix that, but it is good to see that the Government is attempting to secure cheaper energy for the future.- 
Mornflake Visit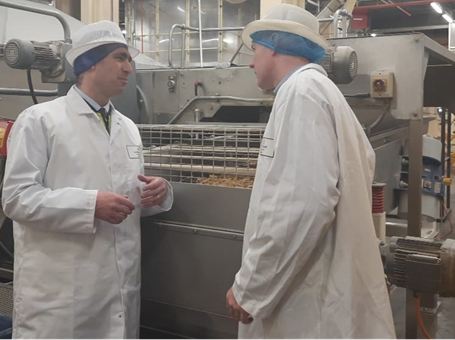 This article, as well as the one about Halfords &  Richmond Care Complex below, were written by Hollie, a local student from South Cheshire College who came to my office this week for Work Experience. 
This week I went on a tour of the Mornflake factory on Gresty road. The factory, which started as just a small family owned company all the way back in 1675, now provides high quality oats around the world. First I learned a little about the history of the mill and all of the incredible work they do at the factory, before going on a guided tour where I got to experience first hand what happens during production. Overall it was a great and insightful experience!
Halfords e-Bike Trial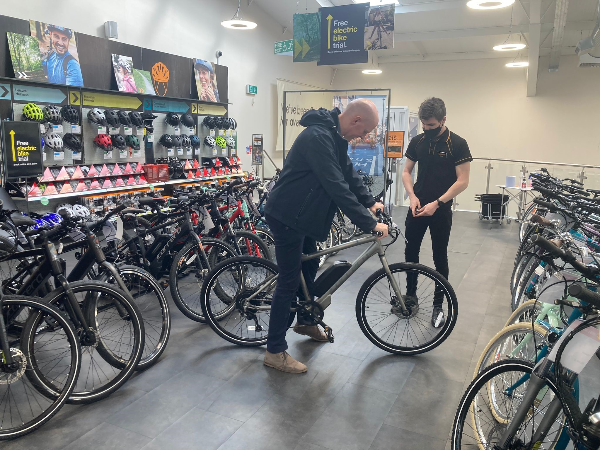 In recent years we have seen demand for e-bikes grow in the UK, but we are still far behind other countries where they are a major method of commuting. This is a shame as they are a great mode of transport, which helps you cycle further yet is better for the environment than other forms. I think they are particularly well suited to people recovering from injury or struggling to cycle as they get older.
Buying an e-Bike is a large commitment and investment, especially if you are not sure it is right for you. This week I visited the Halfords store in Crewe where they offer free e-bike trials where you can try one out for up to 6 hours.  
Learn more about this trial here: 
https://www.halfords.com/bikes/services-advice/free-electric-bike-trials.html
­
Richmond Retirement Complex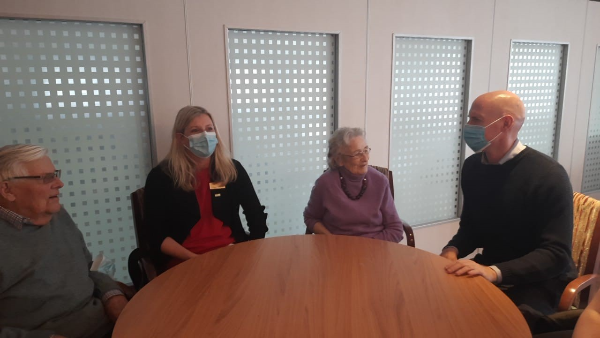 This week I went to the Richmond retirement village where I got to speak to the lovely residents and answer some of their questions. I held a brief Q&A and then proceeded to talk to the residents individually and listen to their ideas and concerns. The residents were incredibly kind and friendly and the village itself was beautiful. 
­
Derrington Alley Project
The Friends of Crewe South 1 Alleyways are doing a clean-up session of the Derrington Alleyway on Monday 11th April from 4pm until 6pm. 
Supported by Crewe Town Council, Cheshire East and ANSA, this is yet another example of people coming together to clean up their community and make it better.  
Thank you to everyone who has supported this. Why not go along on Monday to help out if you have a spare afternoon? 
­
Pricilla Queen of the Desert
I enjoyed going to see Priscilla Queen of the Desert on opening night on Thursday. I know how much everyone at Crewe Amateur Musicals Society has invested into making a great show for everyone!
Tickets are available here for the remaining performances until Saturday. It is something fun & different to do with one of your evenings this week and support a local group:
https://crewelyceum.co.uk/Online/tickets-priscilla-crewe-2021
­
Traffic Report
The following are road closures for the week ahead as reported by Cheshire East.
Wistaston Road (Between Edleston Road and Dunwoody Way) - Until 15th May 
Whites Lane, Weston – 11th until 15th April 
Dig Lane, Shavington – until 11th April 
Arnold Street, Nantwich (Between Albert Street and Prince Edward Street) - 12th until 13th April