Firstly, can I wish you a Merry Christmas! It has not been an easy year, and Christmas itself might not be exactly back to normal for many people this year. But I think most of us are going to enjoy a much better Christmas than last year and get the chance to spend time with friends and family. As always I will be sparing a thought for the many public service and key workers still working over the holiday and of course this year this includes people vaccinating throughout!
One of the great things about being out and about this time of year doing things like the Santa Floats and delivering newsletters and Christmas cards to residents is getting to see the amazing light displays people put up! I have had some great photos sent in from local councillors, have a look below. You'll also see I took our Christmas Card winner to the Prime Minister last week!
This is the last newsletter of 2021! It has been great to be able to write to you every week and I appreciate the thanks we get for the newsletter. But as we go into 2022, always feel free to let me know how else we can improve it.
We have had some good news to end the year on, with Cheshire College being successful in their bid to become an Institute of Technology. This will bring around £5 million of investment to their Crewe campus, providing more  opportunities for young people to receive high-quality training in high demand subjects such as cyber security and healthcare.
There have been some Covid related updates. Firstly, the Prime Minster has announced that there will be no new restriction before Christmas. Government scientists and advisors are watching the situation with the new Omicron variant closely and will advise what steps are necessary to keep people safe. There has also been a change in the rules around self-isolation with Covid. You can now leave isolation after 7 days, as opposed to 10, with a negative test on day 6 and 7. The Government is also providing more financial support for businesses, with £1bn worth of new grants. Find out more about these below.
  Finally, the Holiday Activities Fund is once again providing free activities and meals for children who receive benefits related free school meals. You can find out the details of where and when these activities are offered below. Most were at the start of this week but there are still some left.
I have an included a review of my year as your MP below. In total I have helped with 8,000 queries from constituents, held 14 surgeries, held 300 virtual meetings and 150 in person meetings. I also spent time volunteering on the front line in the NHS which is of course where my passion for public service began!
It has been amazing to look back at all the ways in which Crewe & Nantwich as a community is achieving and all I ever can do is amplify and support what others do so thank you so much to everyone who works hard in their businesses, public services , charities or volunteer groups to make Crewe & Nantwich the place it is,
Have a Merry Christmas and a Happy New Year! 
­
­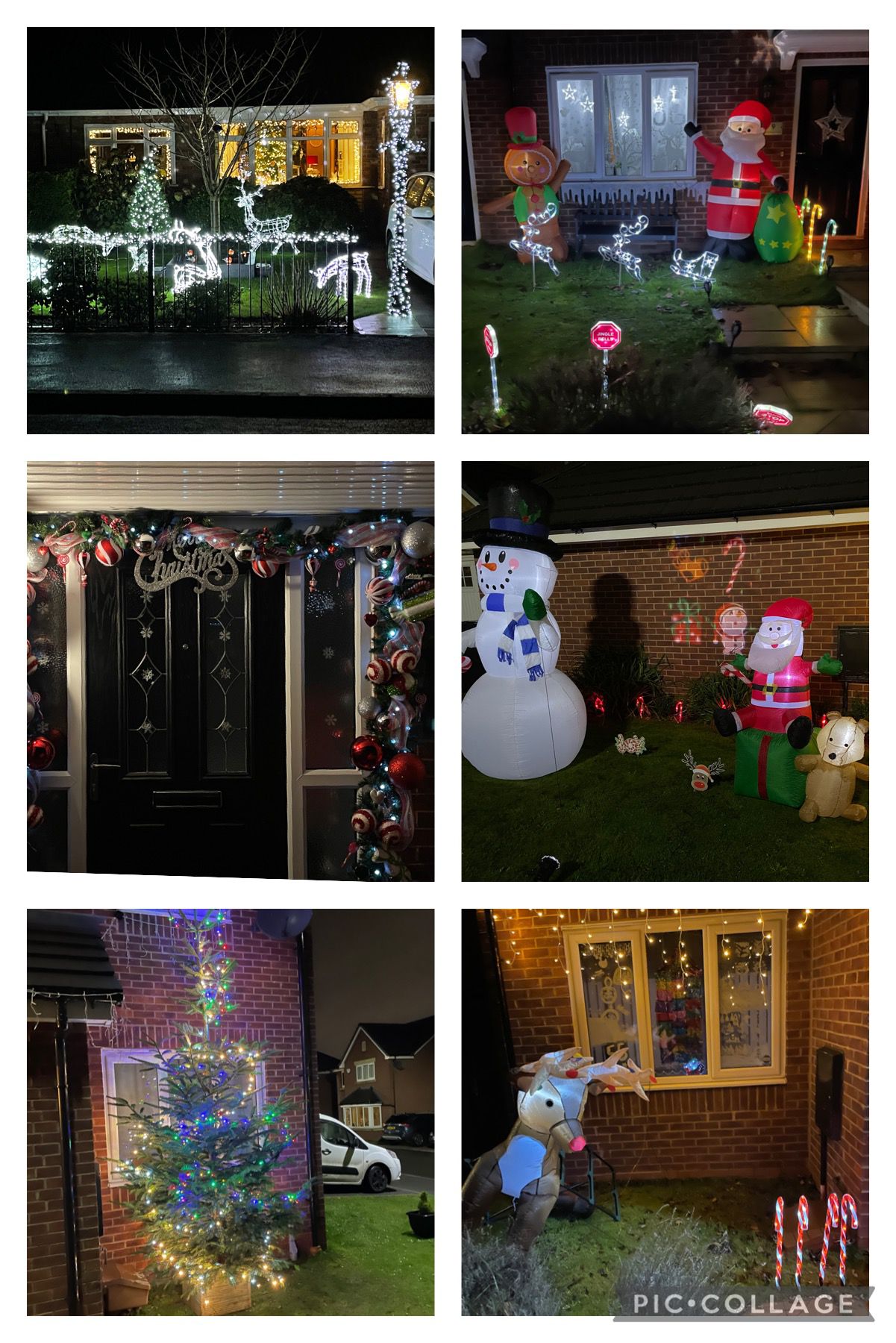 ­
Institute of Technology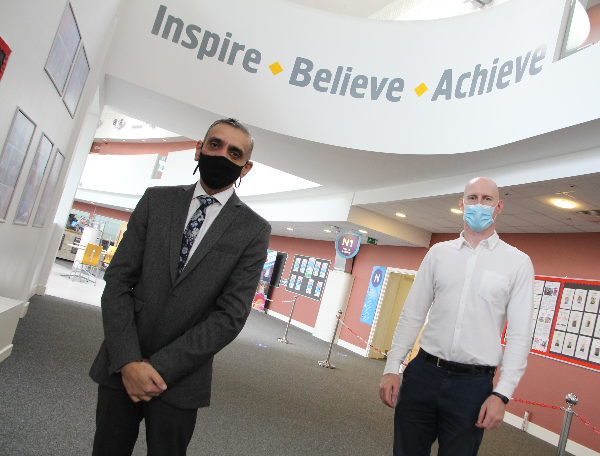 Cheshire College South & West has been successful in its bid to become an Institute for Technology and the leading organisation in a collaboration of local colleges and universities. Another great win for Crewe and the area – all thanks to the efforts of the college team who have worked on the bid for a long time.
Institutes of Technology are partnerships between employers, colleges and universities that provide Higher Technical Education and training in subjects such as cyber security, healthcare, and aerospace – providing young people with high quality training and businesses with a skilled workforce.
This is great news not just for young people in our area, but anyone who wants to get new skills, create new opportunities for themselves and get on in life.
We know we have vacancies and skills shortages and that means opportunities for people and this investment will mean our local residents are well placed to take advantage of them. This will build on the already excellent work the college is doing to support T Levels and the Lifetime Skills Guarantee which all together are pushing forward further education as a key way to level up our country.
Dhesi, Principal and CEO at Cheshire College says:
"This announcement means investment in prestigious new facilities and resources across all the colleges across Cheshire and Warrington, including almost £6m for Cheshire College's Crewe Campus. I would like to take this opportunity to thank all the MPs across the region for their support and in particular Kieran Mullan MP, who has been a strong advocate for the IoT from the very beginning."
Find out more here: https://www.ccsw.ac.uk/cheshire-and-warrington-are-winners-in-the-120m-… 
­
Holiday Activities Fund
As part of the Holiday Activities Fund many schools and organisations across Crewe & Nantwich are offering a free meal and activities for children who receive benefit related free school meals during the Christmas holidays. It is part of the Government's support for families this winter.
Here is a list of the all the local providers – as I know many parents do not know where they can go and what they can do. 
Central Cheshire Buddy Scheme:
Description: Central Cheshire Buddy Scheme supports children and young people with disabilities and is offering a trip to winter fun land in Manchester on the 28 and 29 December, places are limited. Booking is essential.
Booking details: BOOKING IS ESSENTIAL Please contact a member of the Cheshire Buddies on 07873423389 or 07938163103
Cost: free for children in receipt of benefit related Free School Meals. Please contact the provider directly if you are not eligible for this programme as many providers do offer fee paying sessions.
Cheshire Young Carers:
Description: Cheshire Young Carers support young carers across Cheshire in three key areas, school holiday respite programmes, individual and group support where necessary plus working with schools and colleges to provide specialised support where required.  
Dates: 18/12/2021 - 02/01/22
Times: Times per sessions are varied. Please contact provider for more information.
Location: Various locations dependant on session taking place. Please contact provider for further information.
Booking details: These are closed sessions, and only bookable if Young Carers are with Cheshire Young Carers. Do you know a young carer who you think could benefit from our support or services? If so, please don't hesitate to make direct contact by completing the following referral form - https://www.cheshireyoungcarers.org/contact/make-a-referral 
Cost: free for children in receipt of benefit related Free School Meals. Please contact the provider directly if you are not eligible for this programme as many providers do offer fee paying sessions.
Funsters
Description: Funsters is a huge, warm and welcoming indoor playcentre, guaranteed to keep kids active and on the move. During their visit children will receive a hot nutritious meal, which will have been chosen 48 hours prior to the visit online. Please note the playcentre has a height restriction of 5'2" and an age restriction of children playing of 12 years.  
Dates: During the school winter holidays. Closed 25 - 26 and 30 December 2021 and 1 January 2022.
Time: 11.30-2 or 2.30-5
Location: Funsters Stalbridge Road Crewe CW2 7LR
Booking details: Book online www.funstersplaycentres.co.uk one free adult with each booking. Non- qualifying children can also be booked into the playcentre on the same booking (no food).
Cost: free for children in receipt of benefit related Free School Meals. Please contact the provider directly if you are not eligible for this programme as many providers do offer fee paying sessions.
St Andrew with St John the Baptist and St Peter's Crewe:
-Description: Join us for hot food, festive fun and games. Open to all families. SEND children welcome, please let us know if we can do anything to make your visit easier. Booking is essential.
Dates: 23 December, 28 December, 30 December
Time: 12.00 – 3.00pm
Dates & Location: 28 December at St Andrew's Church / 23 and 30 December at St Peter's Church
Booking details: Contact Becky at stpeters@crewetowncouncil.gov.uk
Cost: free for children in receipt of benefit related Free School Meals. Please contact the provider directly if you are not eligible for this programme as many providers do offer fee paying sessions.
If you are a local provider and you have been missed off let me know. It is quite tricky to go through the directory. The full Cheshire East directory is available here:
https://www.cheshireeast.gov.uk/livewell/care-and-support-for-children/how-do-i-get-early-help-for-my-child/family-information-service/fis-events/events-calendar.aspx
Self Isolation Rule Change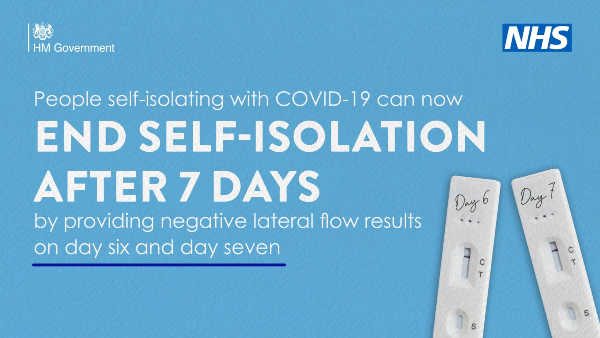 The rules for those self-isolating with Covid-19 have now changed. It is now possible to end isolation after 7 days with a negative lateral flow test on days 6 and 7 rather than having to complete the full 10 days as before.  
You can get free lateral flow tests delivered via this link:
https://www.gov.uk/order-coronavirus-rapid-lateral-flow-tests
Business Support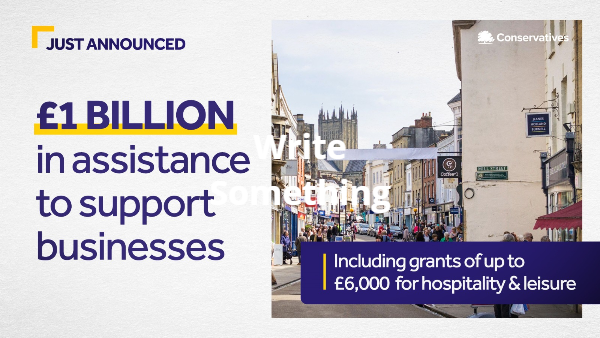 As of 21st December, the Government has announced £1 billion of targeted financial grants to protect jobs and businesses in the hospitality, leisure and cultural sectors.  
There are new one-off cash grants to help businesses of up to £6,000 for hospitality and leisure businesses
Also being reintroduced is the Statutory Sick Pay Rebate Scheme, cash rebates can be claimed from the government to cover the cost of Statutory Sick Pay Rebate Scheme for up to two weeks.
In addition, there is also over £100 million in a new discretionary fund for local authorities to support other businesses and £30 million to the Culture Recovery Fund.
These new amendments add to the existing support currently in place to help affected businesses such as:
Reduced rate of VAT (12.5%) for tourism and hospitality until 31 March 2022.
Significant business rates relief to support fixed costs until March 2022 - then from next year businesses will receive a 50% discount on bills up to £110,00.
Guidance for the £1.5 billion Additional Relief Fund, allows local authorities to provide financial support for businesses not benefitting from existing grants, such as breweries and wholesalers. 
­
Post Office Sorting Office Visit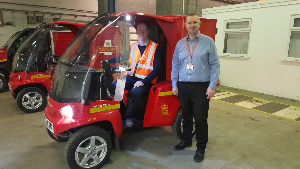 ­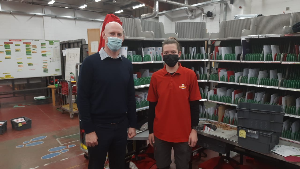 Earlier this week, I visited the Post Office's sorting office in Crewe. Christmas is busy for them at the best of times, but even more so this year as they are doing fantastic work delivering Covid tests.  
Thank you to all post office staff for all of the hard work you do at this time of year!
I got to have a go at driving one of their 'e-Trikes' – new, low carbon delivery vehicles – which are being trialled in Crewe. It was great to speak to Alicia, an apprentice who is one of the drivers trialling these e-Trikes.
The Post Office provide a range of apprenticeships in a variety of job roles. From Posties to LGV Drivers these programmes help provide people with the skills they need to get on in life.  
Find out more about their apprenticeships, and other early career programmes here: https://jobs.royalmailgroup.com/content/Early-Careers/
Crewe Rotary Santa Float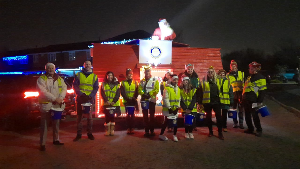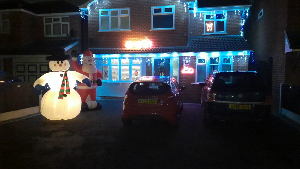 I had a lot of fun being out with Crewe Rotary for their Santa Float this week. They are a fantastic team of volunteers that collected lots of donations. I can honestly say nothing is more uplifting than seeing the sheer joy of the kids when they see Santa! Smiles, shrieks of excitement, lots of waving and running up and down the street!
There was a lovely light displays on show as well! 
­
Cromwell Court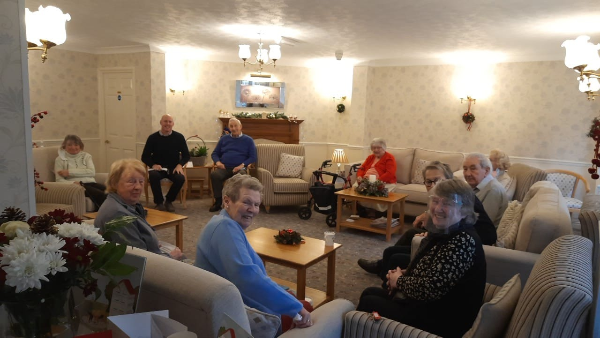 I met with residents of Cromwell Court in Nantwich this week to hear more about their concerns they have regarding their local area. We discussed a range of local issues, from parking to street lighting, as well as some broader issues which were of interest to residents.
If, like the residents of Cromwell Court, you would like to raise any concerns with me regarding your local community, please contact my office so that I can assist you. 
My Booster Vaccine
I got my booster vaccine this week at Civic Hall. Thank you to Nantwich Buddies and all the staff there who made it quick and easy!
It is very important that we all get our booster vaccines as soon as we can, so that we are better protected from the virus. You can book your appointment through the national booking line here:
https://www.nhs.uk/conditions/coronavirus-covid-19/coronavirus-vaccination/book-coronavirus-vaccination/ 
­
Prime Minister Christmas Card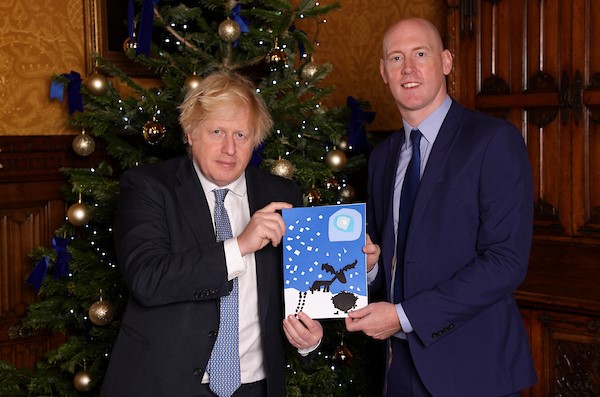 You may remember the winning design for my Christmas Card Competition by Daisy from Haslington Primary School. I recently got to present this winning card design to the Prime Minister.
Thank you to all who took part and voted this year. It is always a highlight seeing the joy on the child face when we tell them they have won!  
Looking forward to doing it all again next year! 
­
My Year in Numbers
It has been a busy year in Parliament representing Crewe and Nantwich, raising constituent's concerns, fighting for our local area, and helping residents with any issues or queries they may have.
I have spoken 48 times in Parliament this year on a wide range of issues facing constituents in Crewe and Nantwich. To mention some, I have pushed for funding for a new build at Leighton Hospital, urged the Government for rail investment in Crewe and pushed for funding for geothermal energy, a new form of green energy which Crewe could benefit from greatly and much potential for.  
Some of these contributions have been questions to various Ministers, three of which were to the Prime Minister himself at Prime Ministers Questions. Some of the other contributions were in debates in the chamber. I was lucky enough to be chosen to hold a Westminster Hall debate on Geothermal Energy.  
I have also held the Government to account in other ways, asking them a total of 101 written questions on a wide variety of issues. Written questions and their answers are available to the public and can be found here: 
https://questions-statements.parliament.uk/written-questions?SearchTerm=&DateFrom=01%2F01%2F2021&DateTo=31%2F07%2F2022&AnsweredFrom=&AnsweredTo=&House=Commons&MemberId=4860&Answered=Any&Expanded=True
Arguably, the most important part of my job is helping constituents with any issues they may have and responding to any questions they have on areas of Government Policy. I have been contacted for help and one kind or another over 8,000 times this year. I am overwhelmed by the wide range of topics people write to me about – from beer tax to ear wax!  
If you are ever in need of my help, or want a question answering feel free to drop me an email to kieran.mullan.mp@parliament.uk.
Due to the pandemic, many meetings and events have taken place virtually, particularly in the beginning of the year. I took part in over 300 virtual meetings and events with a wide range of people, such as Ministers, local charities, and businesses. That is not to say though that in person events did not happen – and I took part in almost 150 in-person meetings and events. This includes meetings with ministers as well as visits to local schools, businesses, and organisations.
I also hosted 14 surgeries in all areas across the constituency. This is where constituents can speak to me in person about any personal issues they have that I could assist with. I regularly advertise these on this newsletter – so do get in touch if there is something I can help you with.  
2021 in Crewe and Nantwich
This year has been my second full year as your MP, and while like last year we have had our challenges, we also have a lot to celebrate. 
One of the biggest successes of this year is the Crewe Town Deal – in which Crewe received an investment of £22.9 Million. I have been working alongside the amazing team on the Crewe Town Board all year to help create the proposals and present them to the Government.
Thank you to everyone who has helped. From those who sat on the Crewe Town Board to those who took part in my survey. You have all played your part. I hope that over the coming years we these plans transform our town.
The beginning of the year was tough due to the re-introduction of Covid restrictions. While it was necessary to protect people from the virus, it was no doubt challenging, especially for local businesses.  
When we began to reopen in April, I had a 'reopening campaign' in which I toured the constituency, promoting our local businesses and organisations which had closed for the past few months. I went to businesses such as Madison Spa, Gentleman Jack's, Nantwich Fitness Studio, and the Dance Place. It was amazing to see the hard work and perseverance from local businesses, finding innovative ways to adapt to the situation.  
Later on in the year I also held a 'Best Small Business Awards' in which people vote for their favourite small business. This helped recognise the work and value of our local small businesses. Well done to Rhode Island Coffee for winning!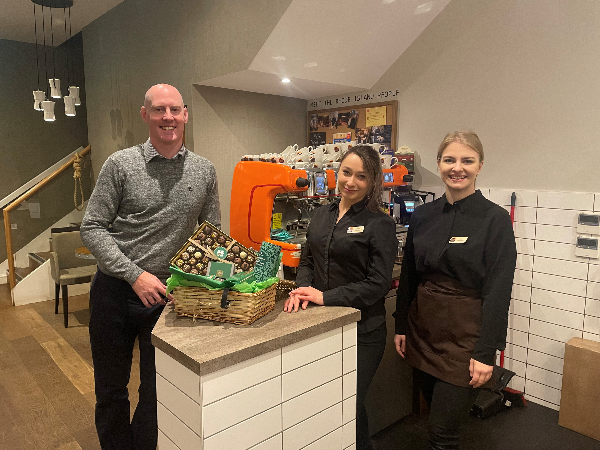 I have been involved heavily this year with the Crewe Alley Angels project. I have had such an amazing time working with residents to transform the alleyways in Crewe. Our alleyway champion Denise has been there from day 1, helping us, speaking to residents, and getting people on board. I am incredibly grateful to all the residents and community activists who have helped us, giving many hours of their time. And of course, thanks to Radius without whom this would not have been possible.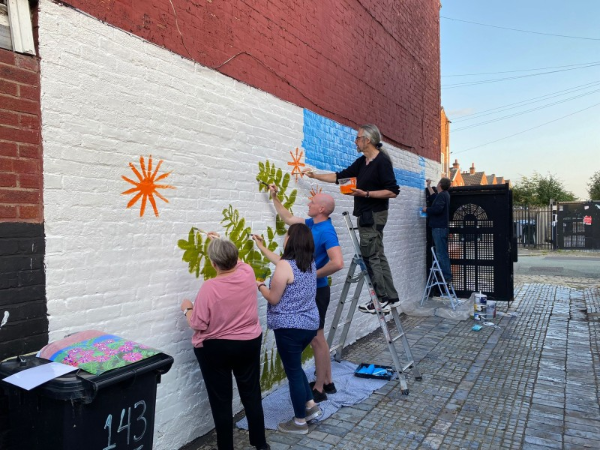 Another project I have been working on this year is a School-Sports Club initiative, in which we partner schools with local sports clubs. I set this up so the children know their local sports clubs and can join them outside of school if they enjoy the sport they tried. We have already held a handful of sessions and are hoping to do more in the new year.
Finally, one thing we can all be proud of is the vaccine rollout programme – both nationally and locally. This has been a joint effort to keep everyone around us, particularly the most vulnerable safe. We have seen many volunteers give up their time throughout the year to put jabs into arms or act as a steward at centres. We also have businesses like Crewe Honda Centre who have kindly given up their space as a vaccine clinic. Thank you everyone who has had their jabs and those who have helped make the programme a success which has no doubt saved countless lives.  
Nationally we had a great success with the Harper's Law campaign and a new pet theft offence. I worked with Lissie Harper, the widow of PC Harper to get the agreement from government to introduce a new mandatory life sentence for people who kill emergency service workers. I worked with a group of MPs to also get agreement or a review of pet theft and a commitment from government to introduce a new tougher sentence of pet abduction.
Thank you to everyone who has helped support our community this year. From local charities and businesses to individual volunteers you have all played your part in making our area better. I look forward to seeing the wonderful work that you do in 2022! 
Traffic Report
There are no planned road closures for the week ahead reported by Cheshire East Council.