Firstly, I would like to mention the good news of the updated Covid-19 vaccine contract.
The Government has reached an agreement with Pfizer, where they have purchased 35 million more vaccine doses, which are to be delivered in the second half of next year, as the Government's plan to further protect the community continues. Purchasing these new doses well in advance means again the UK can ensure we are well positioned to keep ahead of the battle against the virus. We have seen already what a difference it makes to be at the head of the queue for vaccines. 
Locally, I co-hosted a vist from the HS2 Minister Andrewe Stephenson MP to Crewe. HS2 will bring jobs to Crewe with so many businesses locally involved in the rail industy. Getting the inter city traffic off the West Coast Mainline will mean more frequent and reliable services for us locally. There will also be millions of trees planted along the route, so there will be a net gain for the environment.
I also visted the Barnie's project in Crewe this week which is a community garden and meeting place which has a loyal following of people that see it as a life line for getting out of the house, enjoying time outdoors and meeting other people. 
On that front, there is a great chance to enjoy some time outdoors tomorrow at the Flag Lane Baths  Valley Park Festival tomorrow from 12 till 4. The event is free and has activities for kids and food. You will get to hear about the plans for the regeneration of the Baths being funded by the Crewe Town Deal. 
Lastly, I know locally we have a shortage of football facilities and Crewe FC football has put forward plans for a new facility on the Georges. They are seeking views of residents and I would encourage you to give your feed back.
Have an enjoyable weekend.

HS2 Minister Visits Crewe
Barnie's Visit
Valley Park Community Event
Cheshire College South and West - Good News Gazzette
New Football Facilities at King George V Playing Field
Help and Advice Surgery - Haslington
Apprentice Job Applications Extended
Work Experience
Traffic Report
HS2 Minister visits Crewe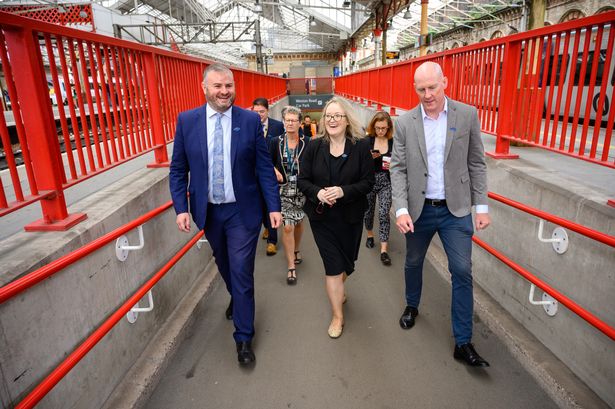 This week I co-hosted a visit from the HS2 Minister Andrew Stephenson MP to Crewe station. I keep in frequent contact with Andrew as this project is such an important one for Crewe.
The main problem it is tackling is the congestion on the West Coast Mainline, not journey times to London! But that gets lost in the media. HS2 will bring jobs to Crewe with so many businesses locally involved in the rail industry. Getting the inter city traffic off the West Coast Mainline will mean more frequent and reliable services for us locally and more opportunities for buisnesses to put freight on the train, reducing road congestion. There will also be millions of trees planted along the route, so there will be a net gain for the environment.
I pushed the need to ensure the station facilities get the investment they need as we all have seen the station is not the modern accessible facility we deserve. This will need investment from the government.
I also took the opportunity to raise the idea of the new Great British Rail headquarters being in Crewe. I think it would be a perfect site in view of our rail heritage and connectivity to the rest of the country. I will be writing to Transport Secretary Grant Shapps about this as well.
Barnie's Visit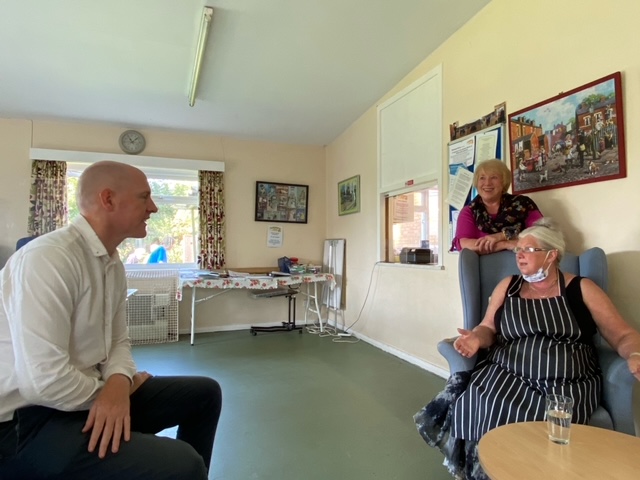 On Thursday I had the pleasure of visiting the Barnie's Community Hub & Garden based at  St Barnabas church hall on West Street in Crewe. Like many community projects they had to close and then change what they did during lockdown but they are back to providing a friendly and welcome atmosphere for the people who join them. 
I met founder Lesley who explained how the project began and how vital it was for the mental and physical health of members of the community, to be able to socialise and take part in activities they love such as gardening and woodwork. They grow fruit and vegetables and have a cafe and somewhere to sit and chat.
The recent construction of a veranda enables its members to relax and socialise in a beautiful outdoor space, with much less worry surrounding Covid-19 with it being outdoors. When I visited, I was also lucky to meet and talk to with the people who visit the centre, and hear what it means to them. It is clear to see that this community is essential to them and that they really do enjoy spending time here.
There is something for everyone there but it seems particularly loved by older people whi might be socially isolated and people with disabilities and additional needs who want a nice positive welcoming space to spend time with a number of carers bringing the people they look after along.
Wednesday & Thursday
10:00 - 14:30
Find out more:
https://m.facebook.com/BarniesHub/
https://livewellservices.cheshireeast.gov.uk/Services/2625
Valley Park Community Event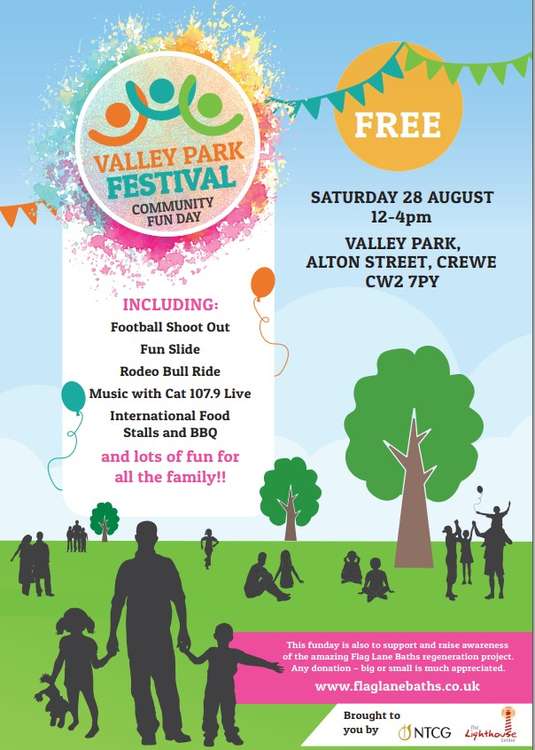 Come along this Saturday to hear updates on the Flag Lane Baths project, and enjoy a range of fun activities including a rodeo bull ride! The event will be held from midday to 4pm on Alton St, CW2 7PY. Bring along your family and friends to join the fun this weekend.
Cheshire College South and West- Good News Gazette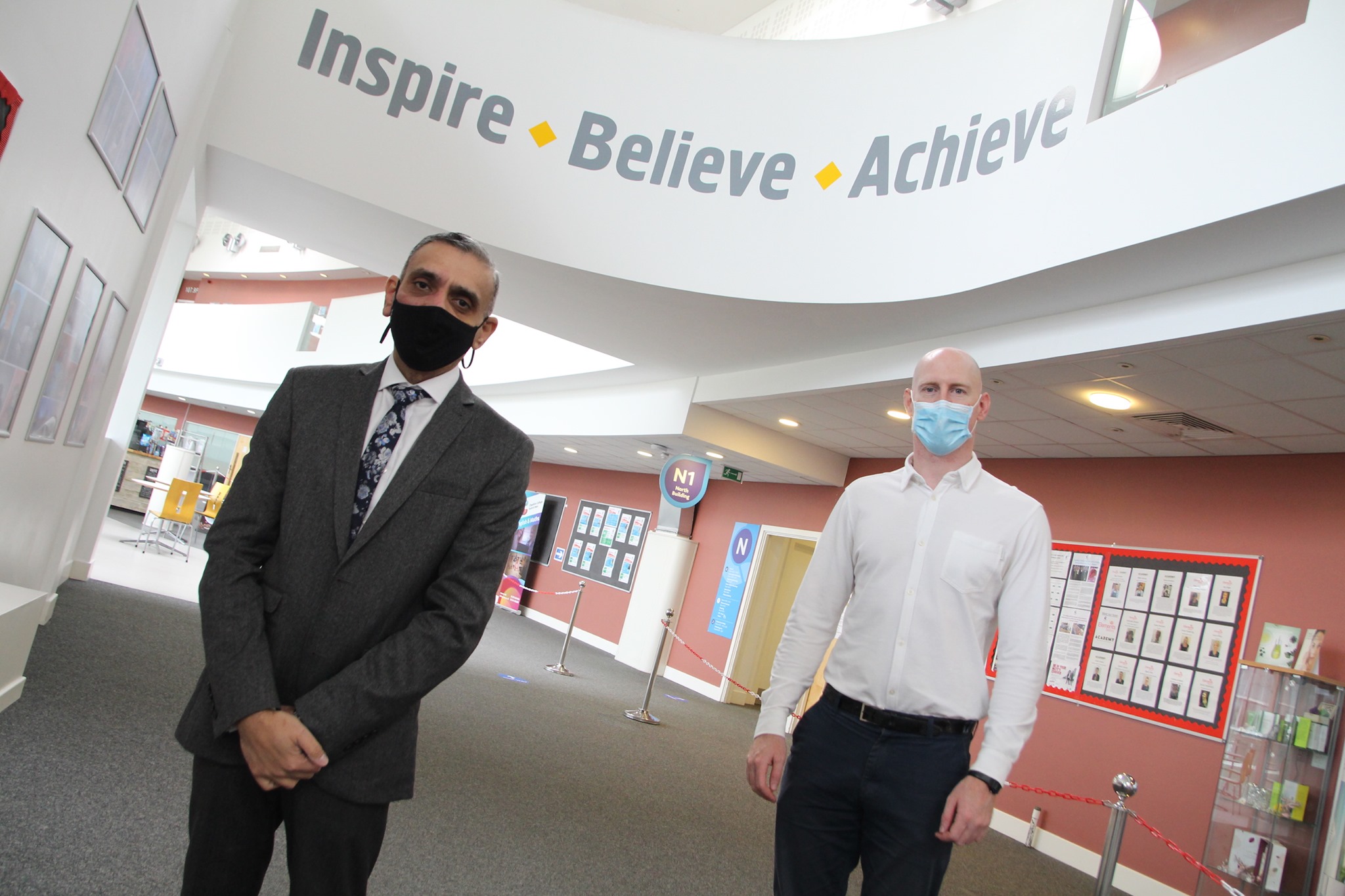 Cheshire College South and West have published their first ever newsletter, the Good News Gazette, this week. It is a great roundup of all the positive news from the college. You can read it via the link here: https://issuu.com/ccsw1/docs/final-file-ccsw-tgng-digital
New football facilities at King George V Playing Field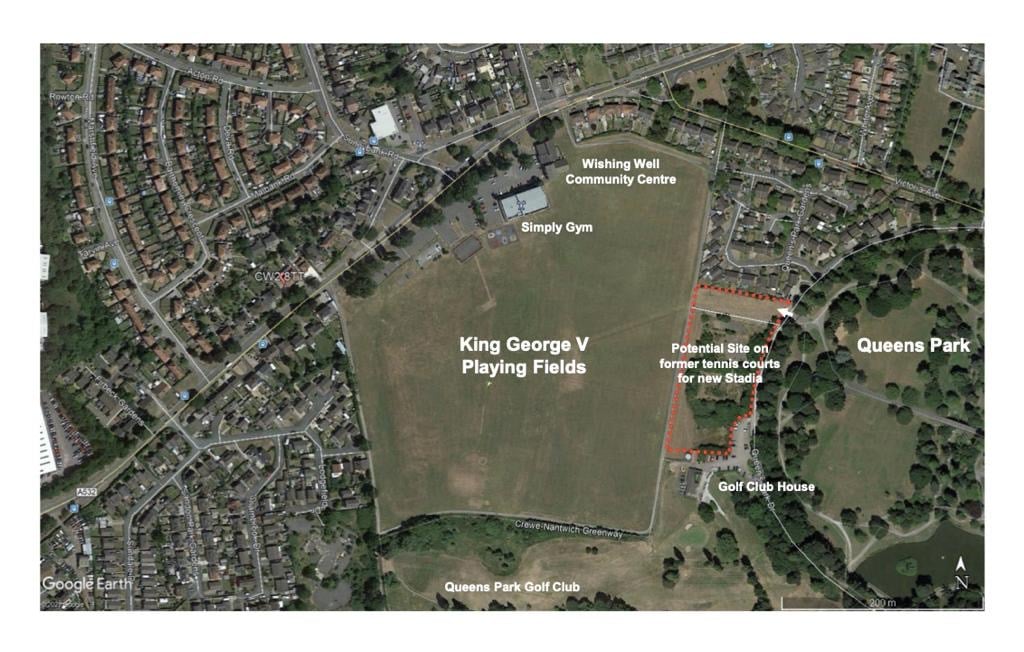 We need new football facilities in Crewe. This is the view of many local teams, the FA, and Sports England. I have been working for the past year on a couple of grass sites that I hope we can bring into use soon, but these would not be full pitches.
We need a full-size, additional site. I have been talking to Crewe FC over the past year about plans they have been developing which I think have real potential.
I am interested in hearing people's views on the plans they have come up with. In my opinion, it takes what is effectively a wasteland and puts it into good use, with minimal change to the Georges itself.
We have an opportunity to make use of some funding from the housing development on the LMR ground for a new facility. Cheshire East have said there isn't a site in Crewe and were going to send the money to another part of Cheshire East. That is not acceptable. We need to find a local site and these plans show promise.
A new facility for Crewe FC would free up slots at the pitches at the Cumberland so will also benefit local teams more generally.
What do you think? Fill in their survey below to let them know your views.
https://docs.google.com/forms/d/e/1FAIpQLSe6IevDwRtfVC7h3QxRDpMX6t6jFfK-bi7JlKZYF7fZOJdeMw/viewform
Help and Advice Surgery- Haslington
Help & Advice surgery taking place on Wednesday 1st September, 5:15PM – 6:30PM.
Appointments allocated in 15-minute slots.
Yoxall Village Hall, Crewe Road, Haslington, Crewe Road, Haslington, Crewe CW1 5QZ.
I will also be hosting a joint surgery with local Chief Inspector Fez Khan for residents to raise any crime or policing issues they may have. This will take place from 1pm until 2:30pm on 1st September at Crewe Market Hall.
I will also be hosting one of my help and advice surgeries for other issues at Yoxall Village Hall, 5:00pm until 6:30pm on the same day.
To book a slot on either of these please get in touch
on 01270 583432 or email my office at kieran.mullan.mp@parliament.uk.
Apprentice Job Application Extended
As you may have seen in the past couple of newsletters, an opportunity has arisen for an apprentice administrative officer to join my busy constituency office. The deadline for applications has been extended.
This is a fantastic opportunity for an applicant to gain a variety of skills, including:
· Database management
· Diary management
· Meeting organisation
· Enquiry response
· Office admin
The closing date for applications will be 31st AUGUST.
You can apply via the government website using the link below:
https://www.findapprenticeship.service.gov.uk/apprenticeship/-640364
Work experience
This week I have had another young constituent join the team for work experience. This is what Megan had to say about her week working with us:
I have a keen interest in how Government, Parliament and the Legal System runs not just as a whole, but on a day-to-day basis too, so by completing my work experience this week it has enabled me to see first-hand how a constituency works. Not only have I learnt to formally respond to a case, but I have actively joined Kieran when visiting an event, which I thought was very engaging, and communicating with other colleagues gave me a good idea of what it requires to be successful in this field. I think that having been able to join the office this week, has provided me with a clear insight of how government works in the local area, and how issues are dealt with in the local constituency. I have definitely enjoyed working with the team, and I have gained really useful experience from my time here.
Traffic Report
The following are road closures for the week ahead as reported by Cheshire East.
Crewe Road, Shavington - Until 1st September
Parkfield Drive, Nantwich (B5341 to Rookery Drive) - 30th July until 13th September
Welsh Row (Waterlode to Queens Drive) - Until 14th September