Welcome to this week's newsletter.
It has been a worrying week to watch the news covering ongoing events in Israel and Gaza. As I said last week, these events are tragic and I can't pretend there are any easy solutions. I can't foresee any way forward for the Israeli government that doesn't involve them justifiably hunting down and destroying Hamas. But of course I feel huge sympathy for citizens caught in the crossfire. I do think there is a fundamental difference between deliberate attacks on civilians by Hamas and Israel accepting they will cause civilian casualties in their pursuit of Hamas, especially when it uses human shields. But sadly, in the process of destroying the Hamas of today I fear we will see the creation of the Hamas of tomorrow. I am glad that an agreement seems to have been reached for aid to enter Gaza.
I certainly don't have the wisdom to know the way forward that secures peace in the long term, but hope it can be achieved. I know the Jewish community in the UK feels very vulnerable at the moment, particularly in light of some appalling behaviour from people with a misguided view that their support of Palestinian civilians justifies hatred towards Jews. It doesn't. I will continue to monitor the situation closely.
 
I am pleased to announce the launch of this year's Christmas card competition. Give your young ones the chance to unleash their creativity, with the winning design being sent to prominent figures, including the Prime Minister. More details on how to enter and photos of previous year's winners can be found below.
It was great to hear that the work of The Stroke Survivor Group, a fantastic local community group, has been recognised as a finalist in the Chamber of Commerce Annual Awards. I have seen their work first-hand, and the nomination is well-deserved. Well done to Liz and the team!
This week, the Government has introduced several measures to bolster food & drink industries, including more funding to the seafood sector and plans to streamline regulations for the UK wine industry, fostering growth and innovation. A lot of this is only now possible since leaving the EU.
There was encouraging news, with employment figures showing an increase in the number of people in work. While this is great news, it is important to acknowledge the existing challenges that we are all still facing - and the work that we must continue to do.
The local article this week is on Barthomley, the White Lion Inn and its relation to the English Civil War. Read on below if you are curious!
Finally, over the next few weeks, I am going to highlight some Private Members Bills that have recently passed through Parliament again. This week, we take a look at new laws that will stop the travel industry from supporting cruel animal welfare practices overseas.
Have a great weekend.

­
Christmas Card Competition
Stroke Survivor Group - Award Finalists
Supporting British Industries
More People in Work 
Barthomley and the Civil War
Private Members Bills - Animals (Low Welfare Activities Abroad) Act
Traffic Report
­
Christmas Card Competition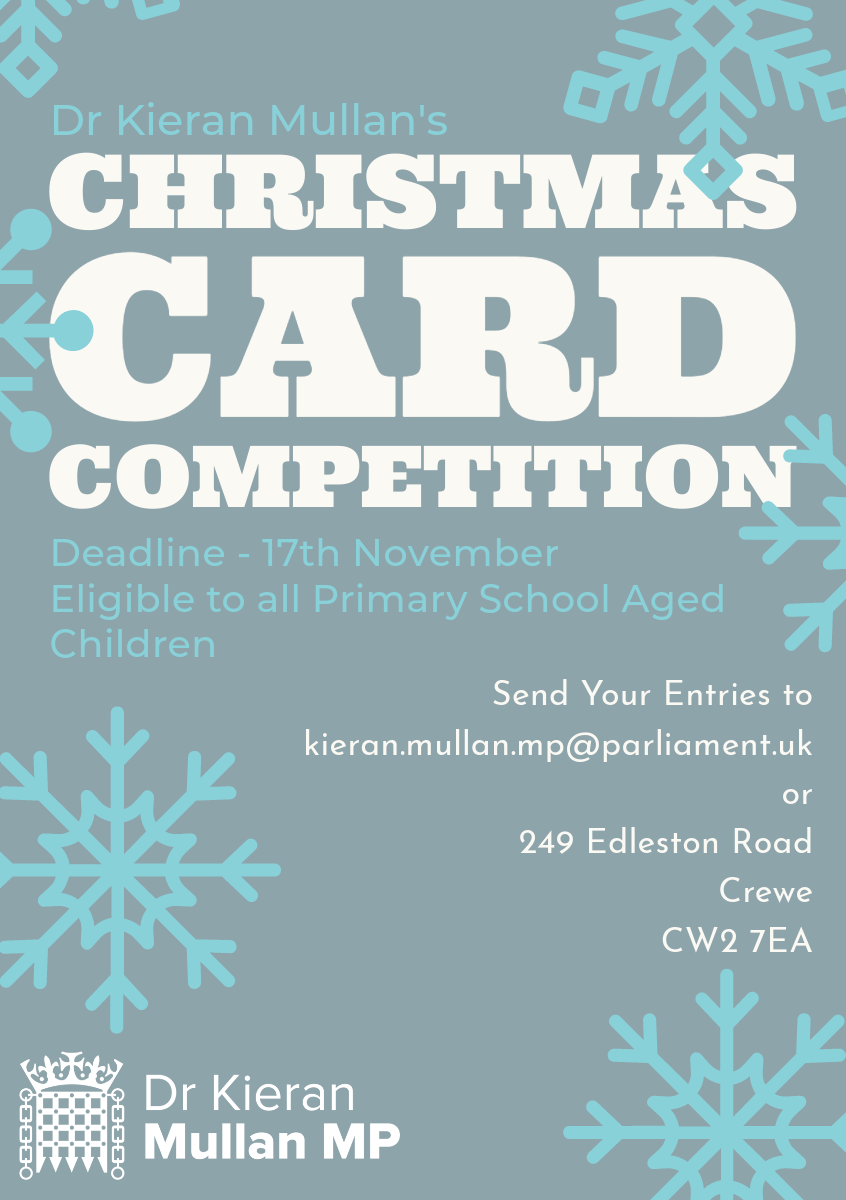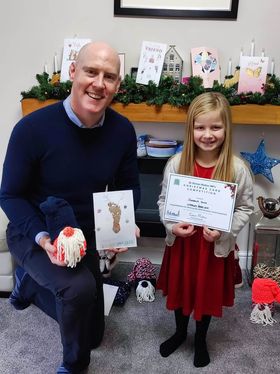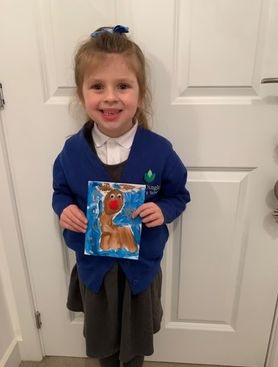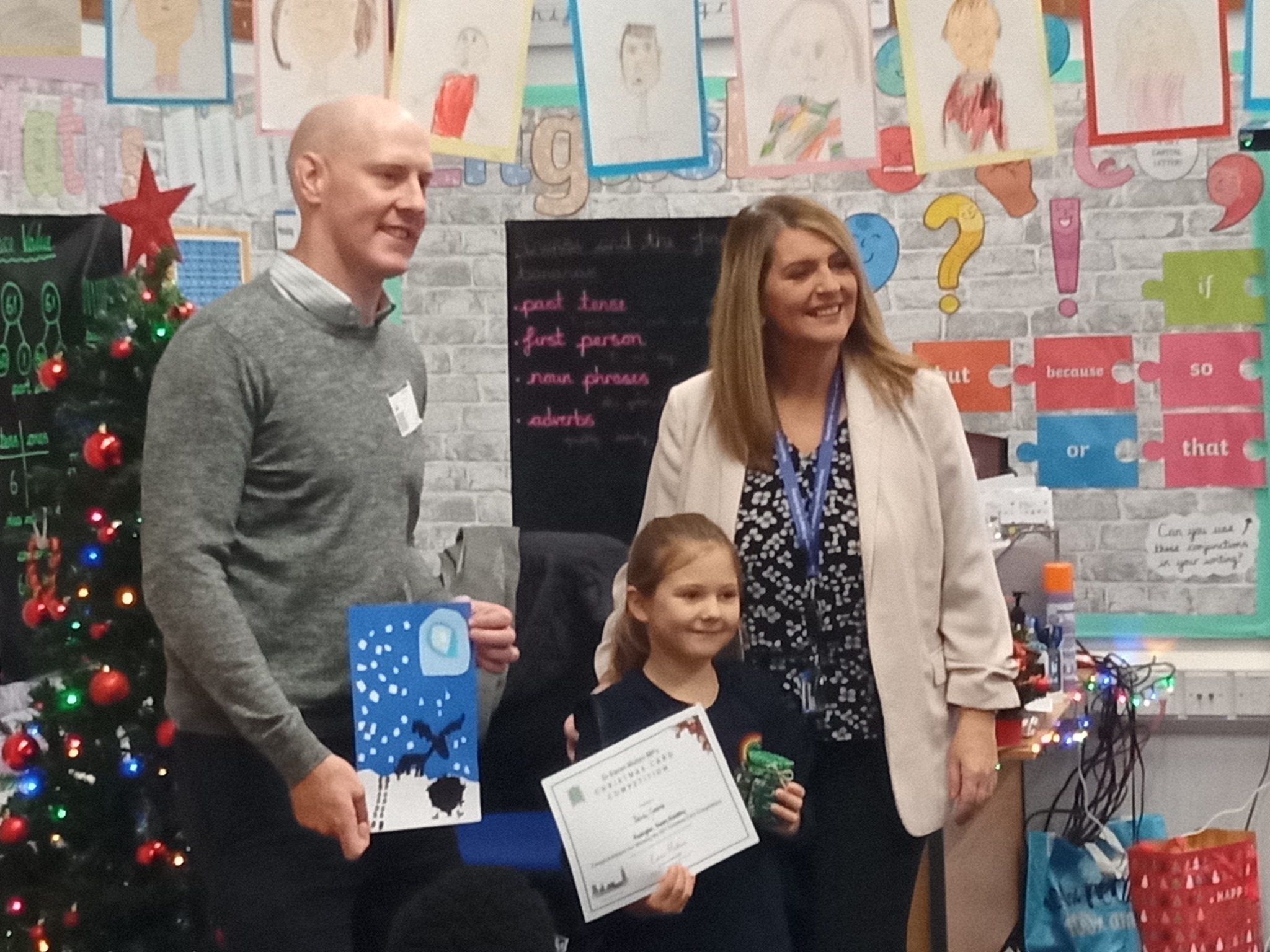 Now I know what you're thinking - it's not even Halloween yet! But entries for this year's Christmas card competition are now open - giving your young ones plenty of time to get their pencils and crayons out.
The winner of the competition, decided by a public vote, will become my official Christmas Card design for this year and be sent to, among others, the Prime Minister. See the photos below of winners from the previous year with their winning designs!
The deadline for getting your entries in is 17th November to give us time to choose the winner and get it printed. Please send yours either to my office at 249 Edleston Road, Crewe, CW2 7EA or email the design to kieran.mullan.mp@parliament.uk. To be eligible, your child must be of primary school age.
Over the past few years, many schools have taken part, but I have also received entries done at home and sent in by parents.
Everyone who enters will also be awarded a certificate for the hard work they have put into their design.
Good luck; I look forward to seeing all of your amazing entries!
­
Stroke Survivor Group - Award Finalists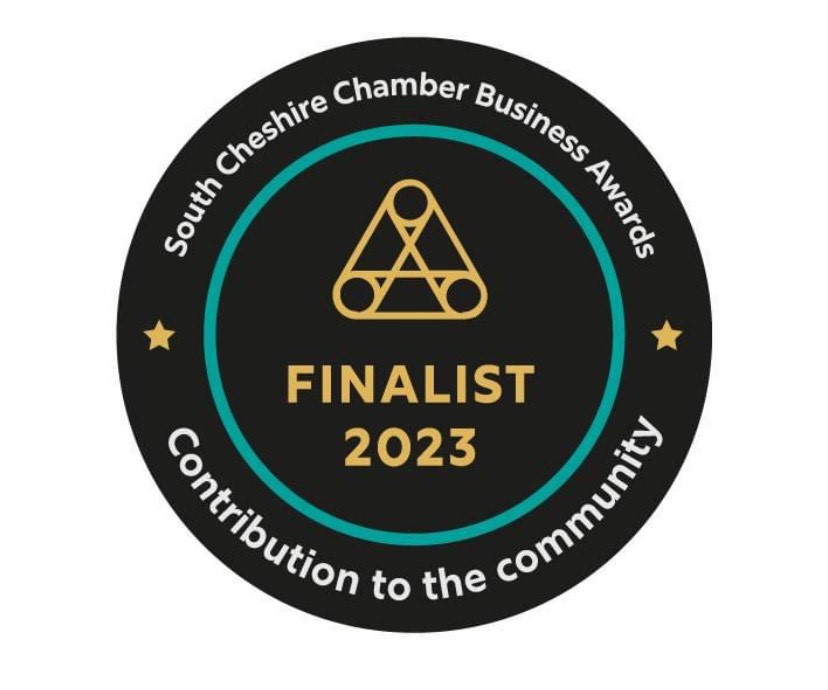 Well done to all the team from the Stroke Survivor Group for being announced as finalists in this year's Chamber of Commerce Annual Awards in the category "Contribution to the Community".
This is a very well-deserved nomination. They are a local voluntary group formed by Liz after her father suffered a stroke, which affected his speech, language and communication skills. I have visited this group and seen what a great community they have built!
Well done to all involved!
­
Supporting British Industries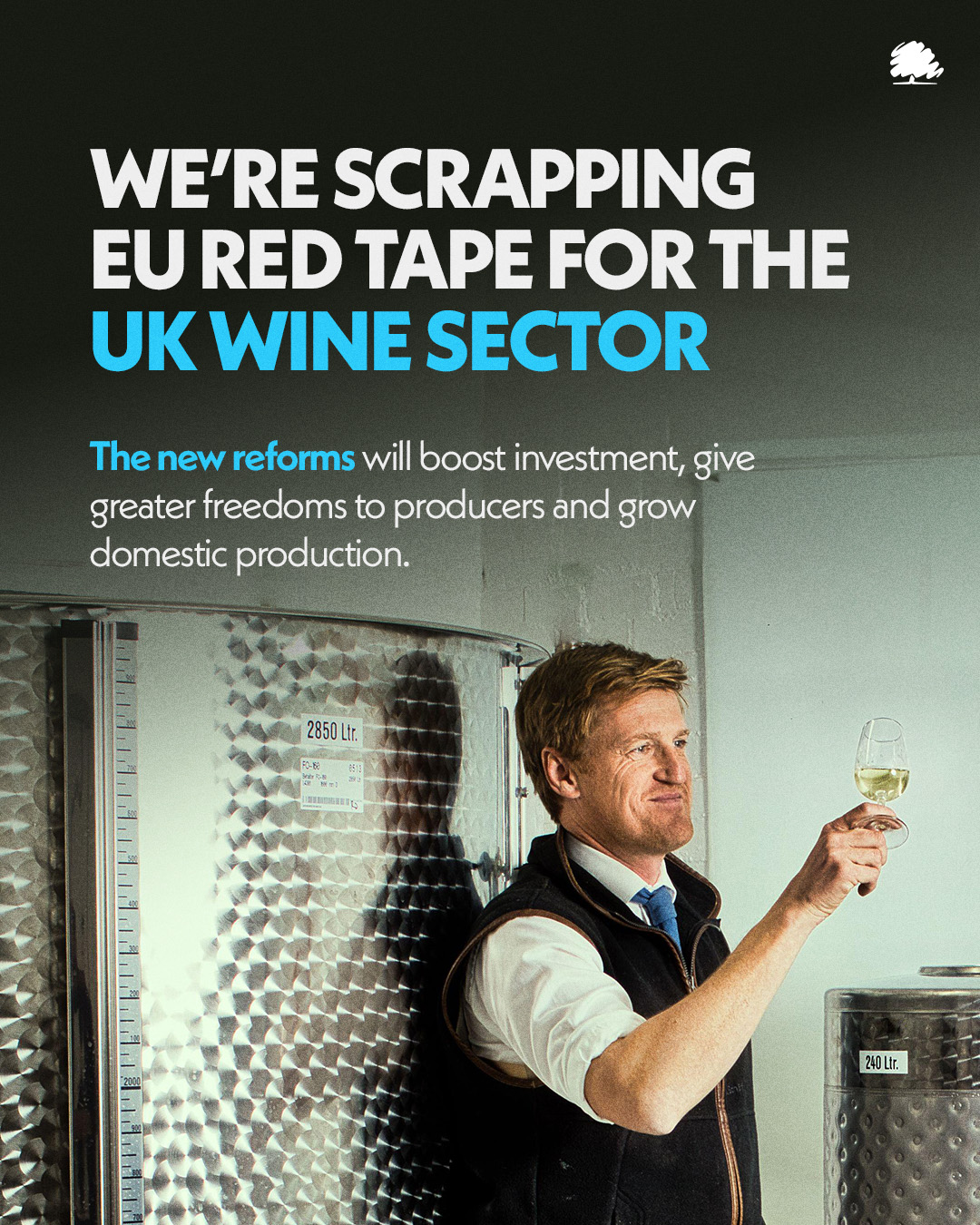 The Government have announced policies this week to better support UK industries and provide investment into improving our food security. 
Firstly, £3.9 million has been awarded to projects for the seafood industry, which will improve training facilities and promote seafood careers. This will also help build new and improved sea fishing infrastructure.
Following a consultation, there are also plans to scale back EU red tape law to better support the UK wine industry. This will involve scrapping outdated and burdensome rules so that our wineries, vineyards and traders can continue to innovate and help grow our economy.
Find out more here: https://www.gov.uk/government/news/new-wine-reforms-to-boost-investment-and-ease-burdens-on-industry
https://www.gov.uk/government/news/seven-uk-projects-net-additional-funding-through-uk-seafood-fund
­
More People in Work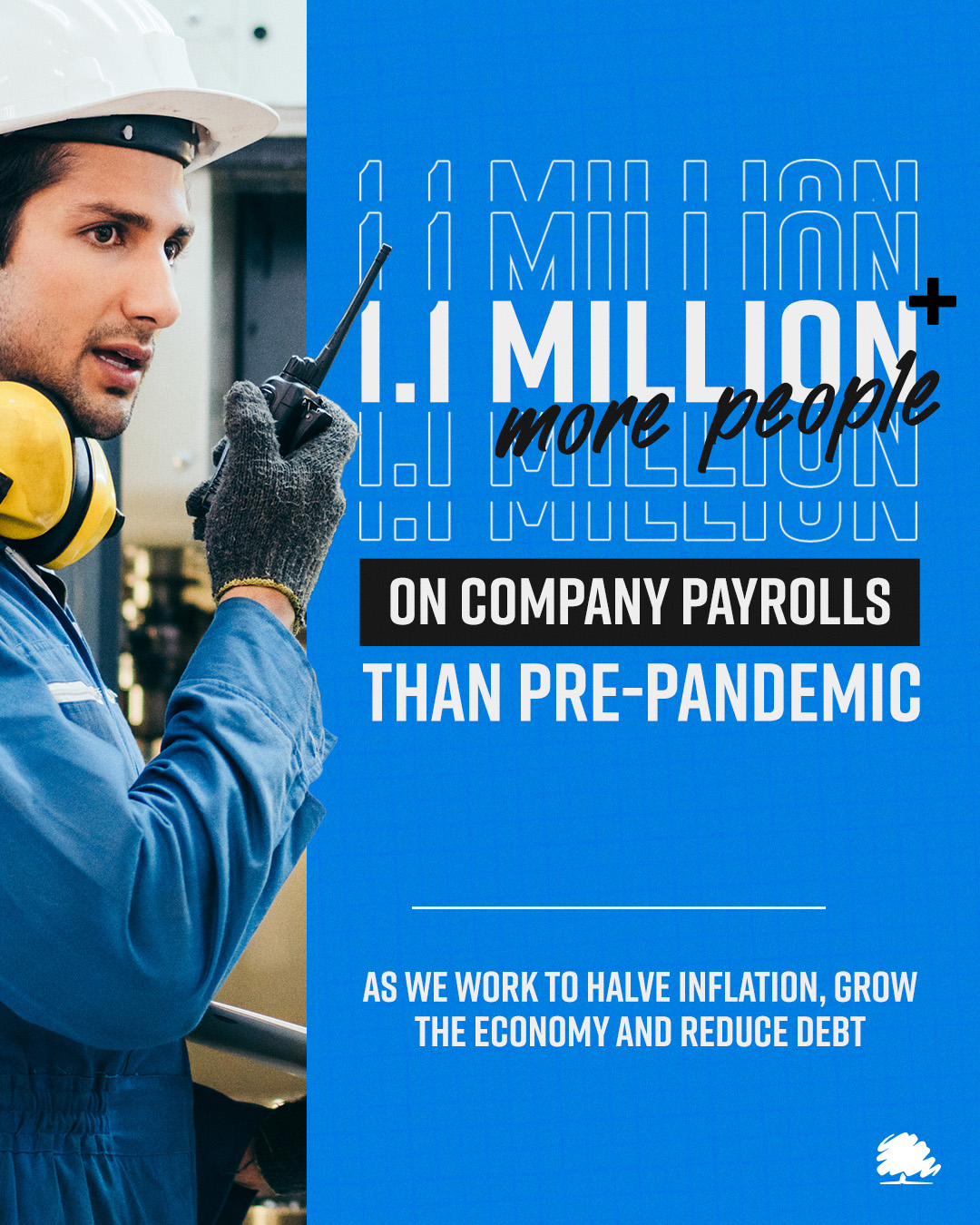 Employment figures this week show that 1.1 Million more people are in work than compared to before the pandemic. This is great news, as employment is the best way in which people can help themselves get on in life. 
I do understand, though, that many people are still facing difficulties - and that there is more we need to continue to do.
­
Barthomley & the Civil War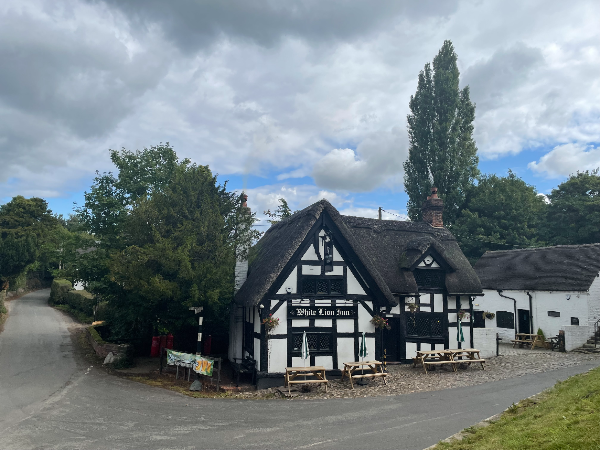 Barthomley is steeped in a rich history, which is best viewed through the White Lion Inn and St Bertoline's Church. Built in 1614, the White Lion Inn is recorded in the National Heritage List for England as a Grade II listed building. Recently, the pub came under pressure due to its 20-year lease coming to an end; however, after working with locals, we were able to secure its future and ensure the White Lion Inn's long legacy is continued into the foreseeable future. 
St Bertonline's Church, a Grade I listed building, dates back further with reports that the nave and tower were built during the 15th century. Standing in the centre of the town, the church sits on Barrow Hill, which, as the legend goes, is an ancient burial ground intended to aid in the spreading influence of Christianity in the area. Infamous for its association with the massacre of Parliamentarians by Loyalist forces led by Lord Byrne during the English Civil War on 23rd December 1643, an event I highlighted in a previous newsletter, this site has stood the test of time. Consisting of Norman influence in its doorway on the northern wall and Gothic architecture through its gargoyles stations on each of its four corners, this near ancient religious site is a true blend evidencing the different influences of medieval England.
­
Private Members Bill - Animals (Low Welfare Activities Abroad) Act
We are back again with the section of the newsletter that highlights some of the new laws that have been brought in through Private Members Bills. These are Acts of Parliament that are initially introduced by backbench MPs who have an issue they are passionate about. With a good campaign and a bit of luck, the work of a single MP can change the law and make an important difference in people's lives. Over the next few weeks, I will discuss just some of these bills that have recently become law.
The UK has some of the strongest animal welfare laws in the world. Unfortunately, these standards are not always the same overseas, and many activities take place which are detrimental to the welfare of the animals involved.
Previously, travel companies in the UK could sell tickets for these activities, such as swimming with dolphin experiences and elephant interactions. Thanks to the Animal (Low Welfare Activities Abroad) Act, brought in by Guildford MP Angela Richardson, selling these tickets in the UK is no longer allowed. 
This will ensure that we in the UK do not financially support these cruel industries and further strengthen our world-leading animal welfare laws.  
­
Traffic Report
The following are road closures for the week ahead as reported by Cheshire east.
Annions Lane - Until 20th November
Flowers Lane – Until 26th Nov (see Leighton closures)
Smithy Lane – Until 1st Nov (see Leighton closures)
Electricity Street, Crewe - 25th October until 13th November
Manor Way, Crewe - Until 17th November
For further details of the closures around Leighton hospital, please see: https://www.cheshireeast.gov.uk/highways_and_roads/roadworks/major-projects/north-west-crewe-package-nwcp/north-west-crewe-package.aspx