Welcome to this week's newsletter.
On Tuesday, Parliament opened for a new session. Normally the house is reopened by the Queen, but this time the speech was read by Prince Charles. I have to admit it wasn't quite the same and I feel lucky that I got to see the Queen when we had the first Queen's Speech soon after I was elected.
The speech outlined the Government's plans for upcoming bills that will be introduced and debated over the coming year. As these bills are introduced and progress through Parliament, I will update you more on what they are each trying to achieve.
In Parliament this week I went to an event with the Youth Sports Trust to hear more about their campaign to get more young people involved in sport.  I got to meet England Women's Rugby International Shaunagh Brown who is one of their Trustees who is passionate about girls doing sport. I am running a project bringing together local sports clubs and schools so if you are involved in a local sports club and would like to get involved let me know.
Back in Crewe and Nantwich, I have visited Freightliner, a large local employer to hear more about their plans and catch up on the bid for Great British Railways HQ. They have a lot of high-quality roles available, so I am going to see what can be done to break down stereotypes about who usually works in the industry and connect them with local colleges, so that they can find some great local candidates.
I visited Haslington dog show last week-check out the Best in Show below. Another great event run by local volunteers! I also got to visit Crewe Table Tennis Club where I received coaching from Club Secretary Jan as well as former England player Andrew Rushton. It wasn't enough to prepare for my face off against 9 year old Alex. Check out the video below!
It was lovely to see the residents on Westminster/Walthall Street adding even more beauty to their alleyway after we helped launch the resident action group last year. They are now working as part of the Friends of Crewe South 1 community group. Pictures below.
The Government has announced a £2Bn investment into the third stage of our new, nuclear deterrent submarines. These not only will play a critical role in keeping us safe from overseas threats, but also secure 30,000 high skilled jobs. I can't think of a moment in my lifetime when we are more mindful of the security our nuclear weapons provide
Finally, over 2,500 UK-based businesses are already supplying materials and services to support HS2's construction. Why not join me and HS2 on 20th May to find out about the opportunities HS2 might provide for your business? I want to see the investment HS2 represents going locally wherever possible.
Have a great weekend.

Queen's Speech
Youth Sports Trust
Freightliner
Haslington Dog Show
Crewe Table Tennis Club
Westminster/ Walthall Street Alley
Fedcap - Restart Scheme
Cold Chain Federation
Submarine Nuclear Deterrent
Private Members Bills - Marriage and Civil Partnership (Minimum Age) Act
Museum Estate and Development Fund
HS2 Business Meeting
Traffic Report
­
Queen's Speech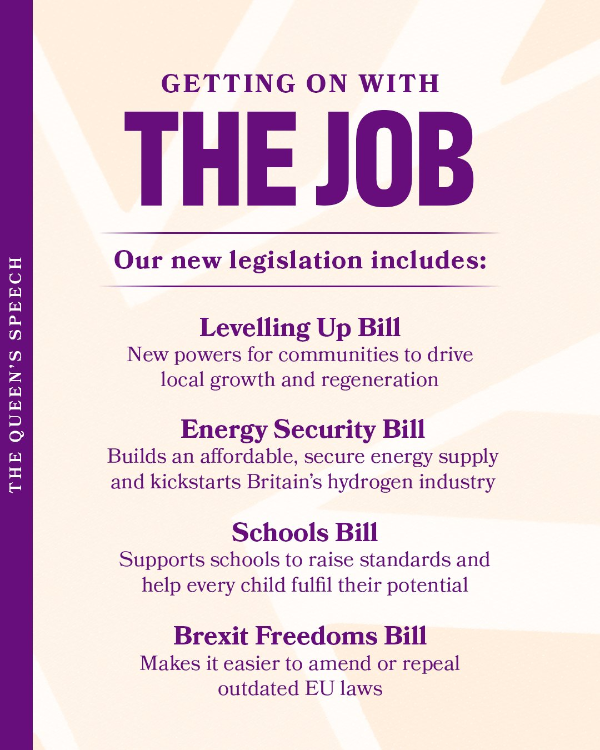 The Government's plan for the year ahead was announced today in the Queen's Speech of the State Opening of Parliament - read this time by Prince Charles.
Below are just some of the Bills announced:
LEVELLING UP BILL - new powers for communities to drive local growth and regeneration
 
ENERGY SECURITY BILL - Create a cheap, green and secure domestic energy supply, including kickstarting the UK's hydrogen industry
 
SCHOOLS BILL - Helping Schools raise standards and for every child to reach their potential
 
BREXIT FREEDOMS BILL - Making it easier to amend and repeal outdated EU law
 
SOCIAL HOUSING REGULATION BILL - Improving tenants' rights and ensuring better quality, safer social housing
 
TRANSPORT BILL - The legal first steps in establishing Great British Railways
 
PUBLIC ORDER BILL - Giving the police powers to tackle disruptive protestors
 
VICTIMS BILL - Strengthening the rights of victims giving them confidence that they will receive justice
A total of 38 Bills were announced, which will help to ease the cost of living, strengthen our economy and make our streets safer. As the Bills move through Parliament this year, we will go into more detail about what each of them is looking to achieve. 
Youth Sport Trust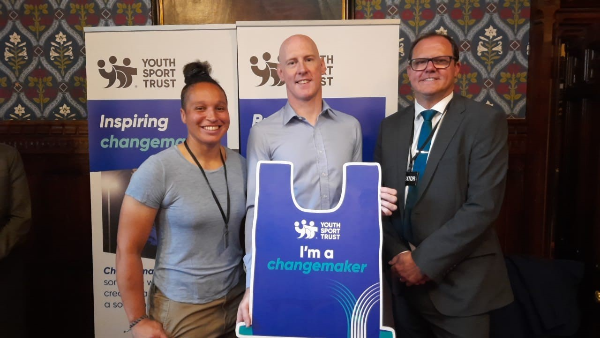 Earlier this week I attended a drop in session by the Youth Sport Trust, launching their new 'Inspiring Changemakers' strategy. I met with two of their trustees, Billy Downie and Shaunagh Brown who plays rugby for England and Harlequins! 
They are a charity that is working to ensure every child receives the benefits of sport and calling for a drive to get every child active for 60 minutes a day.
I have been working locally with schools and sports clubs so that children have a greater opportunity to take part in a wide range of sports, improving the health and fitness for the future generations. If you are a local sports club that would like to get involved let me know.
Freightliner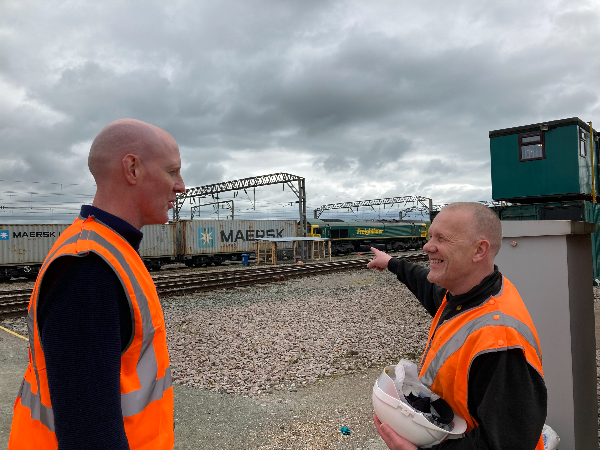 ­Last week, I visited Freightliner Group Ltd , a large local business and employer, to hear more about their plans for the future. We caught up on the bid for Great British Railways HQ as we wait to hear if we are shortlisted.  
Like a lot of businesses at the moment recruitment is an ongoing challenge. There really are lots of excellent well-paid jobs locally at places like Freightliner. We talked about their drive to get more women working in the industry. We agreed probably still need to do more to break down more stereotypes about who can work on the railways and drive trains. I am going to connect them with the local UTC and College to see what we can do.
Thank you to Martin for then showing me around the rail yard! 
Haslington Dog Show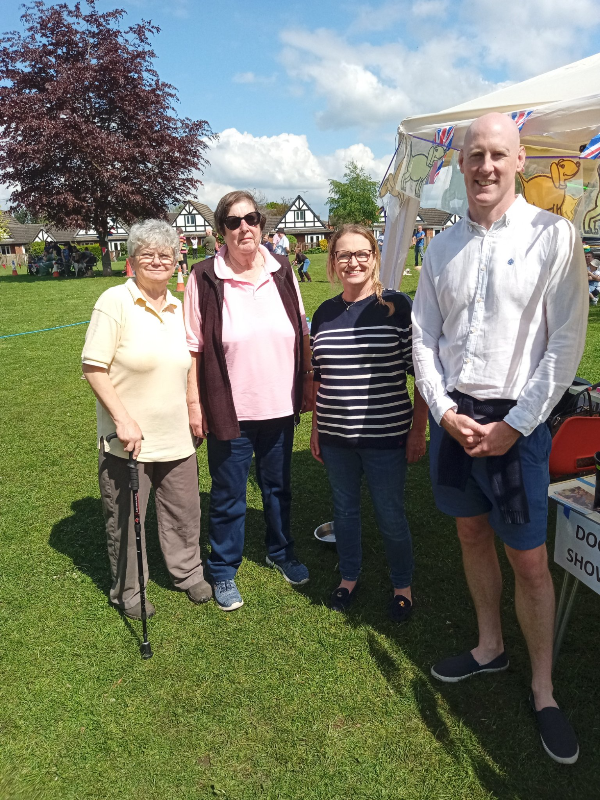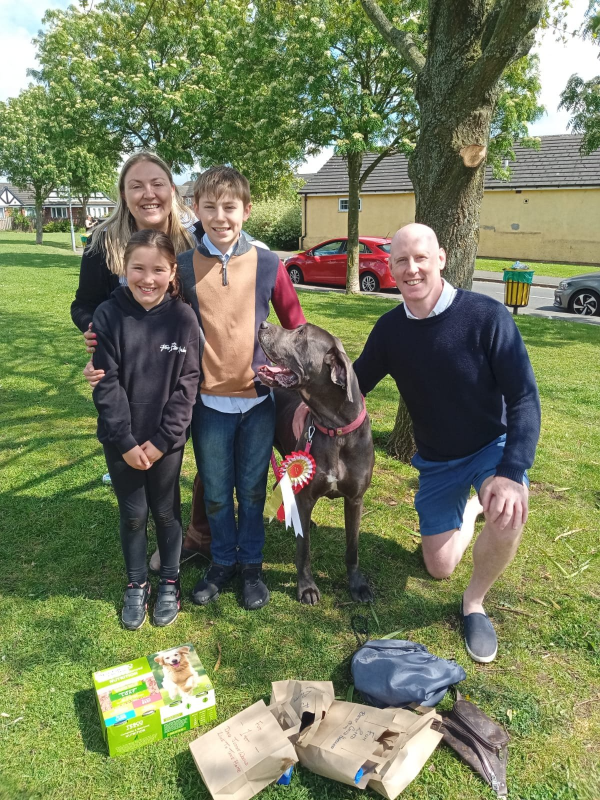 Huge well done to Judy, Lee, Sam and others for all their hard work in organising and congratulations to all the winners including Victoria, Frank and Lily May who won Best in Show with their Great Dane Betty!
Another great community event only possible thanks to the time and efforts of volunteers. 
Crewe Table Tennis Club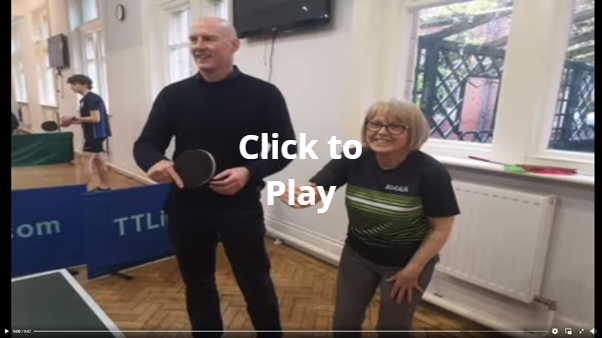 Last Friday Evening, I went to Crewe Central Table Tennis club at Elim Church, Nantwich.
It was great to meet with the Club Secretary and Head Coach Jan Johns to learn more about what the club does. They are providing a friendly and welcoming place for people of all ages and abilities to learn to play and keep fit!
The session that evening was for younger players and one for advanced players. The young players were phenomenal! They are lucky to receive coaching from Andrew Rushton, ex England International.  
They currently only hold sessions in the evening but are hoping to raise funds to create a full-time centre, and run sessions for the wider community, such as those with long-term illnesses and those over 50.
https://crewecentralandkidsgrovettc1.ttclubs.co.uk
https://spacehive.com/table-tennis-for-all-in-nantwich
Huge thanks to Jan and the other volunteers who give their time to provide this wonderful opportunity for young people. 
­
Westminster / Walthall Street Alley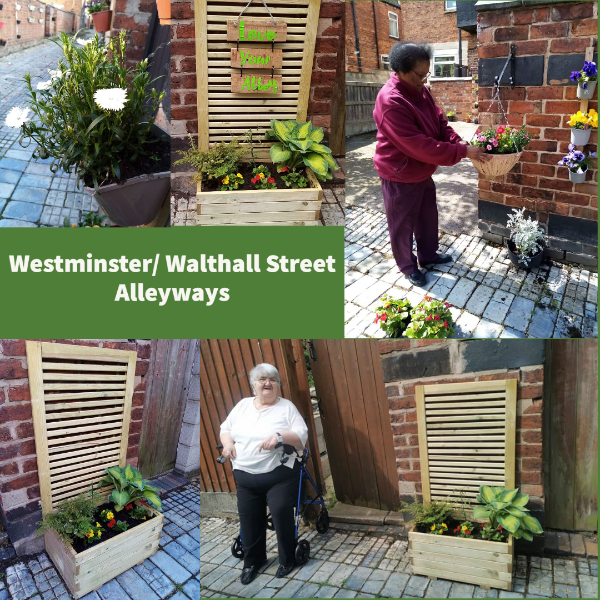 Here are some great pics from another session residents held to further improve the alleyway. I was not able to go myself, but it is great to see residents doing their own thing and being part of the Friends of Crewe South 1 project backed by Cheshire East. 
Fedcap - Restart Scheme
Last week, I visited Fedcap Employment in Crewe, to learn more about how they are delivering the Government's Restart Scheme in Cheshire East.
The scheme will help those who have received Universal Credit for 9 months or more get additional support to find jobs in their local area.
Fedcap offers a mix of face-to-face and virtual support for those looking to return to work.  
It was great to meet with Matt, the Regional Partnership and Development Manager, Steve, the Customer Excellence Director, Lesley who runs the place and the rest of the team to hear about they help local people find work.
We know we have a lot of job vacancies locally and across the country. If you are a local employer looking to fill roles, they can help and at no cost! Get in touch with them here:  
leashia.stubbs@fedcapemployment.org
Cold Chain Federation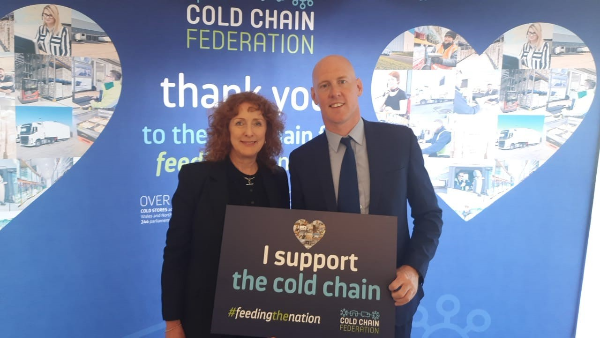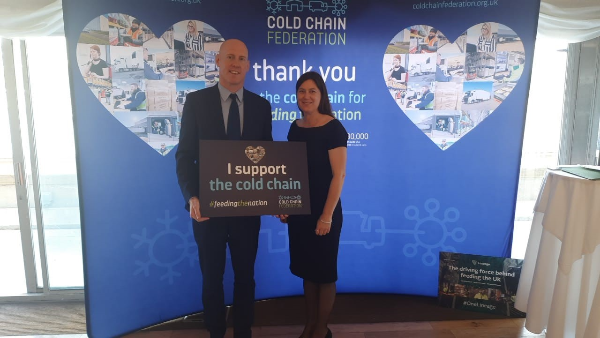 In Parliament this week, I went along to a reception of the Cold Chain Federation, the trade body which represents the UK's temperature-controlled storage and distribution industry.  
I was invited by Crewe based business Buffaload Crewe, who are industry leaders, being the greenest and most efficient temperature-controlled logistics network in the UK.
I also met with another Cold Chain logistics business with a presence in Crewe, GIST Ltd. Company.
Businesses such as these play a vital role in keeping the countries food supply chains running. 
­
Submarine Nuclear Deterrent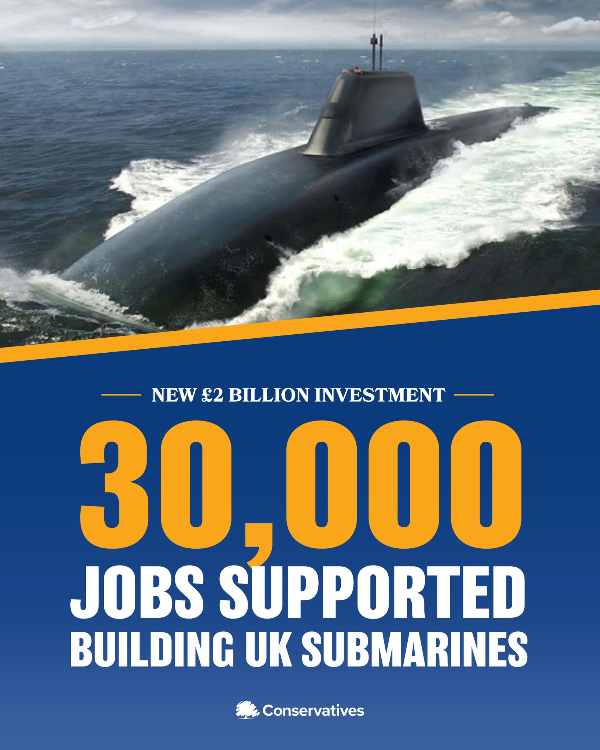 The Government has announced a £2 Billion contract for the third phase of our new submarine nuclear deterrent programme – securing tens of thousands of high-skilled jobs.
The new dreadnought class submarines will form a central part in the keeping us safe from the most extreme threats overseas.  
­
Private Members Bills - Marriage and Civil Partnership (Minimum Age) Act
We are continuing to highlight Private Members Bills, introduced by backbench MPs, that have successfully passed through Parliament and became law.  
This week we will look at the Marriage and Civil Partnership (Minimum Age) Act, introduced by Pauline Latham MP.
This Act, which became law a few weeks ago, raises the minimum age for marriage to 18-year-olds. Previously, those between the ages of 16 and 18 were able to get married  with parental permission, which left girls at risk of being pushed into  a forced marriage at a young age.
It will also be an offence to take someone out of the country to take part in an underage marriage, and the law also applies to unregistered ceremonial events. 
Museum Estate and Development Fund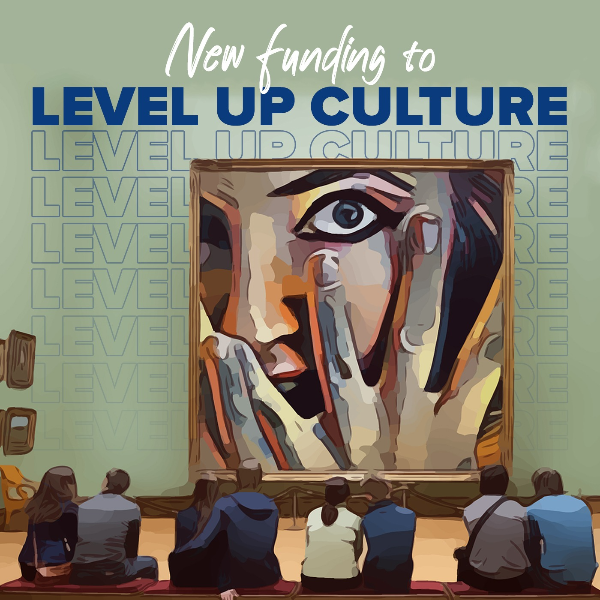 Museums across the country are now able to apply for grants from the second round of the Museum Estate and Development Fund.
They will be eligible to apply for between £50,000 and £5 million to undertake vital infrastructure and maintenance backlogs.
More funding to help level up culture across the UK!
Visit her to find out more: https://www.artscouncil.org.uk/funding/museum-estate-and-development-fund-mend-round-2#section-1
HS2 Business Meeting
Over 2,500 UK-based businesses are already supplying materials and services to support HS2's construction. Join me and HS2 on 20th May to find out about the opportunities HS2 might provide for your business. Companies of all sizes, based in and around Cheshire, are encouraged to register for the event which will be held at Crewe Alexandra's football stadium on 20th May at 11.00am.  
You do not need to be a construction-focused company to benefit. HS2's construction partners will be looking to talk to businesses of all sizes that can supply them with a variety of goods and services that may be needed to support the construction of the new railway.  
Visit here to sign up: https://www.eventbrite.co.uk/e/hs2-crewe-opportunities-for-local-businesses-tickets-265958748777
Traffic Report
The following are road closures for the week ahead as reported by Cheshire East.
Junction of Gainsborough Road, Walthall Street and Hammond Street, Crewe – 17th May
Wellington Road Rail Crossing, Nantwich 14th May – 16th May
Mill Street and Barker Street – 16th May until 18th May
Middlewich Road, Crewe (Between Pyms Lane and Smithy Lane) - Until October