Welcome to this week's newsletter.
The UK has continued to support Ukraine in their fight against the Russian invasion. We have, this week, provided an additional 6,000 anti-tank missiles and an extra £25 million to support their military. The Government has also announced that Ukrainians who come to the UK will be able to receive support from day one, through access to benefits and work coaches to find employment. On the 7th of April I am co hosting a charity bingo event in Hough Village Hall to raise money for humanitarian funds for the country, details below. Please do come along. 
As you are hopefully aware, I have been spearheading a bid for Crewe to be the home for the headquarters of Great British Railways. The public vote to decide the location for the HQ is not yet open but given so many people have been in touch I have setup a register so people can be told when it does: https://www.drkieranmullan.org.uk/gbr-hq-bid
I have recently raised the state of the Jack Mills Way Roundabout with the council. It had, for months, been covered in cones, for no apparent reason. They have since come back to say that this is because of safety concerns with a structure built in the middle. I have now asked them for details on what these are and why it was allowed to be built in the first place. This is typical of the low level of care and attention Cheshire East give to our towns.
Over the past year, I have been working behind the scenes to encourage the Government to take stronger action against parents who do not pay child maintenance – specifically to enact home curfew orders. I was very happy to secure a breakthrough this week with the Government announcing that they intend to start this later this year following my campaigning. If you do not support your child if you are able, you should not be allowed to go out socialising and enjoying yourself! 
Finally, nominations for the NHS Parliamentary Awards are still open. Let us know about someone who works in the NHS and has gone above and beyond here: https://www.drkieranmullan.org.uk/nhs-awards
 Have a great weekend. 

­Ukraine Update
Great British Railways HQ - Get Informed When Voting Opens
Jack Mills Way Roundabout
Spring Booster Vaccines
Steel Tariffs Scrapped
Home Curfew for Child Maintenance Debtors
Baywater Healthcare
NHS Parliamentary Awards
Charity Bingo - Support Ukraine
Traffic Report
Ukraine Update
The UK is continuing to support Ukraine in their fight against Russian aggression. Putin's plan is failing, and as such, he is now using ever increasingly brutal tactics. This is why it is so important that we continue to provide them with all the help we can, both here and on the ground. 
We have, once again, provided Ukraine with defensive weapons to help defend against the Russian attack. On top of what we have already given, we have this week provided them with over 6,000 anti-tank missiles and an extra £25 million for their military.  
To date, we have also provided them with over 4 million medical items since the start of the conflict, helping them deal with the humanitarian effects of the war. 
The Prime Minister is continuing to lead the international response against Russia. 
We are also supporting Ukrainians who are coming over to the UK for safety. Over 100,000 people have signed up to house a Ukrainian under the 'Homes for Ukraine Scheme'. You can find out more about this scheme here: https://homesforukraine.campaign.gov.uk/
When here, they will be able to immediately access benefits. The Government will provide work coaches to help them find work quickly. There will also be translation services available.
See below for details of a charity bingo fundraiser for Ukraine I am co-hosting next month.
­
Great British Railways HQ - Get Informed When Voting Opens
­I have been spearheading a bid for Crewe to host the headquarters of Great British Railways working cross-party with Cheshire East Council, Pete Waterman, North West LEP, South Cheshire Chamber, Crewe Town Board, South Cheshire College, Crewe Alex and the Railwayman supporters club and a whole range of local railway businesses.
Along with the HS2 Crewe to Manchester leg being confirmed, a train building contract has been awarded to local business, Alstom - it would be fantastic to continue uplifting the rail industry in Crewe. I believe we are a strong contender based on our rail history and our ideal placement for connections all across the country. 
A lot of people have been in touch asking how they can help - there will be a public vote and we will be running a social media campaign to support it. Voting  isn't open yet but if you would like to be contacted when the time comes, please do sign up here! 
https://www.drkieranmullan.org.uk/gbr-hq-bid
­
Jack Mills Way Roundabout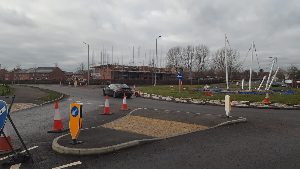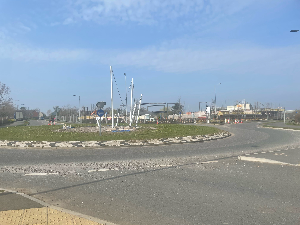 You may have seen the traffic cones that have been on the Crewe Road – Jack Mills Way Roundabout over the past few weeks, for no apparent reason.  
This is a main gateway into the town centre and it was creating a poor impression for residents and visitors.  
Cheshire East needs to care as much about how our towns look as we do. After driving past again and again, seeing the state it was in with apparently absolutely nothing happening - I contacted the Council. 
Cheshire East has now responded that there are apparent safety concerns about a new structure that has been built on the roundabout.  
Whilst some of the traffic cones have now been removed, I have replied to them for further explanation on these safety issues and to find out how it got built in the first place if there are concerns about it. 
Spring Booster Vaccines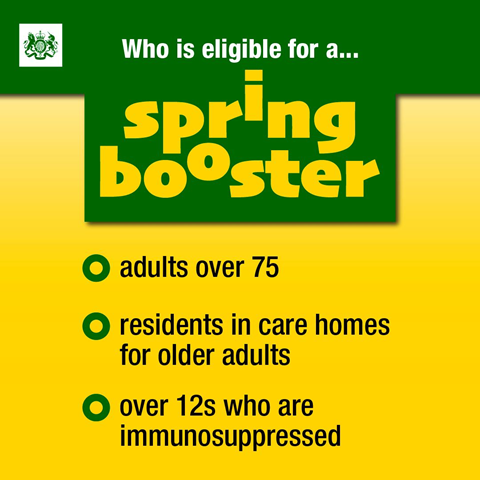 ­The NHS has begun the rollout of the spring booster programme for the Covid vaccine, which will be given to those that are clinically vulnerable.  
Eligible groups are those in older adult care homes, those over 75 and those with immunosuppression over 12. They will be contacted by the NHS to be invited to get their latest dose. Once contacted the appointment can be booked through the online booking service or by calling 119. 
This will provide additional protection from the virus, so I urge anyone who is invited to get theirs as soon as possible. 
Steel Tariffs Scrapped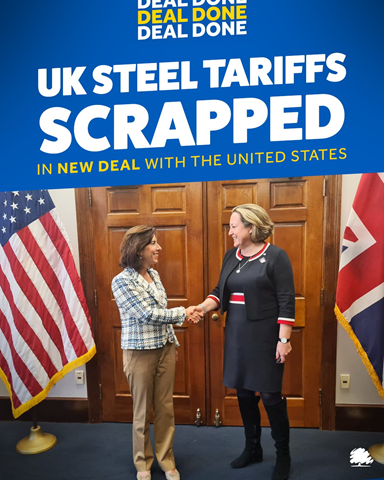 ­A new deal with the United States will see tariffs on steel scrapped. 
This is amazing news that will help support 80,000 jobs across the UK in the steel and aluminium sectors with our manufacturers now able to access the US market tariff-free once again. 
Home Curfew for Child Maintenance Debtors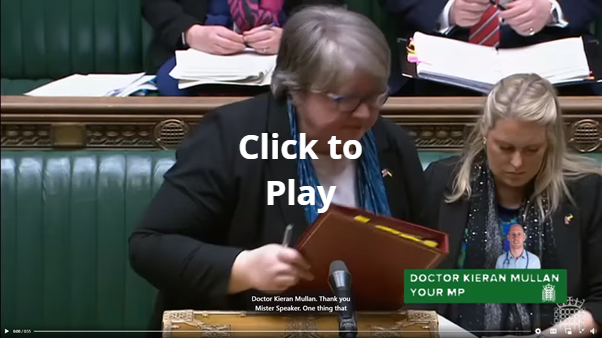 Not paying to look after your own children when you could is one of the worst things I think you can do. 
Having worked behind the scenes for more than a year on behalf of parents who are suffering as a result of payments not being made - I got a breakthrough this week.
Tougher action against non-payment of child maintenance. More than 60% of children living in single-parent families struggling, wouldn't be struggling if the other parent paid child maintenance. 
We simply aren't doing enough to make people pay. And if they don't pay, taxpayers will be helping families make up the difference. 
I have convinced the government to move forward with plans for home curfew for non-payers after plans for this were shelved several years ago. Bottom line... if you don't pay for your children then don't expect to be out socialising and enjoying life! 
I will now push for these measures to be developed as soon as possible and for them to be as tough as possible. 
The Secretary of State has since said, "I congratulate Kieran for his campaigning on child maintenance and the importance of curfew orders where parents are not paying what they owe. As I told Kieran in the House of Commons this week, I will work to bring the curfew orders into effect later this year and look forward to working further with him and my colleagues in Government to ensure single parents continue to get the help they need from the Child Maintenance Service." 
I know some parents struggle with securing access to see their children and this too is not acceptable. But if you have children, you should pay to look after them if you can. End of story. 
Baywater Healthcare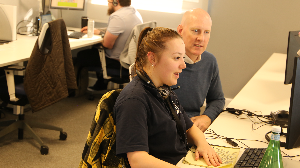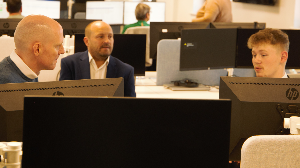 Last week, I visited Baywater Healthcare in Crewe, a leading healthcare provider that offers services such as oxygen and ventilators, which help to improve the quality of life of patients, all of which are provided in their own homes. 
It was great going to see their 24-Hour call centre and to speak with Adam, their CEO, to discuss the work they do and their role as a local employer. I also got a chance to chat with Ryan, who joined them as an apprentice workshop technician and now works as a Home Oxygen Service Contracts Administrator. They are proud of the progress he has made since joined them at just 16 years old. 
They have also helped pioneer a 'Virtual Covid Ward' which uses digital services to support patients in their own homes, reducing unnecessary patient admissions. The patients are helped to monitor their symptoms at home, provided with the equipment to provide daily readings which allow doctors to see quickly when a patient is deteriorating and act when required. 
 Find out more about this here: https://www.baywater.co.uk/clinicians-commissioners/our-therapies/telehealth/virtual-ward
A great, new way of providing healthcare! 
NHS Parliamentary Awards
Just a quick reminder that nominations to be one of our areas representatives at the NHS Parliamentary Awards are still open. These awards recognise the amazing work that people all across the NHS do on a daily basis. Full details are available via the link below. Do let us know if you know of someone in the NHS who has gone above and beyond.
Find out more here: https://www.drkieranmullan.org.uk/nhs-awards
­
Charity Bingo - Support Ukraine
Hough Charity Bingo Club will be holding another game at 7:00pm on 7th April at Hough Village Hall. This month the donation will go towards the Ukrainian Humanitarian Appeal and help provide food, water, healthcare and shelter to displaced families.
The main book will be £5. Why not come along for a fun night out as well as help support a worthy cause?
Traffic Report
 The following are road closures for the week ahead as reported by Cheshire East.
Wistaston Road, Crewe (Between Flag Lane and Wistaston Business Centre) - 27th March 
Weston Lane (Between Mill Lane and Larch Avenue) - Until 30th March 
Casey Lane – Until 30th March 
Snape Lane (Between Englesea Brook Lane and Main Road) - 28th March until 3rd April 
Park Estate, Shavington (Between Weston Lane and Park Estate) - Until 30th March 
Dig Lane, Shavington – Until 11th April