Welcome to this week's newsletter.
The Russian invasion of Ukraine continues with devastating consequences. The UK and our allies have taken unprecedented steps this week in sanctioning Russia and Belarus for their actions. The Government has also laid out what we are going to do to help alleviate the humanitarian crisis including taking our fair share of those fleeing Ukraine.
Closer to home, the Police, Crime, Sentencing and Courts Bill passed its final stages in Parliament. This is a very important piece of law, which will toughen sentencing and go some way towards ensuring victims get the justice they deserve. Still more to do on that front but some big achievements nonetheless. We will also improve our rehab and community sentencing so we can try and stop people ending up living a life of crime.
I have had some really positive local visits as well. 
I went to a mental wellbeing training session, run after I introduced local company Unipart Rail and Women's charity Motherwell to each other, with teenagers getting a mental wellbeing first aid session. Great to see young people interested in this topic. 
It was World Book Day on Thursday, so I went to Wistaston Academy to meet Ms Griffiths and the pupils. I even got to dress up as one of the three little pigs alongside the kids in their book character fancy dress! It was great to see the kids excited about book characters and reading. 
Finally, I had a Q&A session with Wistaston Scouts, some of whom study politics and asked some really good questions. As always I am hugely grateful to people that volunteer to run groups like the Scouts for the benefit of young people in our area.
A consultation has been launched on proposals to increase specialist school places at Springfield School in Crewe. I know from talking to parents that many struggle with the lack of specialist provision in the area, and it costs us all a lot to send children to often private provision elsewhere. As such I fully support these proposals and would encourage you to do the same.
Have your say here: 
https://www.cheshireeast.gov.uk/schools/school_organisation/proposed-expansion-of-springfield-school-crewe.aspx
In some positive news for residents locally, the children's play area in Queen's Park in Crewe has had a £100,000 revamp and had it's official unveiling this week which I attended with the Mayor and local Cllrs. It has new accessible equipment and a new zip wire. If you have never visited the jewel in the crown of Crewe that is Queen's Park now might be the time!
Have a great weekend. 
Ukraine Update
Police, Crime, Sentencing and Courts Bill
World Book Day
Motherwell - Unipart Mental Wellbeing Training
Explorer Scouts
Expansion of Springfield School
Queens Park Play Area
Traffic Report
­
Ukraine Update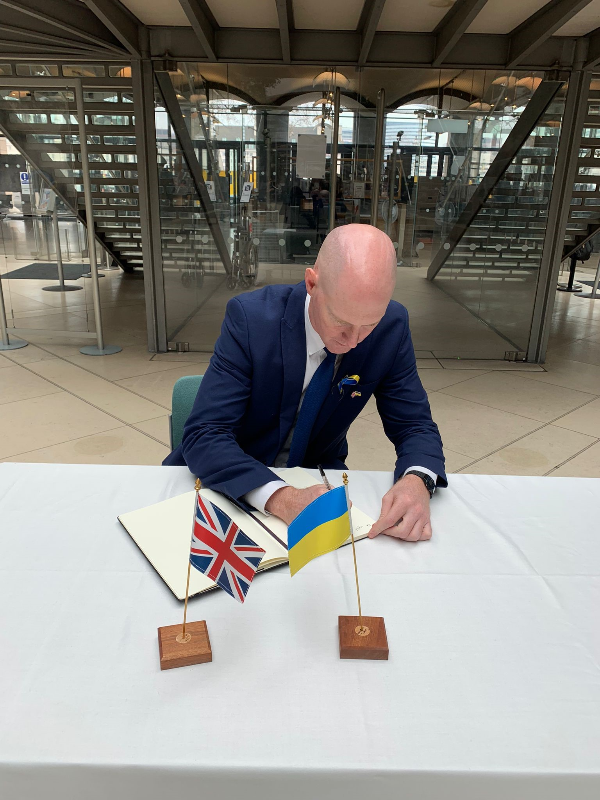 ­Everyone's attention this week has, quite rightly, been on the situation in Ukraine, as the Russian invasion continues. We have seen the Ukrainian people show incredible levels of bravery and tenacity in the face of unimaginable circumstances. The UK stands firmly behind the people of Ukraine, and the Government has announced another series of measures this week to aid in the humanitarian crisis, as well as put economic pressure on Russia and Putin.
You may have heard a lot said about the SWIFT banking system and Russia's involvement in it. SWIFT is the mechanism by which banks can transfer money globally. As of this week, select Russian banks have been removed from this system – making it very difficult for these banks to transfer money across national borders. This is a significant sanction that will hit Russia hard.  
We have also announced a series of sanctions on Russia's Central Bank, select Russia Oligarchs and on Belarus for its role in assisting Russia with their invasion. Their stock market and currency have both crashed as a result.
There have been announcements on what we are doing to help the humanitarian crisis that has emerged. In terms of those fleeing Ukraine, the UK will allow all immediate family members of UK citizens to come here. There will also be sponsorship routes and refugee routes. There has been discussion about whether we should drop visa entry requirements. I don't think we should-it is reasonable for us to at least check who people are and do basic checks on their applications. The EU already had visa free travel between Ukraine and member states so to make out they are going further is misleading. They are also dealing with hundreds of thousands of people fleeing directly to border countries so had to respond differently. People coming to the UK will by definition be coming from third countries as there are no direct routes from Ukraine. 
We have to keep a calm head and ensure public support. We saw difficulties in Germany when they let large numbers of refugees in without really giving confidence to the public it was being done in the right way. In the long run that doesn't foster good community relations. 
More importantly the most immediate priority is to help the hundreds of thousands of people who aren't coming here who form the majority of refugees. That is what will help the greatest number of people. We have increased our aid commitment by £80 million, bringing our total aid for Ukraine to over £220 million and are providing logistical and aid support on the ground.
It was a privilege to have the Ukrainian Ambassador with us in Parliament this week and though applause is not usually allowed we rightly rose to give him a standing ovation in respect of the bravery of his people! One of the most moving moments I have been present for since I was elected .
Finally, the Prime Minister has visited Poland and Estonia this week, reaffirming our support for our allies in the region. He also visited the British troops who are stationed there, and ready to defend against any further Russian aggression.
I am continuing to push the government to do as much as we possibly can to support people fighting and dying in Ukraine for our shared values. We were the first country to start training and then arming their soldiers. We have trained more than 20,000 of their troops since 2015 and sent them anti tank weapons in January when other EU countries were not only refusing to send arms but stopping other countries from doing so. I wonder if other countries had got behind them in the same way whether the fighting right now would be more even handed. 
­
Police, Crime, Sentencing and Courts Bill
­This week, the Police, Crime, Sentencing and Courts Bill passed through the final stages through Parliament. I spoke in support of the bill, as it will help bring sentencing closer in line with what the public expects. 
I was a volunteer special constable and my dad was a Policeman. Crime and justice issues are important to me. For too long, there has been a sort of intellectual snobbery against those who call for longer sentences in politics. While rehabilitation is an important part of the justice system so is punishment, especially in the eyes of victims and their families.
The Bill brings forward Harper's Laws, in which the killing of an emergency worker would automatically mean a life sentence. This comes off the back of a campaign by Lizzie Harper, the Window of PC Andrew Harper who was killed in 2019. I have worked with her closely on getting this law through and know just how much hard work she has done, so am really glad to see this become reality.
The bill also brings forward Tony's Law, which will increase the maximum sentences for child cruelty. It follows a campaign for Tony's Law by the adoptive family of seven-year-old Tony Hudgell, who had both legs amputated following abuse.
We are changing the law Labour introduced around early release, increasing the time people spend in prison from half to two thirds of their sentences for serious criminals so they spend more time behind bars. There are also changes to laws for death by dangerous driving, increasing the maximum penalty to a life sentence.
Locally, I know that many people will be glad to see the laws that the bill brings forwards on illegal encampments, which will criminalise and give the police power to arrest people who cause serious distress or disruption while encampment on land owned by others. 
We are bringing in a form of mandatory whole life prison term for child murderers as well. I welcome this but in my speech I used it as an example of where we need to go further. It will just be for people who murder with "significant premeditation". That isn't good enough in my view. Child murder should mean life imprisonment as the default, with or without premeditation. We also need to toughen up our child abuse sentencing and sentencing of repeat serious offenders. I will keep on campaigning on this front whilst I am an MP!
­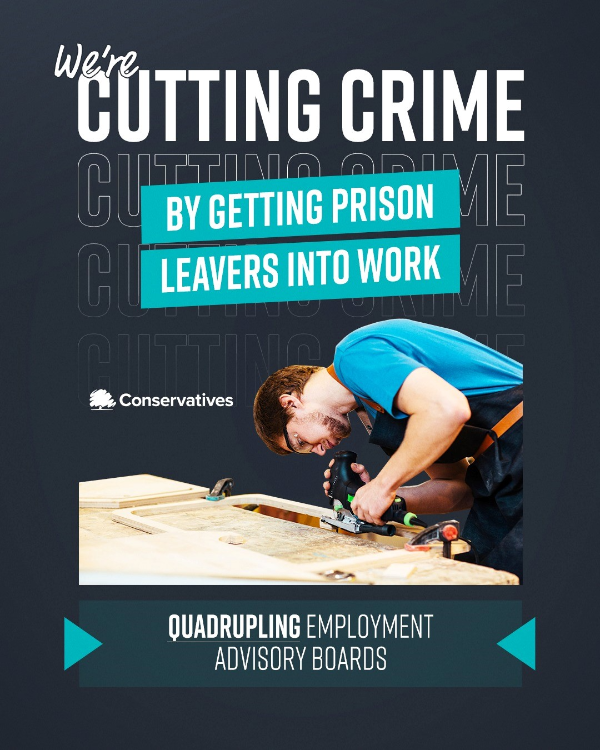 ­While I do believe in tougher sentences, rehabilitation is also important. That is why the Government have announced plans this week to get more prisoners into work, upon leaving prison.  
A new employment board, led by leaders of big-name firms, will act as a link between prison and employment, ensuring that prisoners use their time in prison to get the skills they need to head straight into work upon release. 
Prison leaders with jobs are much less likely to re-offend, helping to cut crime, and saving public money in the long run. 
­
World Book Day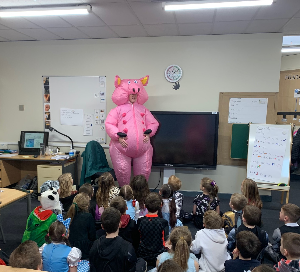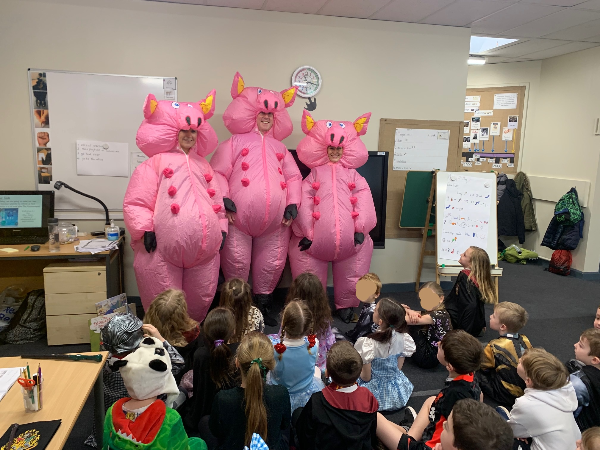 ­It was great fun to join Wistaston Academy Head Ms Griffiths and Deputy Ms Joy today as the three little pigs to help inspire kids to read on World Book Day! 
Now in its 25th year, World Book Day promotes and encourages young children to read for pleasure! As well as getting them off their screens it, of course, helps with their reading and writing. There have been several campaigns over the years encouraging parents to try and read to and with their children. It's one of those things it's easy to forget about at the end of a busy or long day!
The pupils were dressed as book characters as well and loved telling me about their favourite characters and books and keeping an eye out for the big bad wolf for the three of us! 
Motherwell - Unipart Mental Wellbeing Training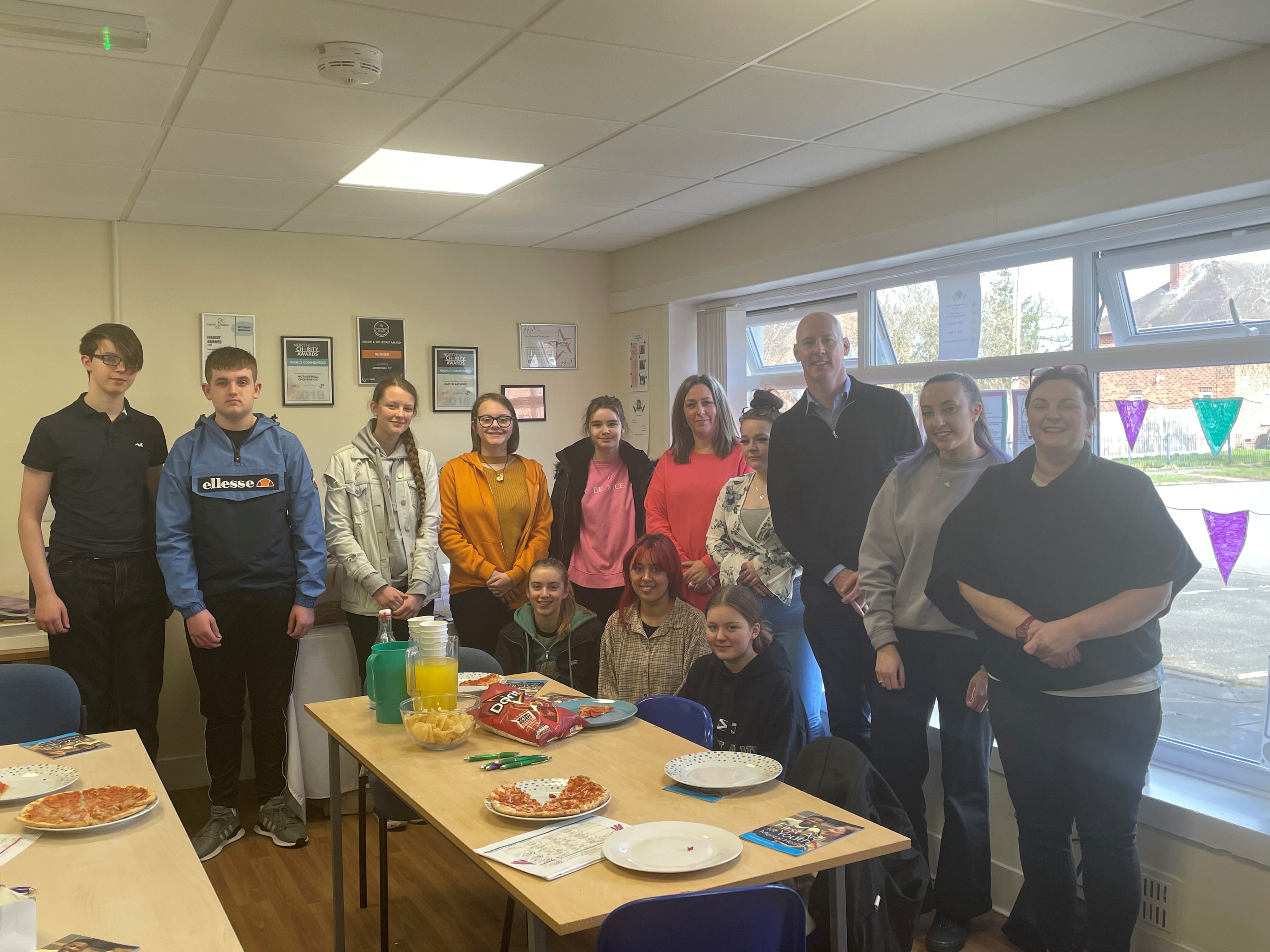 Whenever I can locally I try and connect businesses who want to help their local communities with local charities. 
I have recently been able to bring together local women and girls charity Motherwell with rail company Unipart Rail and last week Liz from Unipart helped Motherwell deliver a mental wellbeing First Aid training session for young people over the age of 16.
They were able to gain a level 1 qualification from taking part which gave them further insight into the issues around mental wellbeing. There can sometimes be a stigma around mental wellbeing. It was great to meet a group of young people keen to learn more and support peers around them who may need help.  
Huge thank you to Liz from Unipart Rail for delivering the training! 
If you or a young person you know would be interested in attending a future session let me know.
­
Drake Explorer Scout Unit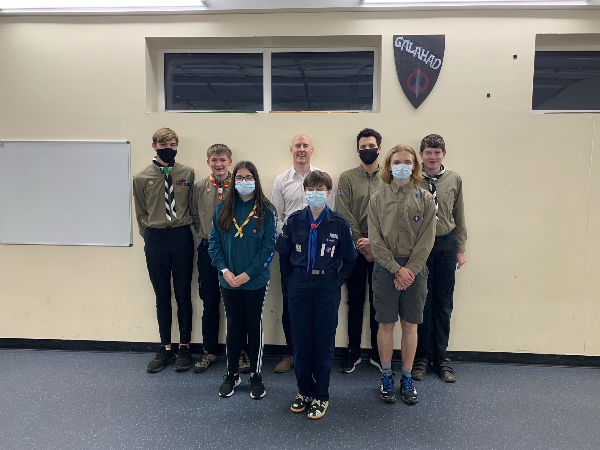 I recently visited the Drake Explorer Scout Unit in Wistaston. The Explorer Scouts are a great organisation for boys and girls aged 14 to 18. Thank you to Ellie for showing me around!
Ellie said "Our group of 14–18-year-olds had lots of questions for Kieran, getting his views on a number of topics such as apprenticeships, improvements to the Crewe & Nantwich area for young people and the introduction of electric vehicles.
The explorers were also keen to know about Kieran's day to day life in politics and how they would pursue a career within politics after leaving school. The evening was enjoyed by all and the explorers enjoyed having the opportunity to ask Kieran these questions."
Bus Service Support
Local bus services are an essential lifeline for many residents, helping them get around for work, shopping and school.
 
The Government have announced a further £150 million of financial support to help protect bus services. This will bring the total amount of funding given since the pandemic to £2 Billion. This financial support will help operators over the next 6 months as we begin to see a return of passenger numbers as before the pandemic. 
­
Springfield School Expansion Proposals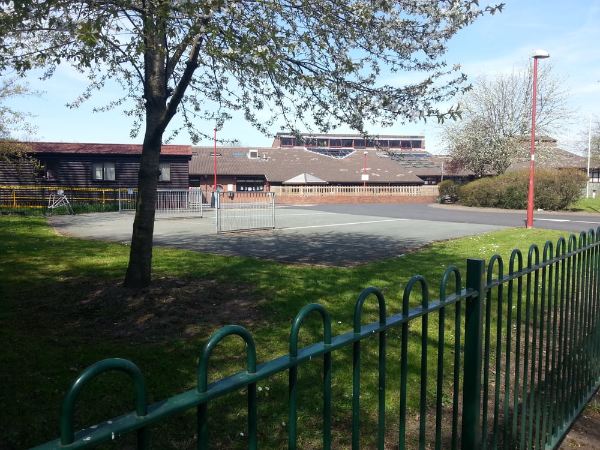 There is need for more specialist school places in Cheshire East, with many who need it having to travel out of area. I have heard directly from parents about their children having to travel long distances, which often often comes at huge expense.
There are now proposals to expand Springfield School Crewe.  increasing the number of pupils from 170 to 250.
A consultation on this proposal is now open, closing on 30th March. I would encourage any parents who see this need to give their support to the proposals.
https://www.cheshireeast.gov.uk/schools/school_organisation/proposed-expansion-of-springfield-school-crewe.aspx
­
Queens Park Play Area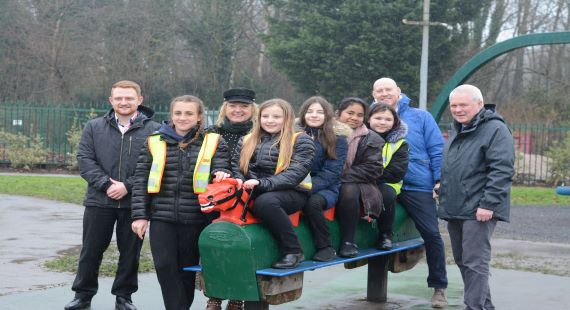 On Thursday, I attended the opening of the new, improved play area at Queens Park, Crewe. The improvement includes a zip wire, a heritage train, a wheelchair-friendly roundabout and an adventure place.  
It was funded by a £100,000 landfill community fund grant from the FCC community Foundation. Thank you to residents and Friends of Queen's Park who gave their ideas, the ANSA team for developing the proposals and FCC for funding them!
­
Traffic Report
 The following are road closures for the week ahead as reported by Cheshire East.
Maw Green Road, Crewe (Between Ridding Drive to Brook House Farm) - 10th March 
Elm Drive, Crewe – Until 7th March 
West Street, Crewe (Between Broad Street and Dunwoody Way) 10th March until 11th March 
Albion Street, Crewe (Between Dodington Road to Alton Street) until 11th March 
Crewe Road, Shavington – 8th March until 9th March 
Osborne Grove, Shavington – Until 9th March 
Dig Lane, Shavington – Until 11th April