Newsletter 81
­Happy New Year and welcome to the first newsletter of 2022! I hope you had a chance to spend some quality time with friends and family, though I know a lot of people were having to self isolate. I know for me it was certainly a better more normal Christmas than last year.
The Government has confirmed that plan B will be extended for a further three weeks. Although it is good news that the data now shows that the Omicron Variant is a milder variant, the fact that it spreads more easily still poses a risk of overwhelming the NHS. This is why measures aimed at reducing transmission, such as working from home, are continuing for the time being.
There is no escaping the NHS is already under a lot of pressure. We all owe a debt of gratitude that we are not experiencing stricter measures but this likely means a tougher time for NHS staff as a result. There are stricter measures in other parts of the country which shows just how finely balanced these things are. For now the government believes it can support the NHS to manage this wave. Stricter measures have consequences for a wellbeing as well. No easy choices.
There was data published this week that shows that the booster vaccine decreases your risk of hospitalisation from the Omicron Variant by 88% compared to being unvaccinated. It is, therefore, advised that you get your booster vaccine, if eligible, as quickly as you can; to protect yourself and others around you. Encourage your friends and family to do the same. Not too late for them to get even their first vaccine dose!
There were a couple of environmental policy announcements from the Government this week. Firstly, a scheme aimed at encouraging farmers and landowners to create new natural habitats.  This will help endangered native species. Plans were also announced to tackle hare coursing – an illegal practice in which dogs are used to catch hares.  
Finally, we are still looking for volunteers to help the Guy Harvey Youth Club in Nantwich run sessions on a Friday or Saturday. If you have some skills which could be used, and the free time to spare, please contact me at kieran.mullan.mp@parliament.uk. 
Have a wonderful weekend.
Coronavirus Updates
­The Prime Minister announced this week that Plan B will be continuing for another 3 weeks. While it is now clear that the Omicron variant is milder than the previous Delta variant, it spreads more easily and this could still put pressure on the NHS. The situation will be reviewed once again in 3 weeks.  
I understand that some people are having difficulty ordering Lateral Flow Tests online. The advice I have been asked to share is to keep refreshing the page. There has been a huge increase in demand over the past few weeks and the system is still trying to deal with this. All I can ask is to be patient – you should eventually be able to get through and order some. 
­Confirmatory PCR Tests:
­The need to take a confirmatory PCR test following a positive lateral flow test result has been suspended. You should from now on begin to self-isolate with just a positive lateral flow test.  
­Tests for Travel:
­The rules around tests for international travel are changing to make the process easier and simpler. From 7th January fully vaccinated Adults and under 18's do not need to take any pre-departure tests before entering England and from Sunday 9th January, fully vaccinated adults and over 5's will only need to take a lateral flow test, instead of a PCR, upon return. 
Full details here: https://www.gov.uk/government/news/pre-departure-testing-removed-for-vaccinated-travellers 
­Booster Vaccines Against Omicron: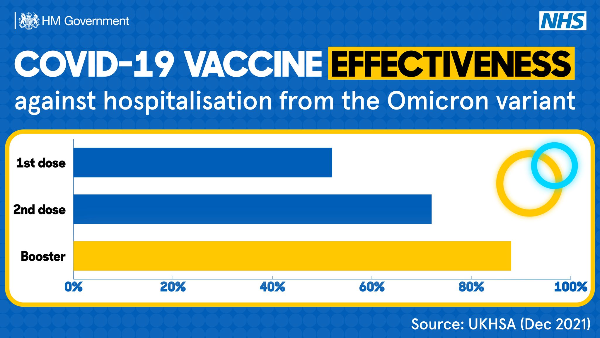 ­Just thought I would share some good news that, according to data from the UK Health Security Agency, a Covid Booster Vaccine will provide you with greater protections from hospitalisation, from the Omicron Variant, than just 2 jabs alone.
This confirms that getting a booster is the best way to keep yourself and those around you safe this winter. No vaccine is perfect, but this is about reducing your risk as much as possible and helping reduce pressure on the NHS. 
Book your booster vaccine as soon as you can via the link here: 
https://www.nhs.uk/conditions/coronavirus-covid-19/coronavirus-vaccination/book-coronavirus-vaccination/
One Year Of The Oxford-AstraZeneca Vaccine: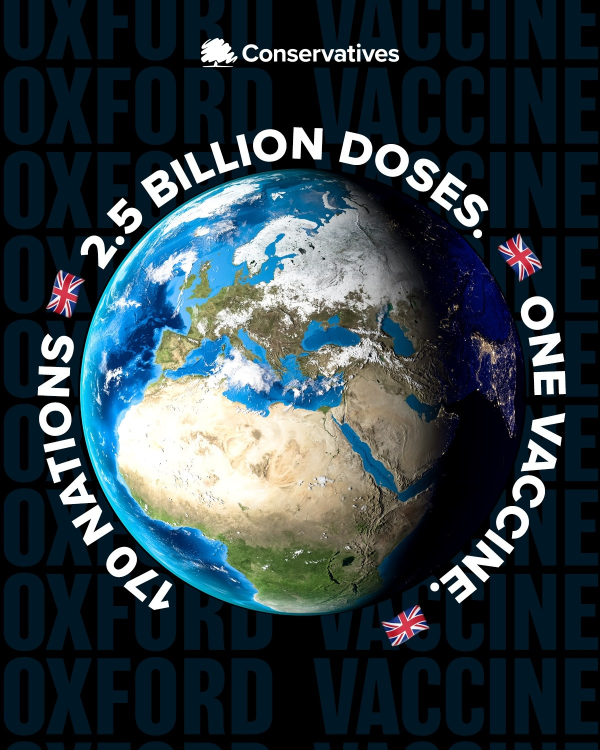 The UK became the first country in the world to approve the Oxford University/AstraZeneca COVID-19 vaccine a year ago Thursday.
Early investment in the Oxford team – in their technology since 2016 and their COVID-19 vaccines since March 2020 – paved the way for approval by the independent Medicines and Healthcare products Regulatory Agency (MHRA), driven forward by the National Institute for Health Research's (NIHR) world leading research. The NIHR helped recruit thousands of volunteers from across the UK for phase 3 trials and supported the researchers.
Almost 50 million AstraZeneca vaccines have been administered in the UK, saving countless lives, keeping people out of hospital and reducing the pressure on the NHS.
Following the government investing more than £88 million to help research, develop and manufacture the vaccine, around 2.5 billion doses have been distributed at cost to more than 170 countries. Almost two-thirds of these have gone to low and lower-middle-income countries, including more than 30 million doses donated by the UK through COVAX or bilaterally. The UK will donate a further 20 million AstraZeneca doses to countries in need next year as part of the government's commitment to donate 100 million doses overall.
Free Tests for Critical Workers:
100,000 critical workers will be provided with free lateral flow tests daily from 10th January. This is to help isolate cases and reduce outbreaks in key workplaces.  
This scheme will cover essential roles such as security, transport, and key national infrastructure. Organisations will be contacted by the Government directly – so you will find out from your employer whether you are eligible for free daily tests.  
This is separate from pubic sector roles, such as social care and education who already are provided with tests.  
School Ventilation:
The Government is providing schools with more support to help minimise disruption and keep pupils in education. An additional 7,000 air cleaning units are to be provided to early years, schools, and colleges to improve ventilation in classrooms – reducing the risk of transmission of the virus. Keeping teaching going is a top priority, as time in the classroom directly influences a child's future life chances. 
­
Up and Under Foundation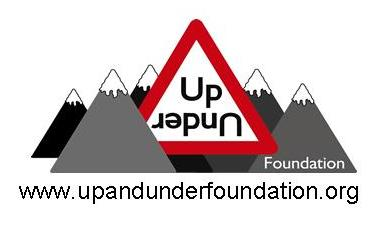 Charity organisation The Up and Under Group are keen to support a project involving young people across Crewe and Nantwich. 
Up and Under benefits disadvantaged young people by funding adventurous trips with schools and youth groups. They are looking to invest up to £2000 in a local initiative that combines some physical activity with community improvement while giving a group of young people pride and ownership of their local environment. 
Up And Under are especially interested in working with schools and youth groups and local volunteer/interest bodies involved in the environment or amenity improvement, to deliver a project that focuses on disadvantaged children or children with disabilities. 
If you know of any local youth projects or community groups that would benefit from receiving funding, please contact my office at kieran.mullan.mp@parliament.uk
Restoring Natural Habitat
The Government has announced plans to encourage farmers and landowners to do things that will help the environment and support natural recovery. 
The Local Natural Recovery Scheme will pay farmers to create wildlife habitats, plant trees and restore peat and wetland areas, whereas the Landscape Recovery Scheme will help support larger changes to land use – creating new nature reserves and natural habitats such as woodlands. 
Overall, these schemes are expected to create 300,000 hectares of restored wildlife habitat by 2042, preventing the decline of some of the most endangered species in England. 
Now that we have left the EU, and moving away from the bureaucracy of the Common Agricultural Policy, we are investing in schemes, such as these, which recognise the work that farmers do in protecting local natural environments. 
Find out more here: https://www.gov.uk/government/news/government-unveils-plans-to-restore-300000-hectares-of-habitat-across-england
­
Hare Coursing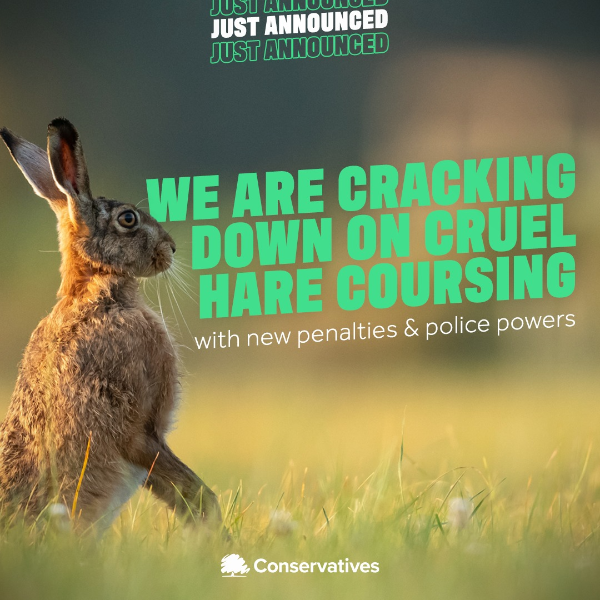 ­New laws are to be introduced to crack down on illegal hare coursing – in which dogs are used to catch and kill hares. These new measures include: 
Increasing maximum penalties – with the possibility of imprisonment. 
The creation of 2 new offences; trespass with the intention of using a dog to search for and pursue a hare; and being equipped to trespass with the intention of using a dog to search for or pursue a hare. 
Making offenders pay for police costs 
Barring offenders from owning dogs 
This is just another example of the UK's commitment to animal rights and protecting wildlife. We can be proud that we have some of the strongest protections in the world. 
Supporting Victims of Domestic Abuse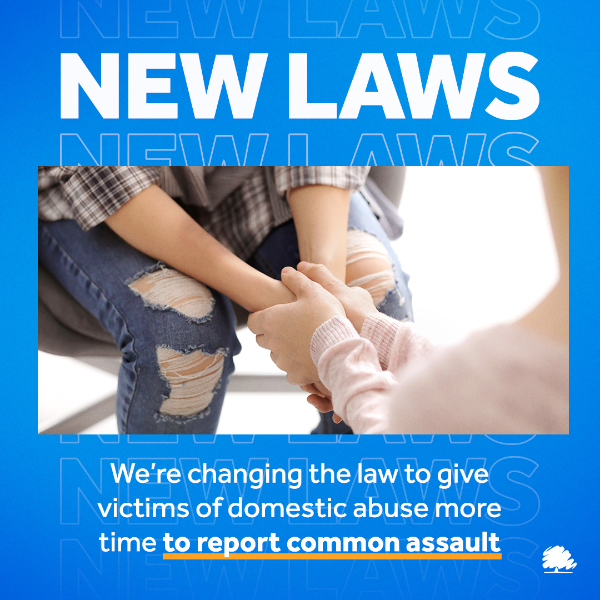 ­Domestic abuse is an abhorrent crime that far too many people fall victim to. The nature of the crime often means that they do not come forward straight away. Under the current law, the deadline for the start of prosecution is 6 months from the date of the incident. This often means that offenders evade justice. 
Victims of domestic abuse will be given more time to report incidences of common assault under new Government plans. The period for the prosecution to start will be changed to 6 months from the date it was reported to the police, with the deadline also being extended to 2 years from the date of the offence. 
These changes are being added to the Police, Crime Sentencing and Courts Bill currently being progressed through Parliament. 
You might have seen 24 Hours in Police Custody on Channel 4 this week, which I think highlights just how hesitant victims of domestic abuse can be about coming forward. The episodes follow the story of the tragic death of an 11-week-old baby in Cambridgeshire and can be watched here: https://www.channel4.com/programmes/24-hours-in-police-custody/on-demand/68464-019. It is very heavy but worth a watch.  
In the second episode, police officers go to the household following reports of arguments and banging from neighbours. Despite these reports and clear marks around her neck, the woman still strongly denies that any attack has taken place. Even as someone with experience as a volunteer police officer in dealing with these issues it really brought home to me just how difficult it can be for victims to speak out.
­
Traffic Report
Broad Street, Crewe – 10th January until 11th January 
Selworthy Drive, Crewe 12th January 
Main Road, Shavington (Between the Main road and Newcastle Road) - 10th January until 14th January 
­