Newsletter 78
Welcome to this week's newsletter.  
Unfortunately, we have seen cases rise from the Omicron variant, so the Government has decided that we should move to plan B. I know people struggle to understand this. We don't now yet it if makes people more unwell, we don't know for sure if it weakens the benefit of the vaccine. But the problem throughout the pandemic is that if you wait too long to make decisions, if you decide to act too late, there will be a proportion of people already that we can't stop ending up in hospital as it takes a weeks after they are infected for them to get ill. And because we have unlocked and the virus is spreading very very rapidly and huge numbers are involved it doesn't take much difference to have an impact. For example, if we say the vaccine protects 95 out of 100 people from needing to get into hospital, if it drops to 90 that doubles the number of beds you need. If we say it is spreading at twice the speed, then again that 100 people overall turns into another 100 and again the number of hospital beds needed doubles. We simply don't have a health service that can cope with big increases in the beds we need at a time of winter when things are already really stretched.
Does this mean we are destined into these measures forever? Most scientists think the virus will get milder and milder over time. We will also have more time to build up more hospital capacity. We can also expect progress on some excellent research into more effective vaccines that produce longer lasting and more resilient effects.
We have seen this government unlock at every opportunity. It is a government that doesn't relish introducing measures. They are being guided by clear advice about when the NHS is at risk of being overwhelmed. The most important thing you can do is get vaccinated or get your booster if you haven't already.
Over the next few days, some additional restrictions will come into place, including mandatory face coverings in most indoor settings and working from home being advised. Vaccine passports or evidence of a lateral flow test will also be introduced in certain settings. Scroll down for more information on exactly what they rules are. 
I totally understand how angry people are about the Downing Street party. It was totally wrong and I am glad the Prime Minister has apologised and ordered an investigation. It may make you want to not follow the new measures. All I can ask is to think about keeping your loved ones safe rather than the politics.
There was good news for Crewe with the announcement that Crewe Works will be back in the business of building trains – with a major investment to build parts for the new HS2 high-speed trains. This is a great vote of confidence in Crewe!  
I announced the winner of my Christmas Card Competition this week. Congratulations to Daisy Coates of Haslington Primary School who won the popular vote. I visited the school to present her with a certificate and a very special message from Father Christmas! Well done to Daisy and all of the runners up. Thank you also to all those who took part and voted.  
I also announced the winner of the Best Small Business Awards on Small Business Saturday. Well done to Rhode Island Coffee in Crewe! Again, thank you to all those who voted for their favourite business. We had votes for so many amazing small businesses all around the constituency. 
The Government has focused on crime this week, with announcements about tackling drugs gangs, and prison reform. The Nationality and Borders Bill has also passed through the House of Commons, paving the way to a firm but fair immigration system.  
I had a great time doing an unusual interview with Radio Stoke as well this week. Rather than talk politics or what is in the news, I was asked to pick three songs and explain why I picked them as we talked about my background and why I am in politics as part of a series with new MPs. Listen at the end. Though I know how busy people are.
Have a great weekend. 
Coronavirus Plan B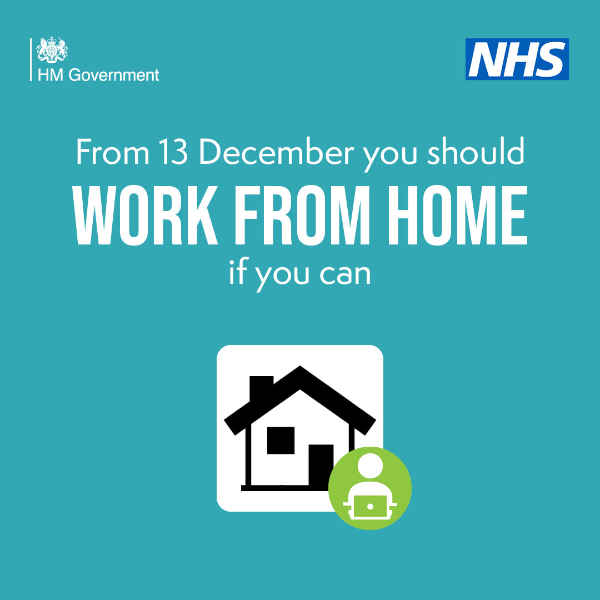 The Government has announced that we are moving to Plan B, with additional Coronavirus restrictions being implemented, due to a rise in cases from the Omicron variant. The variant is spreading much faster than the delta variant and risks a rise in hospitalisations if left to continue.
The new measures include:
Face masks becoming mandatory in public indoor settings except hospitality from Friday 10 December
Working from home if you can is advised from Monday 13 December
Showing proof of vaccination or a negative lateral flow test through the NHS Covid Pass for entry to nightclubs and certain events from Wednesday 15 December.
For the full details please go to https://www.gov.uk/coronavirus
While nobody wants these new restrictions, it is important that we react now to the rise in cases before it is too late. Once again, the most important thing we can all do to slow down the spread of the virus is to get our vaccines when we become eligible.  More information on that here:
https://www.nhs.uk/conditions/coronavirus-covid-19/coronavirus-vaccination/who-can-get-the-vaccine/
Crewe Back Building Trains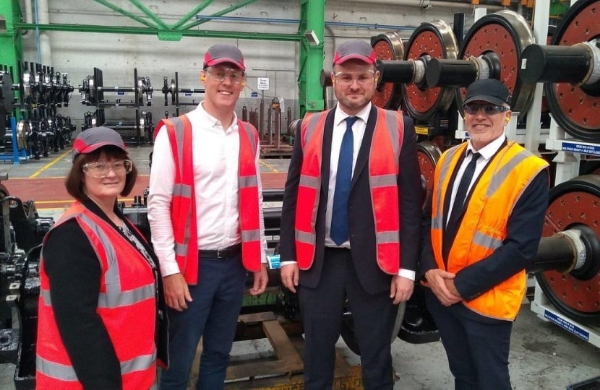 I am incredibly glad to announce that Crewe is going to be back in the business of building trains! The Crewe Works site is set to receive major investment as site owners Alstom have won a landmark HS2 contract to build a new generation of 54 high-speed trains in the North and Midlands.  
Formally owned by Bombardier, the site has not been used for the manufacture of new trains since the early 1990s and will now be used for the production of the bogies that will form the base of the new trains. I got to tour the site before and they have incredibly skilled workers working on refurbishment, and now they will get the chance to build again!  
The railways have been at the heart of Crewe for generations. I have talked a lot about the investment and jobs HS2 will bring to the area. That can seem a bit general for people to hear. But this is exactly what I mean. This will be a transformative contract for the site in Crewe and I am incredibly happy that once again, Crewe is back in the business of building trains. The opportunities this will create for the next generation of engineers and other skilled workers are enormous. It is a huge vote of confidence and I know many people and their families who spent decades building trains in Crewe will be delighted at this news. I couldn't be happier about this. 
The new 200m-long, 8-car trains are set to run in Phase 1 of the project between London and Birmingham, and on the existing network, and will dramatically increase capacity and connectivity between towns and cities across the country including Stoke, Crewe, Manchester, Liverpool, Carlisle, Motherwell and Glasgow. They will have a major impact in reducing carbon emissions from transport by encouraging people away from fossil-fuelled cars and planes, and onto rail. Alstom won the contract as a joint bid with Hitachi and it means over investment across the North and the Midlands.  
 https://www.gov.uk/government/news/government-awards-hs2-rolling-stock-contract
­­
Christmas Competition Winner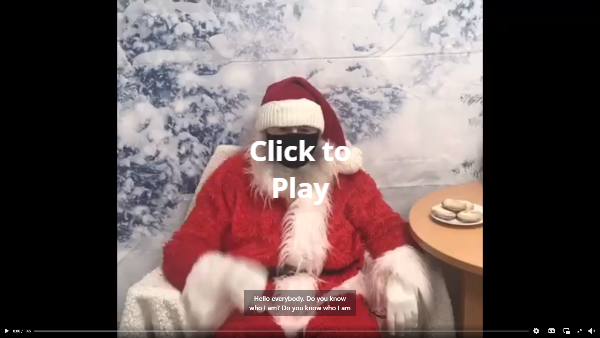 This year's Christmas Card Competition is over, and a winner has been decided. We had a lot of amazing entries this year. Thank you to everyone who took part, you should all be getting a certificate. A thank you also to those who voted for their favourite designs.  
We have got a very special guest to announce the winner! They recorded this video for the winner, which was shown to a very excited classroom in Haslington Primary School this morning.  
Well done to Daisy Coates, in year 2, who won with her Reindeer on a Roof design.  
It will be my official Christmas Card this year and will be presented to, among others, the Prime Minister, later this week.  
A special mention to the runners up, who all did very impressive designs. 
2nd - Martyna - Underwood West Academy, Year 6  
3rd - Isobel - Bridgemere CE Primary School, Age 8  
4th - Grace Lilly - St Mary's Catholic Primary School Crewe, Age 10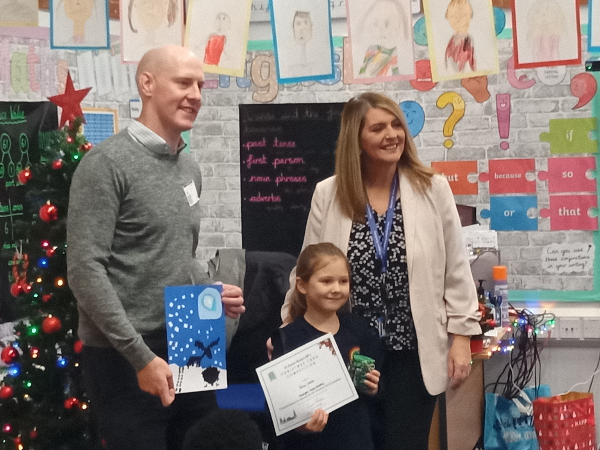 ­
Small Business Competition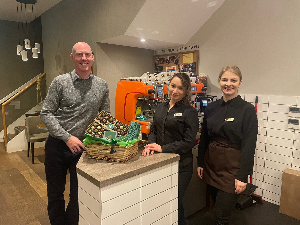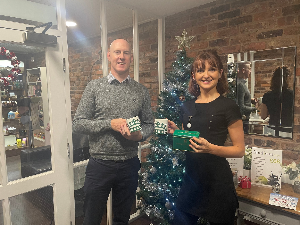 Last Saturday was Small Business Saturday, where we celebrated the hard work of our local, small businesses - and encourage people to use them. Support your local high street!  
As part of Small Business Saturday, I ran a 'Best Small Business Awards, to find fantastic small businesses in Crewe and Nantwich.  
Congratulations to Rhode Island Coffee in Crewe who has won! I hope you enjoy your House of Commons hamper! Thank you to local printing business InPrint Colour who have sponsored a £50 voucher with them as an additional prize. And congratulations to Abi who won our draw for nominators and also gets a voucher.  
A special mention also to Madison Spa in Nantwich who came second. They won some House of Commons mugs and tea!  
Thank you to the hundreds of people who took part and put forward their favourite small businesses. The whole point of small business Saturday is to encourage people to use and support local business - this is so important now more than ever after the disruption of the past year and a half. 
Drug Strategy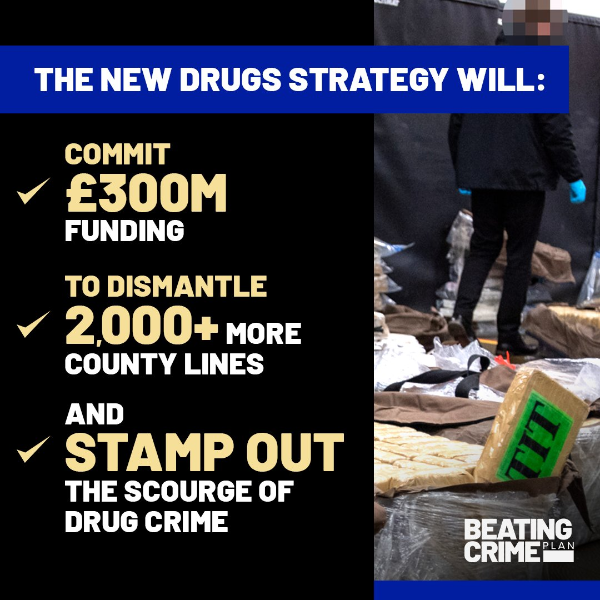 Drug use is a blight on society, encouraging crime and tearing apart families. It spreads misery and should be clamped down on hard. While rehabilitation is important, it is no good without also enforcing the law. We should crack down on the source by taking apart the dangerous gangs who ruin live.  
The Government have published their 10-year strategy to tackle drug use at the source and help those it harms most. Backed by £300 million this will help come down tough on over 2,000 county lines gangs. It also includes the largest ever investment in drug treatments – ensuring users get the help they desperately need.   
­
Prison Strategy
The Government has published plans to make prisons safer and securer places that cut reoffending. This plan includes:  
Zero Tolerance Policy on Drugs – with new prisons having body scanners and airport-style security. Offenders with addictions will also be helped with a recovery plan put into place from day 1 of their sentence.
Prison Education – helping prisoners gain basic numerical and literacy skills
Supporting Prisoners into work upon release – with a new job matching service and employment advisors
Fast-Tracked Punishments – with penalties fitting the offence such as making them carry out repairs if they cause damage
This plan will help keep the law-abiding majority safe while ensuring that criminals get the help they need to be properly rehabilitated, and safe for release back into the community. 
­
BBC Radio Stoke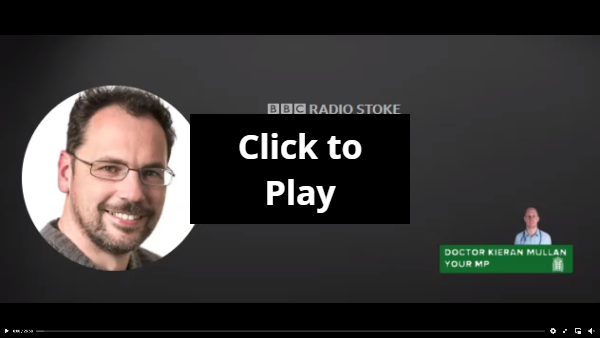 I know everyone has busy lives and other things to be getting on with, but if you were interested in learning a bit more about my background and why I wanted to be an MP, you can listen to this interview on BBC Radio Stoke where I was asked to name 3 songs and explain the choices. We talked about why I became a doctor, and then why I got into politics, as well as talking about my family, being a Special Constable and Christmas plans.  
Take a listen above. 
Traffic Report
The following are road closures for the week ahead as published by Cheshire East.
R70 (Between Englesea Brook Lane and Deans Lane) - 14th December
Wrinehill Road – until 24th December