Welcome to this week's newsletter.  
It is news that in the run up to Christmas none of us wanted to hear. A new variant of Coronavirus is circulating that has the government medical experts and scientists concerned. Getting together over Christmas is so important to so many of us, having that time to spend with family and friends. So we are rightly worried that we might not be able to do that in the way we want.
But I think we don't need to be too worried just yet. The Omicron variant seems to be more transmissible, but we don't even know that for certain. Whether it makes people more unwell and more likely to need admission to hospital is even more uncertain. As with lot of times during the pandemic we are needing to take decisions with only half of the information available.
So for now the Government is just asking us to do a few extra things to help buy us time until we know more. Wear masks on public transport and shops, take a PCR test when coming back from abroad and self isolate until you get the result and self-isolate for 10 days if you are in contact with a suspected Omicron case. If you are in this last group you will be contacted by NHS Test and Trace. 
For those people that says this is an overreaction, keep in mind the government monitors hundreds of variants. We never hear about the vast majority of them. They have asked us to do this because they have a genuine reason to believe it might spread more quickly. But that doesn't mean I don't appreciate even these relatively modest steps won't cause worry for some and affect businesses like hospitality which is why I think we shouldn't be rushing to do any more.
Of course the most important weapon in our arsenal remains vaccines. Even if the vaccine turns out to be less effective with this new variant, it will still make a huge difference. The antibodies you make that attack the virus are not like a lock and a key that means they won't work without a perfect fit. It's better to think of it like a glove and hand that might be either a bit too small or too big but you can still get on. So the single most important thing you can do is get your vaccine! Your first if you never had one, your second or your booster! Any challenges at all getting one let me know as I want to know we are making it easy for people. 
In coming weeks and months more and more of us will either be invited or get the chance to book online or on the phone. If you have a friend or family member who is reluctant do your bit to persuade them. The vaccines are as safe as any other vaccine or medicine and this is what will give us the best chance of getting life completely back to normal in the long run. We have come so far already and I know we are going to get through the other side of this challenge as well.
I shared my views about the latest Covid-19 measures on Newsnight this week. You can watch it here: https://www.bbc.co.uk/iplayer/episode/m00123wc/newsnight-30112021
The Government announced this week that there will now be tougher sentences for those found guilty of child cruelty, with the passing of 'Tony's Law.' This is following the campaign of the family of Tony Hudgell – a boy who was the victim of severe abuse from his birth parents.
You might also have seen in the news the case of Arthur Labinjo-Hughes (story here). Poor Arthur was abused and then murdered by his fathers partner and his father himself. I don't think anyone can be anything other than deeply sad thinking about what happened to poor Arthur. I also don't know how you can be anything but deeply angry when thinking about the two despicable animals responsible for what happened to him.
The new laws we are passing through Parliament right now to bring in a whole life order for child murderers can not come soon enough. This woman should never ever ever get out of prison but she probably will one day as the law isn't in place yet. 
It is right we are making this change with the new law, though I am concerned it requires 'premeditation' and I am not sure in cases like this it would apply. And it definitely wouldn't apply to Arthur's father (not that he deserves the use of that word) who was only convicted of manslaughter. So we must keep up the pressure.
The issues around sentencing is something I am passionate about. As part of being on the Justice Select Committee his week I was able to ask the Justice Secretary about whole life tariffs vs life sentences where most people leave prison. I hope to start leading big campaigns on these issues over the next couple of years.
Finally, just a quick warning that I have received reports of scams being carried out in the area. Please always make sure that you know who you are taking to, and never give over large amounts of money, or valuable items without being 100% sure about who you are dealing with. There is a link below to some more tips and advice.
Have a great weekend.

­
Coronavirus Measures Update - Omicron Variant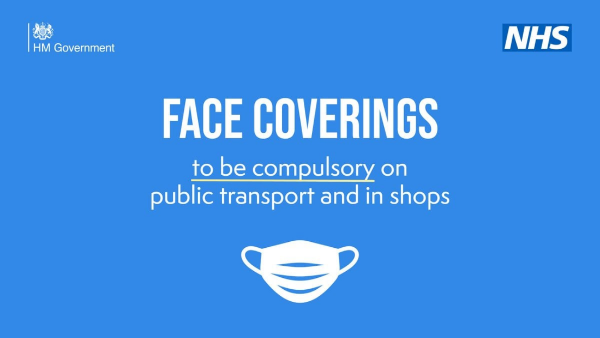 As you are probably aware, Scientists in South Africa have discovered a new strain (Omicron) of the Covid-19 virus. A handful of cases have already been detected here in the UK. At this stage we don't fully understand the impact of Omicron, but it seems it spreads even more rapidly than the Delta variant and may be more resistant to the vaccine.  
As such the Government has taken the decision to introduce a range of new measures to prevent it spreading:
All contacts of suspected Omicron cases must self-isolate for 10 days, regardless of their vaccination status. They will be contacted by NHS Test and Trace.
All international arrivals entering England must take a day 2 PCR test and self-isolate until they receive a negative result.
Face coverings will become compulsory on public transport and in shops. This does not apply in hospitality settings.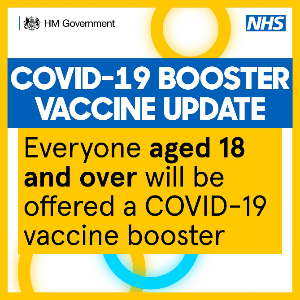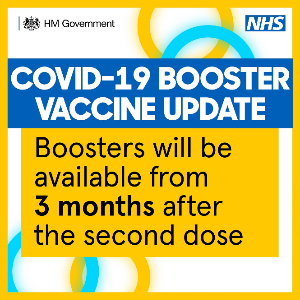 The single most important thing you can do to help is get your vaccine. There has also been updates on the vaccination rollout, this week. This includes:
All those over 18 will be offered a booster vaccine
The time between 2nd dose and booster will reduce from 6 months to 3 months
Those with immunosuppression will be eligible for a 4th dose
Those 12-15 years old will be eligible for a second dose, 12 weeks after their first
The booster vaccines will be made available in reverse age order. You will be notified when you become eligible, so please do not try to book before then.
This greatly expanded age range - and reduced time between 2nd dose and booster - is in response to the new Omicron Variant. We currently don't fully understand the impact that this new variant could have. However, it does seem to spread rapidly and may be more resistant to the vaccine.
Our first line of defence from the virus is the vaccine, so I would encourage you all to get your boosters as soon as you become eligible. Boosting our immunity now will help prevent the need for more measures later on.
Do let me know if you have any trouble in getting an appointment for any of your vaccines. 
Tony's Law - Child Cruelty Sentencing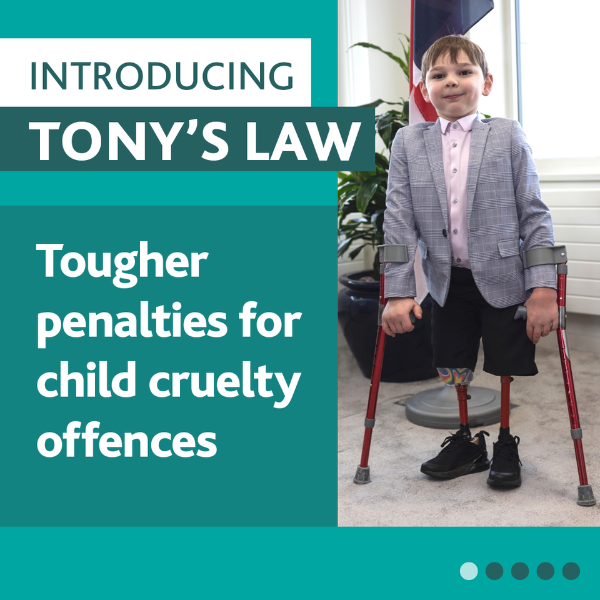 Some of you may have seen the campaign by the family of Tony Hudgell for an increase in the sentences for child cruelty. Tony was left disabled following serious abuse from his birth parents as a baby. Despite this, they only received a 10-year sentence.
The Government have announced that maximum punishments for a range of child cruelty offence are set to increase.
Anyone who causes or allows the death of a child, or vulnerable adult, in their care will face up to life imprisonment - an increase from the current maximum of 14 years. Causing or allowing serious physical harm to a child, and cruelty to anyone under 16, will also have tougher sentences - with an increase from 10 to 14 years imprisonment.
The Government is determined that the justice system should be on the side of the victims and that the punishment should always fit the crime. Measures like this, and the increase in sentences for those found guilty of the manslaughter of an Emergency Worker, will help victims and families feel that justice has been done. But there is much more to do and I am committed to campaigning as hard as I can in this area.
­
UK Parliament Awards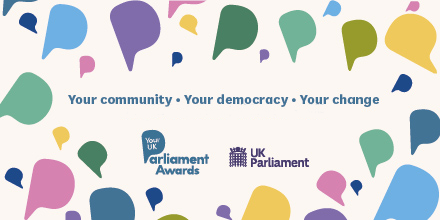 Do you know an individual, group, or organisation that has gone above and beyond for our community? Why not nominate them for one of the UK Parliament Awards?  
These awards recognise the work of those who make a difference, through campaigns and taking action on issues that are important to them. The categories are:
Community Campaign of the Year
Digital Campaign or Campaigner of the Year
School of the Year
Teacher of the Year
Volunteer of the Year
UK Parliament Week Activity of the Year
 
Nominations close 31st January. 
Click below to nominate.
Scam Warning
Just a quick reminder to always be vigilant when being contacted in person, over the phone, and online. Recently, I have received reports from constituents who have recently been called by people pretending to be the police and have subsequently fallen victim to a scam. 
Remember to always confirm the identity of the person you are talking to – hang up the phone and call the organisation they are claiming to be from back directly if necessary. Additionally, always think twice before you hand over large sums of money, or valuable items.
For more information about how to protect yourself from fraud, click below.
Traffic Report
The following are road closures for the week ahead as published by Cheshire East.
Ramsbottom Street, Crewe - Until 6th December
R70 (Between Englesea - Brook Lane and Deans Lane) - 10th December
Radway Green Road Level Crossing - 4th December