Welcome to this weeks newsletter. 
The Prime Minister has unfortuantely been forced to push back the easing of restrictions due to be relaxed on the 21st June. I understand that this will be difficult for many businesses who still are under restrictions, but this extra time will allow more people to be double vaccinated and allow us to eventually proceed in a much safer manner. Cheshire East has also saw a surge in cases and we are being asked to be particularly careful over the next few weeks. It is good new though that the final group of adults are now able to book their vaccine. If you are over 18, I encourage you to book your appointment as soon as you. 
In other news the Alleyways Project had another great weekend, and we haven't got much more to do in our pilot Westminster/Walthall Street. Let us know if you would like your area to be next! I have again pushed Cheshire East to make progress on the Barony skate park which is taking a very long time. I met with local police to discuss problems with anti social behaviour on Leighton Greenway. And I would encourage you to get behind a little champion of a fundraiser 6 year old Franklen who cycled from Crewe to Stoke to raise money for Cardiac Risk in the Young in memory of family friend Dan Hughes.
The Government has also signed a substantial free trade deal with Australia. This is fantastic news bring a range of benefits to businesses and individual, only possible now that we have left the EU. 
Have a great weekend,

SUPPORT FOR TACKLING CORONAVIRUS IN CHESHIRE EAST
It has been announced that Cheshire East is going to be given extra support to help reduce the big increase in infections we are seeing locally. There is a big surge from the more infectious variant. What does it mean for you?
The main thing I would ask is to go and get a test if you can, just to see if we can find more asymptomatic people. And related to that, we are being ASKED (not told) to meet outdoors where possible and try keep more strictly to social distancing. These aren't new rules, we are all just being asked to lend a hand by focusing on the things we all know help. If you made plans you don't need to cancel them and if it simply isn't practical for you to meet outdoors then that is fine. Just do what you can.
We are also being asked to avoid travelling out of the area, but again, this is just within what you can reasonably manage. No one can tell you exactly what that means for every situation. I just ask you to make an effort where possible.
This comes when the PM has delayed the next stage of road map. With just four weeks millions more people can get a double dose and double dose is what is needed for decent protection from the new variant. So on balance I think it is the right thing to do. But, the time is coming when we will need to learn to live with the virus. We can't keep this up forever.
I know this will be very difficult news for our local nightclubs and others. It must be incredibly hard to hear.
I know there is a lot of talk about lack of vaccines. We have always had more capacity to give them than vaccines to give across the country. The whole world wants more vaccines. This hasn't changed. Generally speaking we are ahead of the England averages for our vaccine programme locally but Ministers have agreed to look closely at ensuring supply is being managed as best it can be around the area.
Book your test here: https://www.cheshireeast.gov.uk/council_and_democracy/council_informati…
https://www.gov.uk/order-coronavirus-rapid-lateral-flow-tests
AUSTRALIA FREE TRADE DEAL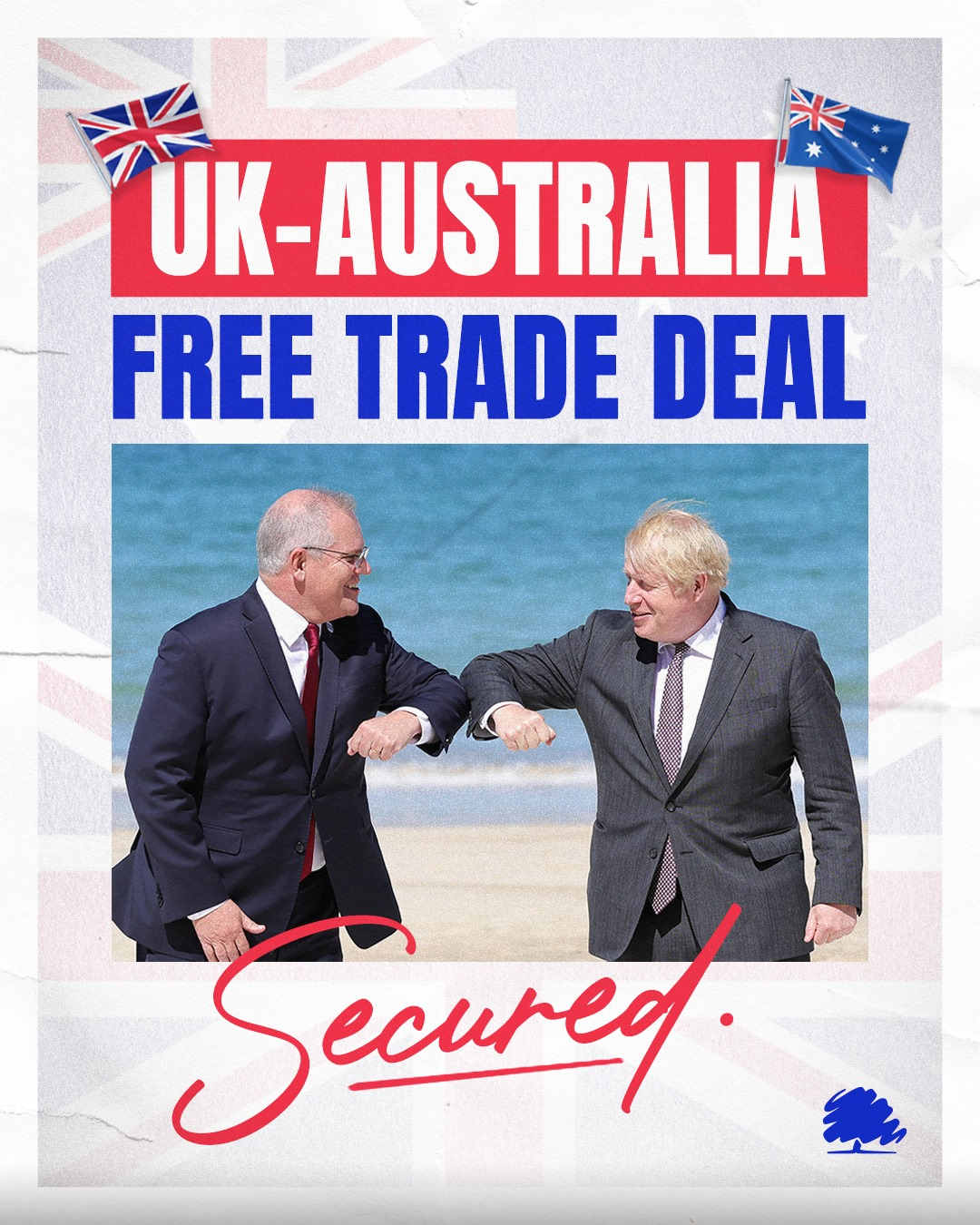 Great news that the UK has secured a Free Trade Agreement with Australia. Benefits of this deal include:
- Tariff free access for British goods
- Tariff free Australian goods saving households £34 million a year
- Protections for British farmers over 15 years
- Better visa-free travel for under 35s
Now that we have left the EU we can make agreements such as this one with nations around the world.
ALLEYWAYS UPDATE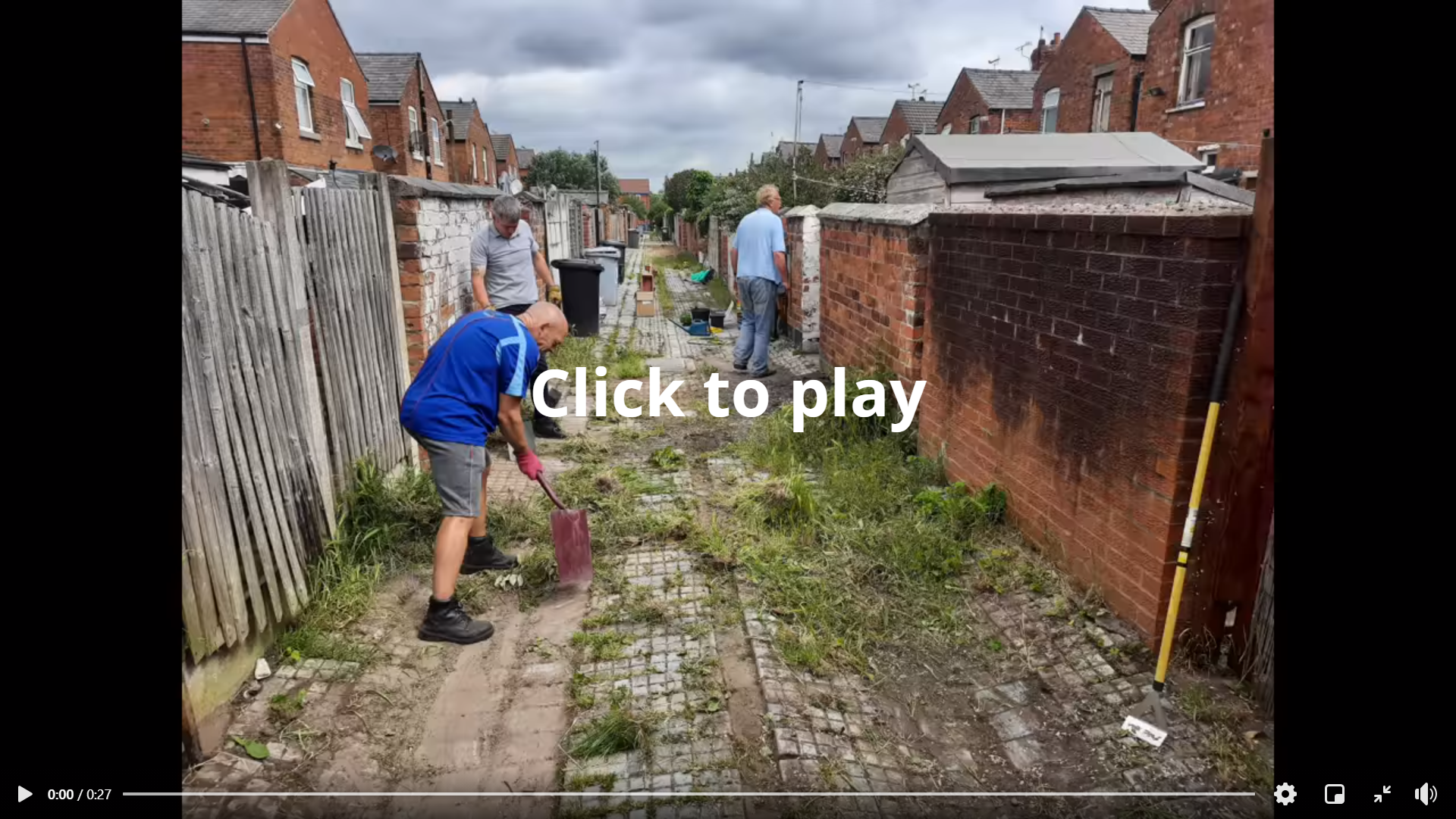 Another great weekend with the Alley Angels Team! Did this little video to show you what you can get done with many hands in a couple of hours! We helped Paul clear up out the back of his house and several residents had flowers put up. Refreshments from other residents! We haven't got much more to do in our pilot Westminster/Walthall Street! If you are keen to be next then please start finding like minded neighbours who would help you!
Thanks again to Crewe Clean Team Crewe Residents Against Fly-Tipping and 'Grot Spots' and Radius and Anfield Alley Angels. And ANSA who take away the bags!
BARONY SKATEPARK
I just want to let everyone know I am continuing to try and support the development of this much needed project.
With all due respect to the team at ANSA working on this, this has been a very drawn out and at times frustrating process. If residents and users had been asked last year what they wanted we could have had a design signed off months ago. There just doesn't seem to be any priority going into this and ANSA ignored my last request for an update in April.
I have been helping local campaigner Alexander to get things moving but we have faced considerable waits. I asked Cheshire East in April when we could expect to see designs. No response. I have asked again today when the public can see designs and a timeline. Hopefully I get a reply this time!
I understand draft designs are out there, the sooner the public get a say the sooner we can crack on. We have been waiting since last year and at this rate the summer will have been and gone.
But wanted to assure everyone that we are working on it!
VACCINES FOR OVER 18'S
Vaccinations are now available for everyone over the age of 18. Now that we are seeing a rise in cases it is even more important that we all get our vaccine as quickly as possible when we become eligible. Book your appointment here: https://www.nhs.uk/conditions/coronavirus-covid-19/coronavirus-vaccinat…
LOCAL HERO - FRANKLEN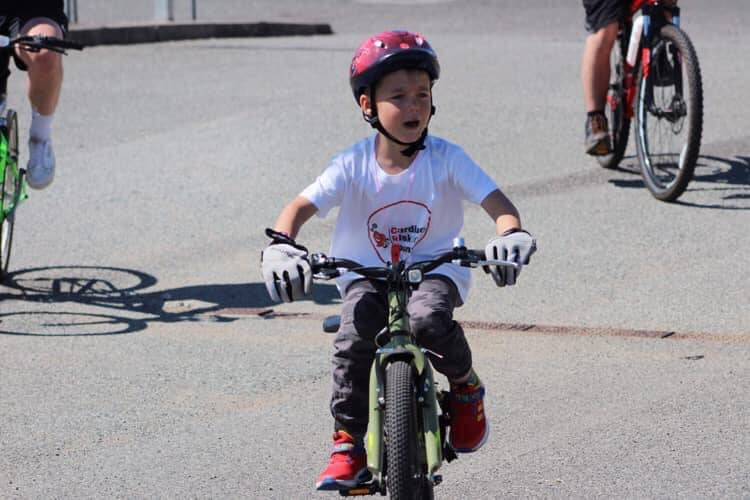 Earlier this week, local 6 year old boy Franklen rode his bike the 20 miles between the Bet365 Stadium in Stoke and the Alexandra Stadium in Crewe. Doing this he has raised over £1000 to raise awareness for cardiac risk in young people in memory of family friend Dan Hughes who sadly passed away suddenly at the age of 28 in 2015 from Sudden Adult Death Syndrome (SADS) . Thank you Franklen for being so thoughtful and inspirational!
You can still donate via here: https://uk.virginmoneygiving.com/fundraiser-display/showROFundraiserPage
NATIONAL LONELINESS AWARENESS WEEK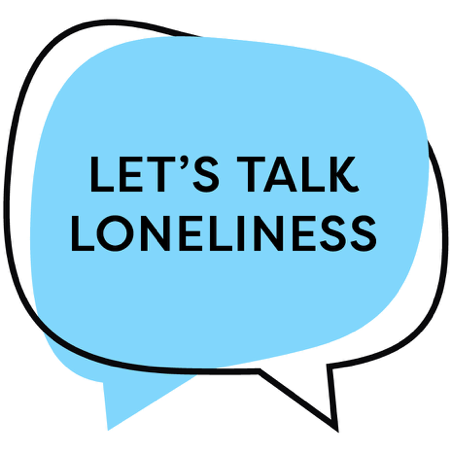 This week is national loneliness awareness week. Loneliness and isolation can have serious impact on mental and physical heath. That is why its great to see that the National Lottery Community Fund is providing £2 million for projects to help reduce loneliness and bring people together following Coronavirus restriction.
Applications open on 28th June for Small, local organisations for this funding. More details are available here: https://www.tnlcommunityfund.org.uk/funding/programmes/local-connection…
NANTWICH SCOUT HUT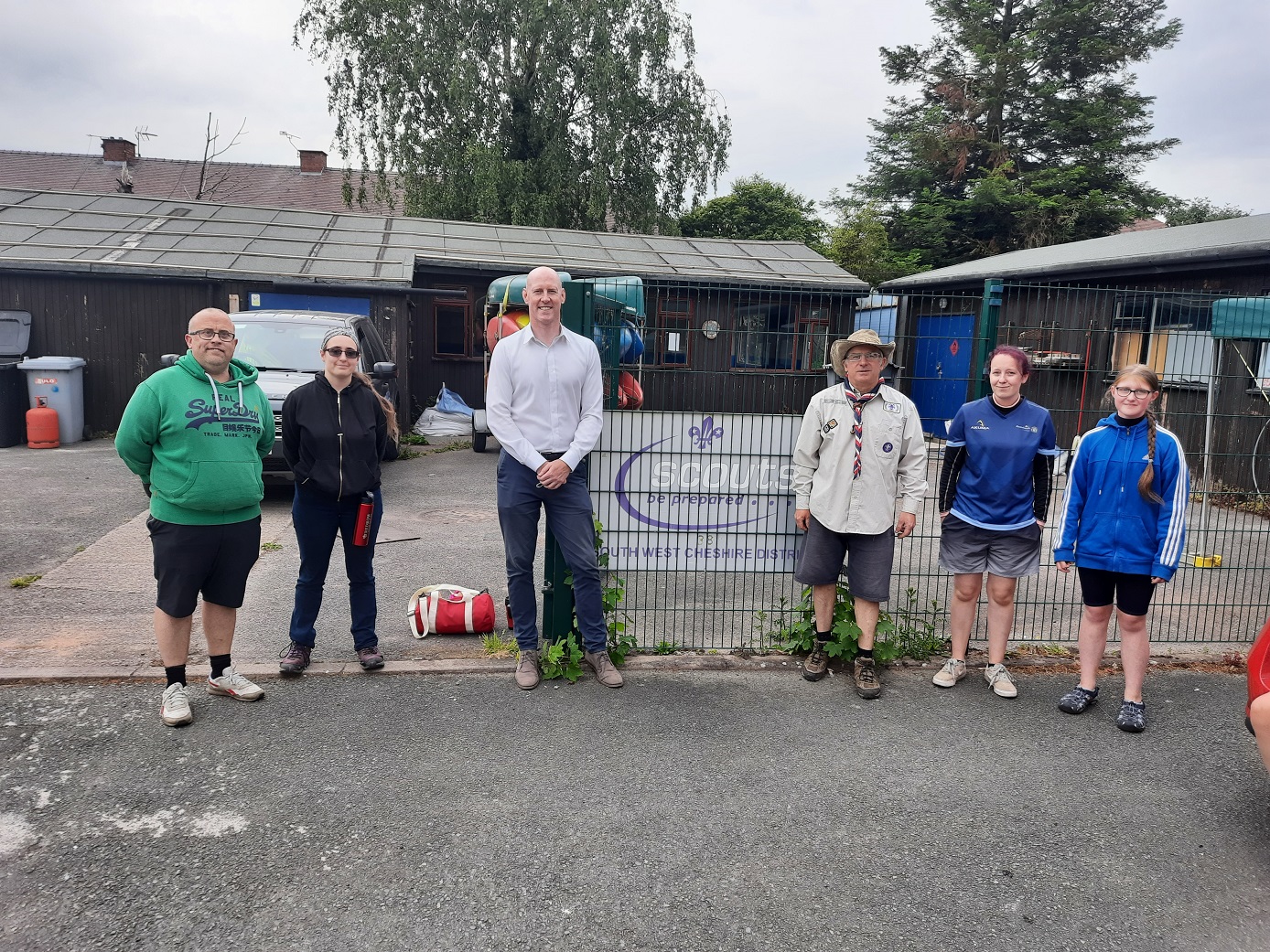 This week I paid a visit to Nantwich 38th South West Cheshire Scout Hut to thank Scout Leader Steve 'Sonic' Bullock for the contribution he makes volunteering in this role after someone nominated him as part of National Volunteer Week.
It's been difficult for local community groups such as Nantwich 38th Scouts to keep going during lockdown, but Steve adapted to the circumstances and allowed young people the opportunity to continue their journey with the scouts, and maintain their friendships during an incredibly isolating time.
Maybe this is something your children might want to try this year? They have spaces. They are also fundraising for a new hut:
https://www.facebook.com/fundraisingforthe38thHQ/
Thanks Steve!
LEIGHTON GREENWAY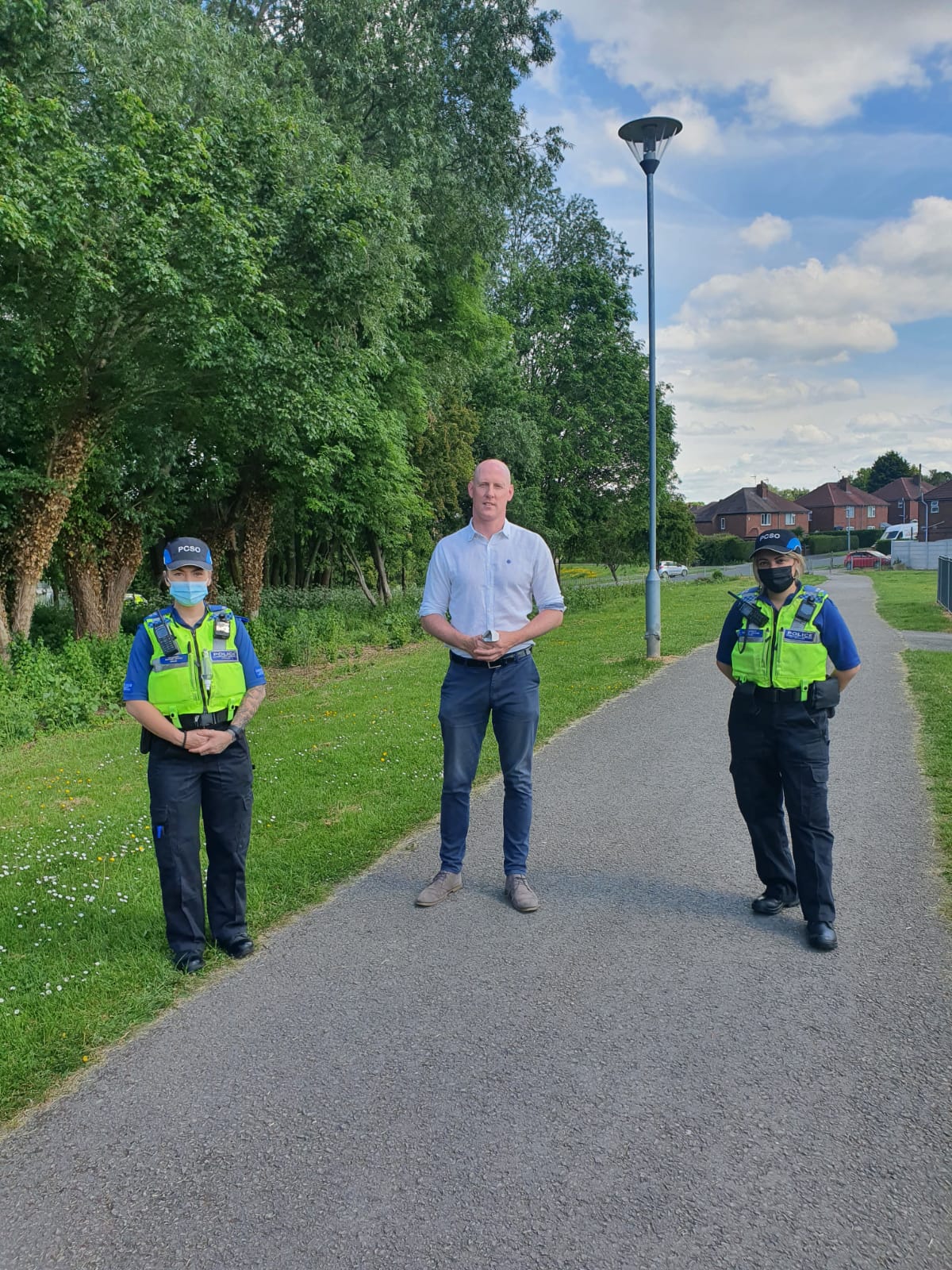 A lot of residents have been in touch regarding anti-social behaviour on Leighton Greenway. I recently met with local PCSO's to discuss the issue & understand how the situation can be improved.
The PCSOs have been giving it a lot of attention and I met with the Chief Inspector to discuss it this week. The area is going to be given more attention by increased police patrols on weekends and at night time but I have asked if we can do more as this can depend on what else is happening rather than regular patrols that we get from the neighbourhood team.
I will continue to discuss long term solutions to this issue and encourage anybody wishing to report anti-social behaviour to do so via the link in the comments below. It is very important for me to raise issues and get action that problems are logged on police records.
Report online here to avoid waiting on phone:  https://www.cheshire.police.uk/ro/report/asb/asb/report-antisocial-behaviour/
SCHOOL HOLIDAY ACTIVITY FUND
Cheshire East Council have announced that the second round of applications are now open for groups that want to provide free summer activities and clubs for children eligible for free school meals.
The Grant is accepting applications from a wide range of sectors, including:
- Businesses/Private sector providers
- Third Sector/Charity/Faith
- Schools/Colleges/nurseries
Applications close 27th June. More information about the fund and how to apply can be found via here https://www.cheshireeast.gov.uk/schools/holiday-activity-fund.aspx
SURGERY - NANTWICH LIBRARY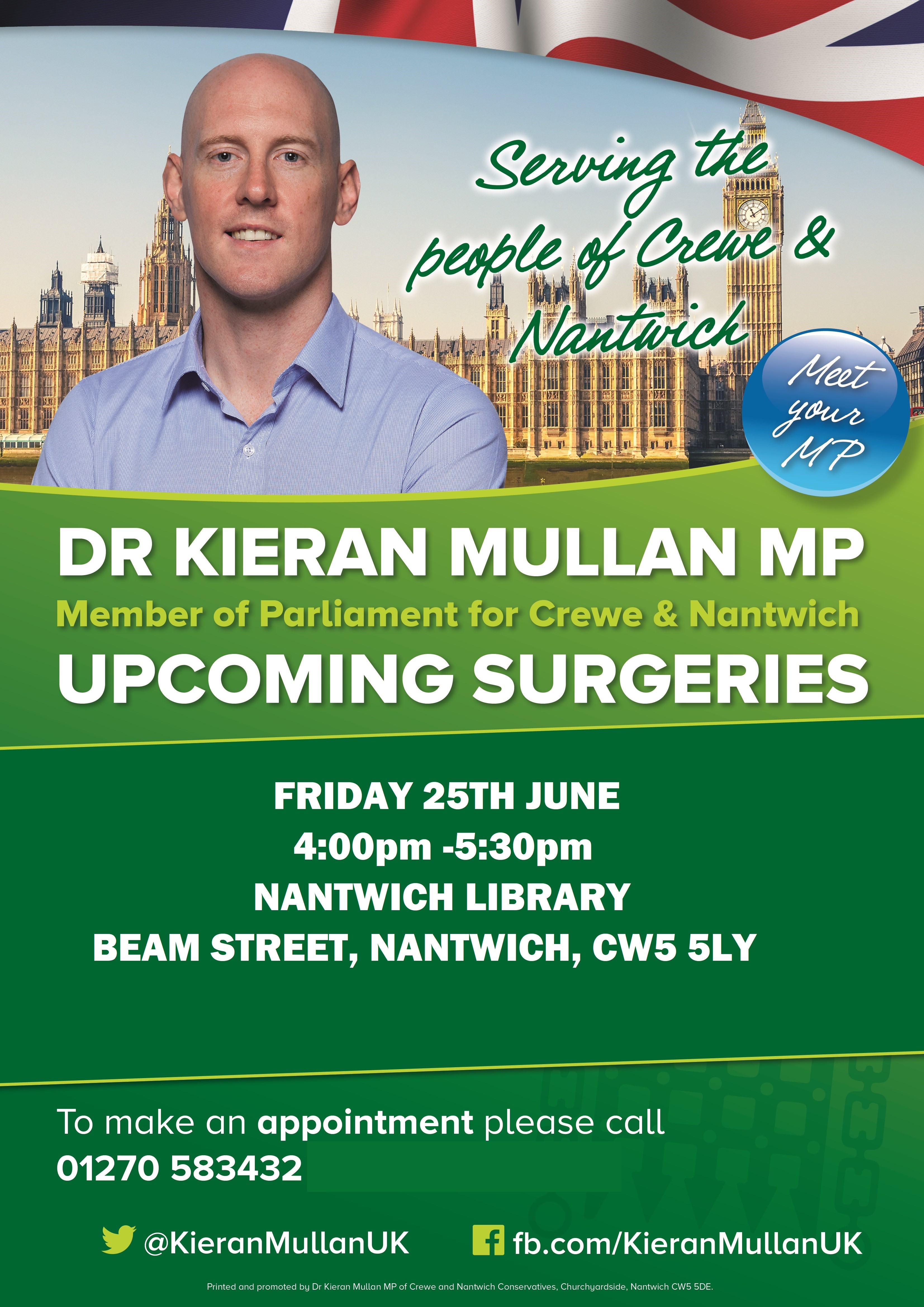 Next week I shall be hosting one of my surgeries at Nantwich Library. Do you have an issues you would like me to assist you with? Give my office a ring on 01270 583432 to book an appointment.
TRAFFIC REPORT
The following are road closures for the week ahead as reported by Cheshire East.
Groby Road, Crewe (Between Remer Street to Stoneley Road) - Until 16th July
Butterton Lane, Oakhanger – 23rd June until 29th June
Rope Lane Bridge – Until 19th June
Wrinehill Road, Wybunbury (Cliff Cottage to Cobbs Lane) - Until 30th June
Audlem Road (Park lane to Second Dig Lane) - until 22nd June