Welcome to this week's newsletter.
Last week we celebrated the Queen's Platinum Jubilee, to mark her 70 years on the throne, and thank her for her dedicated service to our country.
I went to lots of  events all around Crewe and Nantwich that celebrated this occasion. This included two alleyway parties – only possible thanks to the hard work of local residents and the Cleaner Crewe project teams over the last 12 months, who have transformed the alleyway into somewhere where people would actually want a gathering to take place!
I had to judge a best dressed front of house on Ludlow Avenue as part of a street party organised by residents Julie & Jackie and choose the best crown made by Weston Primary school children-look out for photos of the winners next week! All in all I had a great time and think the message of service and community resonated with everyone.
The next big community event I would encourage everyone to get behind is Armed Forces Day. Crewe Help the Heroes have done a great job leading the plans for a fantastic celebration of our Armed Forces for the 25th and 26th June at Queens Park so save the date!
On Monday I returned to Parliament when it was announced there would be a vote of no confidence in the Prime Minister. You can read my statement about this vote below.
I did what I thought was right, but now want to focus back on doing my job and getting things done for you and our area. 
Have a great weekend.

No Confidence Vote 
New Football Facility
Duke of Gloucester Tree Planting
Alleyways Jubilee Parties
Shavington Festival
Graffiti Busting
Carers Week 
Save the Date - Armed Forces Day
Traffic Report
­
No Confidence Vote
I think it is right people know how I voted.
I could not support the Prime Minister.
I came to Parliament determined to get improvements in our Justice system. This comes from growing up with a dad as policeman and volunteering as a policeman myself.
We all come to Parliament with different backgrounds and experiences and a strong sense of what is important to us. 
No one is perfect. I know lots of people broke the rules. But people do and should expect better from a Prime Minister and the people working for him. If you are in charge the buck stops with you.
I don't see how I could carry on making the case for us being tougher on crime if I allowed what happened to go unaccounted for. And if you are on TV on an almost weekly basis telling people to behave a certain way and yet the people working for you yards away are breaking the rules and bragging about getting away with it privately, then you must carry the can for that.
I also can't forget the family members I spoke to when I volunteered on the frontline during the pandemic. The people I personally had to tell couldn't come and see their much-loved relatives in hospital. I have to keep faith with them.
For that reason, the Prime Minister lost my support some time ago and I could not support him in the vote last night. I had no interest in being dragged into an ongoing public row about this. I think most people want me focusing on doing my job of delivering for them. I just did what I thought needed to be done and got on with my job of trying to deliver for residents.
I know many people will think this is not proportionate. It is right we have delivered on the big issues like the vaccine rollout, Brexit, support during the lockdowns, Ukraine and more. And of course, the leader of the opposition is a complete hypocrite-he called on the PM to resign simply for being under investigation but hasn't done the same now it's happened to him.
Labour MPs lecture us about the PM not being fit when they were all very happy to make Jeremy Corbyn PM-a man who couldn't even side with this country when Putin ran a chemical weapons attack on us that put a policeman in hospital and killed a British citizen.
But ultimately, I have to do what I feel is right and what I think is best for the country and I am rightly accountable to every single one of you at the next election if you don't agree. We do not have a Presidential system. This is not by accident. It is because one of the jobs of MPs is to act as a check and balance on a Prime Minister.
Now the vote is over I will get back to focusing on my job of getting things done for all of you. 
­
New Football Facility
As you might have read about before, Crewe FC have been working really hard to come up with plans for a new football facility for Crewe that can be their home and also help meet the demand we have locally for pitches.
I know there is a desperate need for new facilities in Crewe and after years of not enough happening to address that Crewe FCs passion and determination has us on the verge of a new site. I would encourage people to give their views to this consultation.
Crewe FC moving here would also free up more spots for lots of other teams and sports at the Cumberland which is also being upgraded as part of the Crewe Town Deal. So a win all round in my view! 
It has been fantastic to work with Crewe Labour on this as well-we are all committed to achieving a good result for the young people in Crewe that want to do sport.
Have your say here:
https://kwiksurveys.com/s/LZIW6hEk/i/0 
­
Duke of Gloucester Tree Planting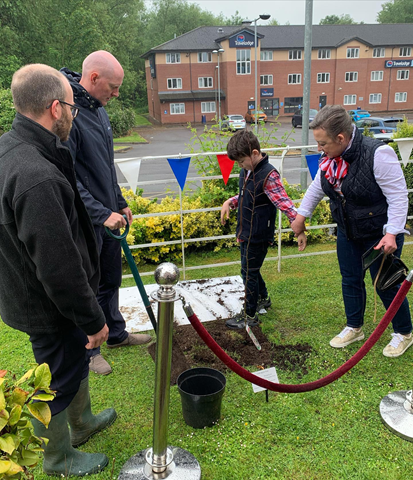 I had a lovely morning helping to plant a Crab Apple Tree at the Duke of Gloucester as part of The Queen's Green Canopy to mark the Platinum Jubilee. 
Thank you for inviting me along! This event was also part of an ongoing relationship between the pub and Springfield school which they fundraise for.
I am looking forward to seeing this beautiful tree grow.
­
Graffiti Busting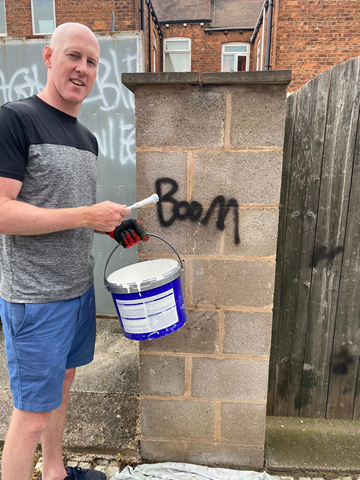 The alleyways work was never going to be an overnight win. Setbacks to be expected. After everything that has been done by residents and others someone went on a graffiti spraying spree in Westminster/Walthall St. But we aren't going to let that set things back. Thanks to help from Crewe Residents Against Fly-Tipping and 'Grot Spots'things were back ship shape ahead of a Jubilee Party residents had that weekend. I'd say this exemplifies the spirit of the Jubilee!
Jubilee Parties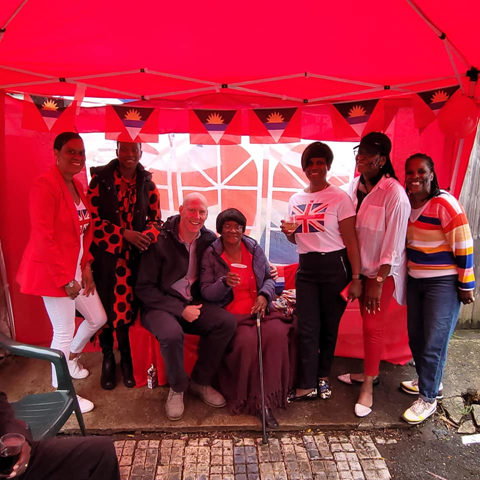 ­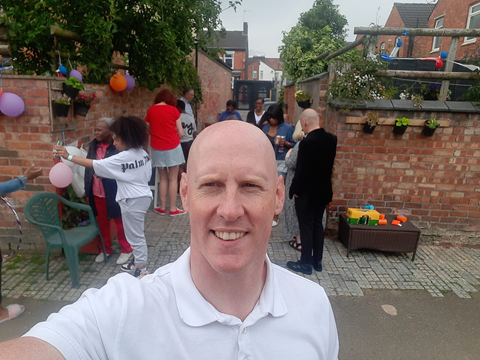 After just over a year of hard work starting out with alleyways no one spent any time in and would definitely not be having a tea party in, we ending up celebrating the platinum jubilee in some of them. 
A huge thank you goes to Denise, Dorothy, and their friends and family! It was a great way to finish our Jubilee weekend, and it wouldn't have been properly British without a little bit of rain! 
We also had a great get away at the Derrington alleyway which has been transformed by Jo and her neighbours with help from Cleaner Crewe team. 
Ahead of the Queen's birthday tomorrow one more set of people to thank for all of the effort they put into celebrating the Jubilee last weekend. Ever since a VE day celebration organised during lockdown Ludlow Ave residents Julie and Jackie have been organising events for their street. I had the unenviable task of choosing the winners of the street display which were Carole and David Martin with this fab display complete with solider and corgi! The residents of Ludlow Ave are lucky to have such a close little community and to have Julie and Jackie helping to make the most of it.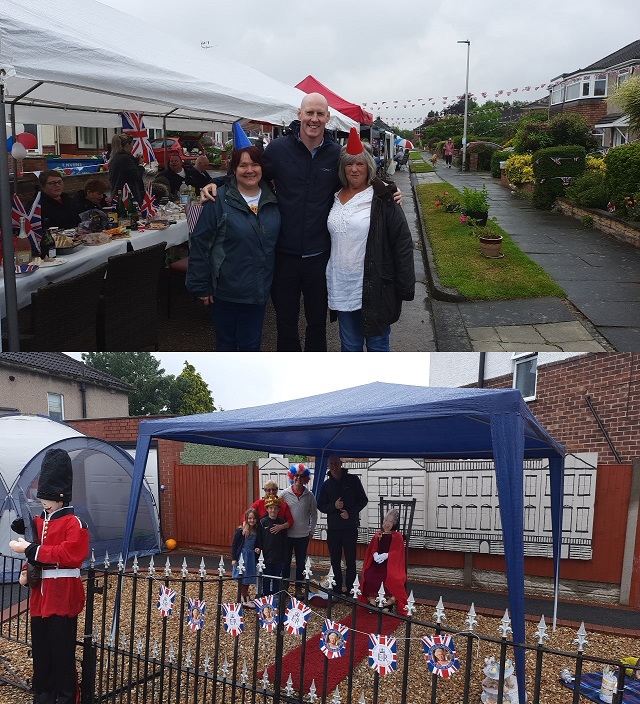 ­
Shavington Festival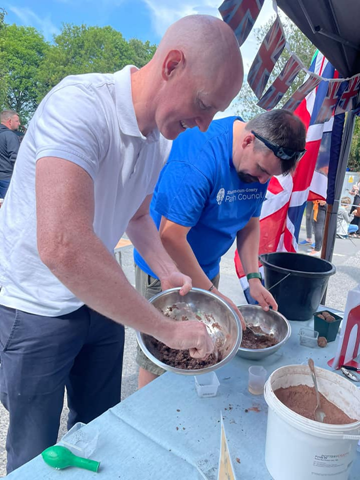 ­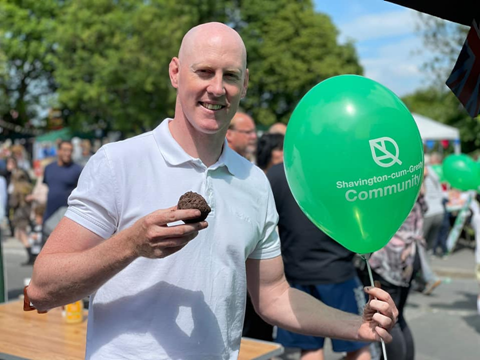 ­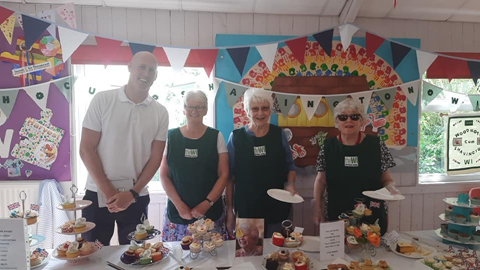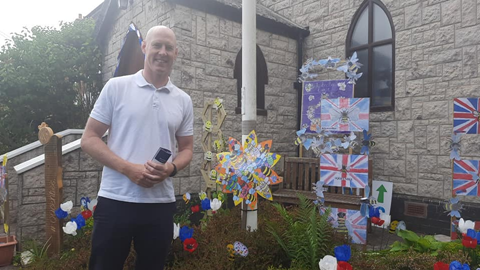 Last weekend I went along to the wonderful annual Shavington Village Festival with a Jubilee Theme! Women's Institute cakes, sweets from the Brownies, burgers from the Scouts and raffles and tombolas galore. You could also make your own wild flower seed bomb! I Loved the Queen Bee artwork from local children as well. 
­
Carers Week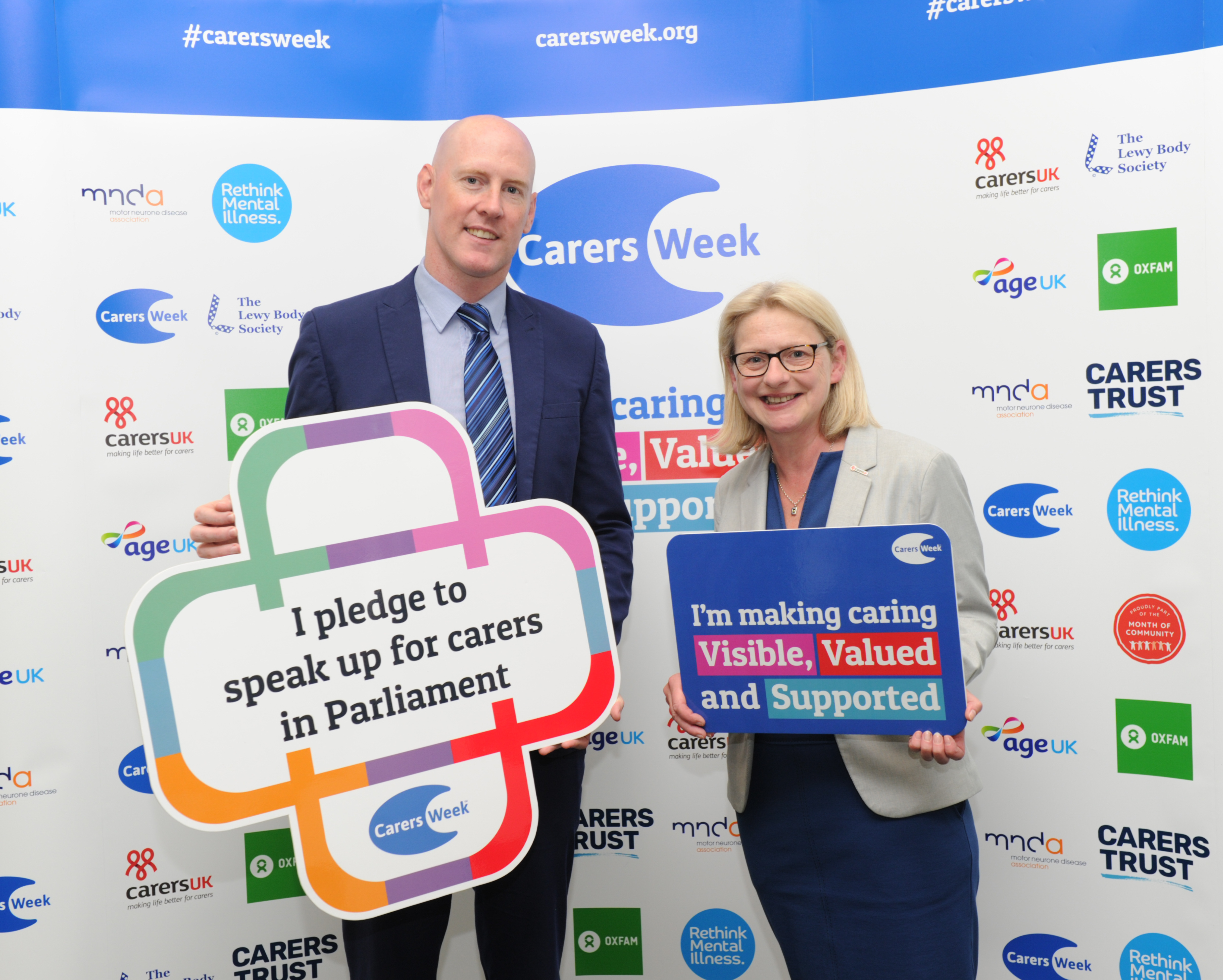 Carers Week is an annual awareness week which recognises the vital contribution made by people caring, unpaid, for family members or friends who have a disability, illness, mental health condition, or who need extra help as they grow older. 
I attended an event in Parliament this week to mark Carers' Week and met with carers to hear about and better understand their experiences of caring during the pandemic, as well as the support they now need.
I also visited a carers event held by Cheshire East Carers Hub in Nantwich, I met lots of organisations there with lots of opportunities for services for carers to access which I will showcase over the next few weeks.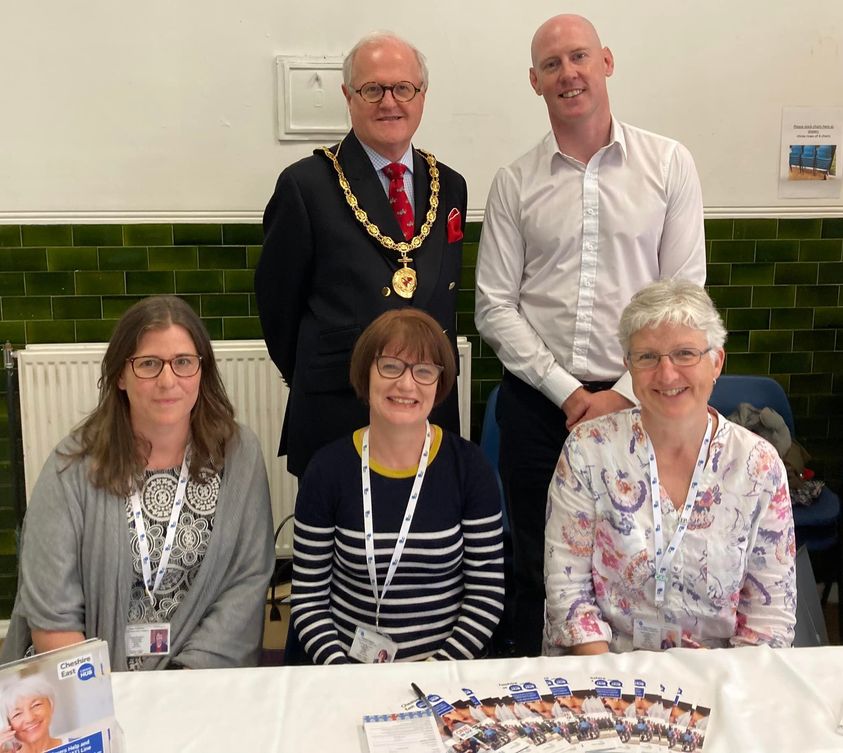 ­
Save the Date - Armed Forces Day
Queens Park, Crewe
25th June - 10:00 am to 18:00 pm
26th June 1:00 am to 16:00 pm
There will be a 'picnic in the park' event at Queen's Park Crewe for Armed Forced Day, offering a weekend event for all the family.
This will provide an opportunity for people to come together to thank our sailors, soldiers and airmen for the service they provide to the country.
It will also be a fun day out for the whole family, with military vehicles, displays and memorabilia. Refreshments will also be available.
  
Thanks to the Crewe Help the Heroes Team for working so hard to put this on.
­
Traffic Report
The following are road closures for the week ahead as reported by Cheshire East.
Middlewich Road (Between Smithy Lane and Pyms Lane) - Until Oct
Greenway, Crewe - Until 8th July
Warrington Avenue, Crewe - Until 1st July
Elm Drive, Crewe  (Between Middlewich Street and Coronation Street) - 14th June
High Street, Crewe - 13th June until 17th June
Oak Street, Crewe (Between Cross Street and Mill Street) - 13th June until 17th June
Mill Street, Crewe (Between Oak Street and Brook Street) - 13th June until 17th June
Vernon Way, Crewe (Between Oak Street and Lyon Street - 13th June until 17th June
Gainsborough Road, Crewe (Between Stamford Avenue and Clifton Avenue) - 16th June
Radway Green Road Rail Crossing - 16th June
Mill Lane (Between Barthomeley Road and Mill Lane Cottage) - 15th June